The future for tech professionals is bright – not just since the pandemic and the consensual implication of a more digital work atmosphere. Tech-Experts, from developers to analysts, are more wanted than ever. We're discussing opportunities, salaries, the future of work and solutions to the growing lack of IT-Experts.
Tech jobs are highly demanded, that's no big news.  Reason for that is the integration of the digital environment in every part of our life.
There is no question, if a company is going to push digitalization, but when. And the executing force are people, who have expertise in tech.  The forms that digital transformation takes in a company range from robots in deserted production halls to algorithms that optimize route planning for logistics companies. The chances for tech professionals are immense, not only because of the more and more digital world.
The big plans from the government and high self-expectations by companies to be modern and provide an all-around digital service seems to be a problem.  In addition, factors such as the aging population, Covid-19, and to an extent also the financial crisis of 2008 led to a void, that can't be filled right now.
In the Corona years 2020 and 2021, the IT skills shortage was slightly mitigated. In 2022, it is even higher than the pre-Corona peak: 137,000 vacancies need to be filled, 13,000 more than in 2019. Companies spend an average of just over seven months looking for suitable candidates. Last year, it was two weeks less. Overall, however, a good fifth of companies are looking for longer, with four percent even looking for more than twelve months.
"The lack of IT experts no longer affects just the IT industry, but the entire economy as well as administration, authorities, and science. As digitalization accelerates, the need for tech talents in Germany will continue to rise sharply in the coming years," said Bitkom President Achim Berg. "Every unplaced tech position is putting a burden on each company's revenue goals as well as on the ability to innovate while slowing down the necessary digital transformation. The shortage of tech talents threatens the competitiveness of the entire German economy."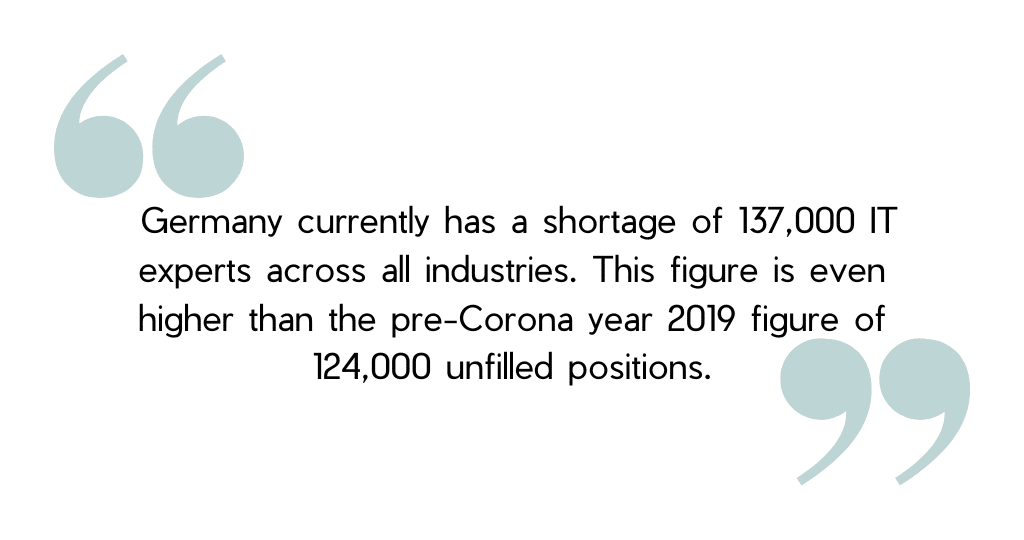 Why Is There So Much Demand?
In Germany, demographic elements including the aging population are answerable for the lack of professional workers, as the reality that many organizations stored their staffing stages as tight as viable in the course of the worldwide financial crisis from 2007 onward. 
Another reason is growing digitalization, which on the one hand is making a few low-professional jobs redundant in lots of industries and alternatively is giving upward thrust to new regions of obligation that require complicated expert knowledge, which includes many of the tech jobs.
Almost any part of company structure is currently being optimized in a digital manner. The pandemic pushed modernization massively, as for a significant amount of time, it wasn't possible to work in the office.
Is It Worth It to Strive for a Role in the Game?
As already mentioned, it is highly lucrative to start your career in tech. Besides the high demand, there are various reasons.
The chances of financial advancement are very high.
You don't absolutely need to have a college/ university degree. There are bootcamps and workshops where necessary skills can be acquired. Many companies value experience and skills over "just" a degree.
Variety of career chances in economy and politics, e.g., working for the federal police security or embassies.
Remote Working from wherever you are. Since the start of the pandemic in 2020, the percentage of remote working employees has risen significantly from 4% up to 15% in July 2021. A survey stated, nearly 50% are ready to work from home in the future.
What Skills Are Needed in IT?
Even though you don't necessarily need a degree to dive in the IT world, certain skills are highly in demand. The most important are:
Software / App Engineering
Software and App Engineering is the production/development of software as well as the structurization of data. Additionally, you will take care of software systems. The basic tool are various coding languages.
You oversee creating and maintaining websites and translate designs into working codes. Performance and capacity of websites are your main job.
As a UX Designer, you create a system, that offers great experience to your users. Your goal is to make the design of websites and apps as comfortable and usable as possible.
It is a network of servers, that relate to each other via the web. On there, one can share software, information and data.
Blockchain is based on a decentralized, distributed and public (digital) ledger. Due to its duplications spread across many servers, it provides secure and controllable systems.
All there is to know can be found here.
Data & IT Security is the protection of data from unwanted and unauthorized access through encryption and various sets of control and security systems.
Data Science and Machine Learning
In this subject, you develop technology which automatically learns from already known data. It is frequently used in personal assistants, video surveillance, and image recognition. Data Science is about finding suitable solutions to make events, facts, patterns, and keys measurable that cannot be measured directly. For this purpose, various methods, systems, and algorithms are used for extraction.  
Many experts with these specialities are working as freelancers. At the end of this blog, we will talk in detail about the pros and cons of becoming a freelancer. But first, since you now know all about useful skills, we will now talk about the matching jobs relevant in future tech. 

Want to stay up-to-date?
Receive the latest insights for free.
The 5 Most Wanted IT-Jobs for the Next Year
Software and App Developer
Developers with the ability to create the software from scratch are a hot take for companies. Especially, if you are equally skilled in app and software development. Skills you should have, are coding, building applications, websites, and the common programming languages (C#, C++, HTML, Java, Microsoft .NET, and SQL).
Even fresh out of university, you shouldn't have any problems finding a job. Look for jobs in banking and HR, these sections are lucrative.
Software and App Developer trainees can expect a salary of around 50.000€ per year, increasing after a few years anywhere from 55.000€ to nearly 70.000€.
Often called the ´pros´ of IT, System Administrators have excellent knowledge of software and hardware, can operate WIFI and LAN protocols. In most cases, you acquire these skills during your bachelor's degree in computer science. In addition to the technical skills, it is also important to be able to solve problems for others. Because you are often called in when the entire system has crashed and must be explained to total noobs.
System Administrators start at 36.000 to 45.000€ depending on your experience. The more, the better you will earn. After a couple of years, it can rise to around 55.000€.
Data Scientists, Big Data Experts, Machine Learning Engineers
Data scientists are capable of perceive applicable questions, acquire data from a mess of various sources, arrange the information, translate outcomes into solutions, and talk their findings in a manner that impacts commercial enterprise decisions in a positive way. These abilities are required in nearly all industries, inflicting professional data scientists to be more and more treasured to companies.
Whether data analysts, data scientists or data engineers, all have mostly done a Master's or PhD in computer science and/or engineering. But it is also possible to acquire the needed skills via a bootcamp. Certain skills are necessary for a future in big data, either way: 
Processing large data sets
Data wrangling
Mathematics
Programming
Deep Learning
Machine Learning
Data Visualization
Big Data
It's difficult to name a salary, because there are so many different jobs in the field of data science. According to payscale, the average earning for a data scientist is ~55.000€.  
The more the entire corporate structure is digitized, the more vulnerable it is to hacks. Preventing this is the job of an IT security expert. Every company now needs them to protect their customers' sensitive data from attack. A good example is the work of the experts from ImmuniWeb,  which investigated FinTech´s security situation.
Accordingly, the CIOs of this world are looking hard for anyone who can effectively monitor complex computer networks for security flaws and anticipate any future security risks. This means you must effectively know the network vulnerabilities and fix them on a constant base. Thus experience with patch management, firewalls, antivirus, and IDPS concepts is useful.
Large companies in particular have large customer databases and need highly qualified and trustworthy security experts – and pay accordingly well.
As a security expert, you can earn an average 65.000€ a year. In a leading position in a large company, you can easily earn six figures.
As 3D-Webshops and other multidimensional projects rise, Virtual Reality Designers are heavily looked after. Most of their work is based in the design of immersive, digital worlds, ranging from digital surgery assistants to racing or flight simulators. A few of your tasks are sketching concepts and ideas for virtual reality, creating VR features to enhance user interaction (on websites), or using CAD (computer-aided design) to convert drawings to 3D-Models. Moreover, you will work with programmers and developers to convert your drawings to code.
A Virtual Reality Designer, you can expect a base salary of around 45.000€, with opportunity to rise to 85.000€.
In need of an even higher paid and heavily demanded job in IT? Check out our article on becoming a blockchain developer.
What Are Solutions to Skill Shortage in IT?
As you have seen in the graph at the beginning, many companies are struggling to hire employees for tech job  s. Because of the rise in demand for IT professionals, companies find it increasingly difficult to hire the right IT professionals for their projects. The employees value their work accordingly (especially in financial terms). As lucrative as that might be for them, it's a big chunk of money to invest. While that might be worth it for some, especially when you need their work on a regular basis, it's a different story for companies who just want certain tasks to be done from time to time. For instance, to push the digital structure of your business, a new software system or annual data analysis.
A solution for that is working with freelancers.

From experience, value systems for freelancers and full-time personnel are very exclusive and the value of a full-time worker isn't simply the salary, however, that there are several hidden fees to consider. Freelancers frequently deliver benefits to the employer that can't be calculated in phrases of cash and fees. Flexibility, outside knowledge and learning new skills by themselves are a few of them. 
A detailed overview is already up on our blog, if you like to dig a bit deeper.
What Are the Risks With Hiring Freelancers?
Low-quality output
Delayed deliveries
Lack of identification
Missing soft- or hardware
Confidentiality Issues
For now, there are a few risks that might keep you away from hiring a freelancer.  But like with many other aspects of work-related acquisition, you need to scout the right people. Sounds easier than it is, really. But we can help! There are many websites, that can help finalize your decision.
After many years of working with freelancers, we, of course, found solutions to any of the occurring problems. Still unsure? You might want to know about solutions.
What Are the Risks of Freelance Work?
But what about the other side? The lack of skilled workers and the isolation during Covid-19 led many people to think about starting their own business. As most ITs can work wherever they are, freelancing became a serious option. But besides the obvious risks like less certainty of income and work, there are other challenges you might face.
If you are an employer, you normally receive benefits such as insurance, and vacation pay, and you even get paid when being sick. None of these are given with freelance work.
In your pursuit to attract new clients from home, you might end up with way more workhours than a "normal" employee.
Not everyone likes the office small talk, let alone need it. But working as a freelancer often means working alone. Fair enough, you can connect via social media, but if you are used to work with colleagues face-to-face, the first months may be very challenging.
Nevertheless, freelancing is great. There are many perks and pros of not being an employee. We collected a few articles and even free E-Books for you in our freelance section.
Tech experts are highly demanded. That sure was no big news for you.  Because of the digital development in all kinds of work environments, many companies need qualified tech experts. While the demand is high, the supply is low. This causes a skill shortage in IT. Surveys show, that companies are ready to invest a noticeable amount of money to attract tech experts and that's the chance for many people to either strive for a degree in IT or even to switch jobs via a Bootcamp. Skills like coding, web development or IT security are viable to acquire during your study, if you want to become an App Developer, System Admin, Data Scientist, IT-Security Expert or VR Designer. In terms of job security, you can't go wrong with these five.