Freelance platforms have become more and more popular in recent years, and thus the range of these has also grown significantly. Each platform offers its own advantages and disadvantages. Each platform wants to attract attention with its own USP (Unique Selling Point). Many advisors, such as t3n or webflow create entire lists to provide guidance to customers and freelancers.
In this post, we'll explain in more detail what the difference is between closed and open freelance websites, what the advantages and disadvantages of each concept are, and we'll give some examples of open and closed freelance platforms.
What Are "Open Freelance-Platforms"?
In the so-called open freelance platforms, any freelancer can create a profile. This means that their background is hardly checked or not checked at all. It is not necessary to submit a resume, portfolio, or skill set. As a rule, freelancers are evaluated by users, who can leave ratings and comments on the respective profile.
Since registration for freelancers on such platforms is very easy, and they are not reviewed, the number of members is often very large. Normally, a direct contract is concluded between freelancer and client.
Open Freelance-Platforms: Advantages
Since it is very easy for freelancers to register on open platforms, the selection of suitable freelancers for a project is usually huge.
Since freelancers are often not verified, the costs are usually much lower.
Comments and (star) ratings help to find the right freelancers.
Open Freelance-Platforms: Disadvantages
Due to the large selection of freelancers, the search is often very complex and takes a lot of time.
The chance of hiring an unsuitable freelancer is high, since they are not checked and the quality is therefore often lower.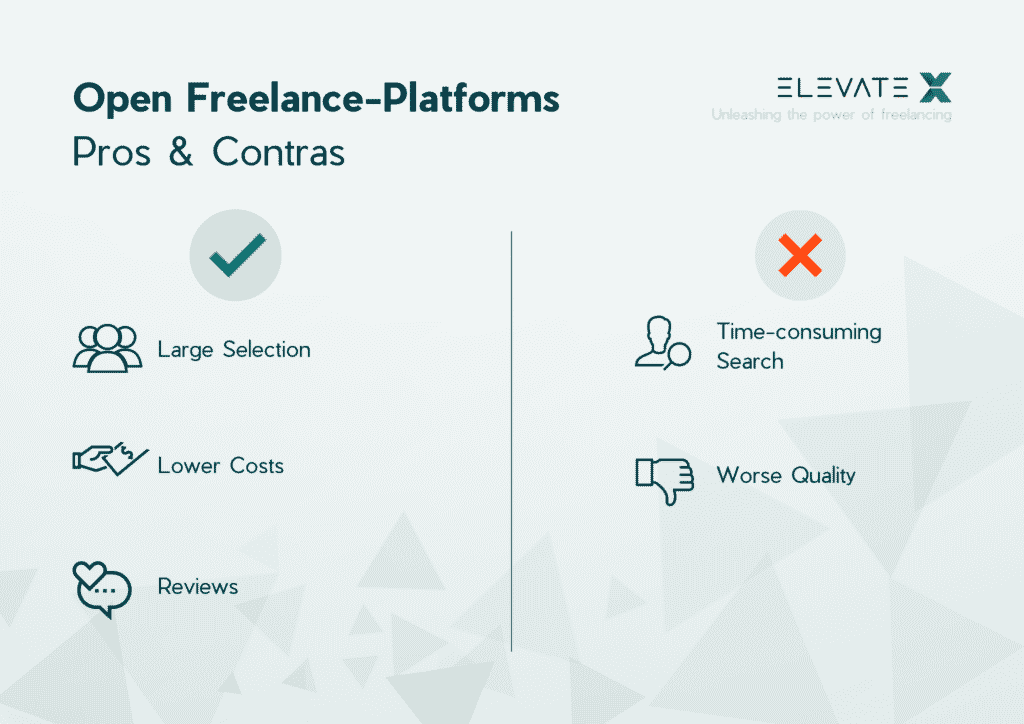 Want to stay up-to-date?
Receive the latest insights for free.
What Are "Closed Freelance-Platforms"?
On closed platforms, the hurdle for freelancers to create a profile is significantly higher. The minimum requirement is usually a resume, which is submitted to the respective service and gets reviewed. Closed platforms vary in the selection process. For example, some platforms require an additional personal interview. As a rule, the contract here is not concluded between the customer and the freelancer, but between the intermediary and the customer.
Closed Freelance-Platforms: Advantages
The freelancers on the platform are usually verified by experts and must provide evidence of their experience and skills. Thus, the quality of freelancers on such platforms is often higher.
Since the selection is often smaller, the search is much shorter. Most of the time, this is even done directly by the intermediary, and you only have to agree or disagree with the presented project partners.
The security is higher for the customer that the order will be completed satisfactorily.
Closed Freelance-Platforms: Disadvantages
The selection of available freelancers is much smaller, as not everyone can join the platform.
Costs are often higher, as the quality of freelancers is higher and the intermediary may charge a commission.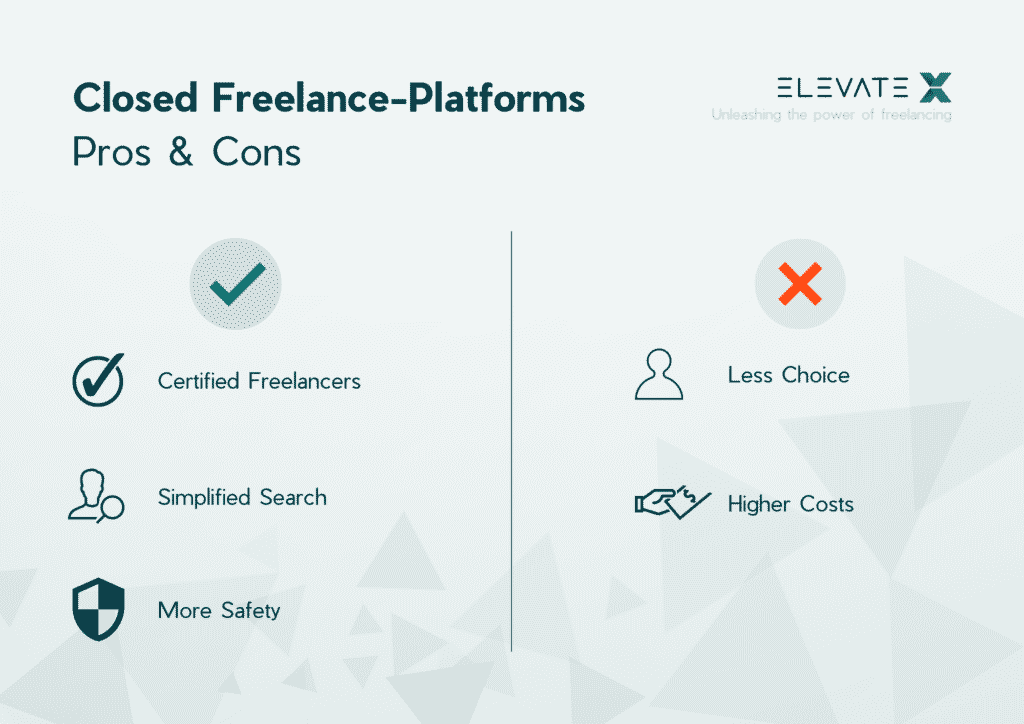 The Top 7 Freelance-Platforms
In this list, we have summarized the most popular freelance platforms for you and explain what the differences are, what you should look out for and what the advantages and disadvantages of the various offers are.
At ElevateX, IT freelancers are the main priority. The focus is on experience and personal collaboration. The search is completely taken care of and possible freelancers are introduced promptly to ensure a fast and smooth onboarding.
Fiverr is especially suitable for small orders and simple tasks. Fiverr is known for low prices. As an open platform, any freelancer can offer his services there. The freelancers are rated by stars and users have the possibility to leave comments on the respective profile.
Especially for individuals or small businesses, Fiverr offers many opportunities and a wide selection of freelancers.
LinkedIn is probably one of the best-known business networks. Although LinkedIn is not to be understood as a classic freelance platform, there are many opportunities to find potential project partners here. It should be noted that all work, including searching for and reviewing possible candidates, must be done by the user. Alternatively, ads can also be placed on projects. 
What makes TopTal special is that TopTal has very strict guidelines on who can and cannot be accepted as a freelancer. This way they ensure a high-quality standard. Among other things, this ensures high prices. As an English-language platform, TopTal takes an international approach, with listings in almost every country. However, if you are specifically looking for freelancers in Germany, you should rather look for a national freelance platform.
As the name suggests, WeWorkRemotely only offers remote jobs and is also English-speaking.
In addition, the job search is very costly. Thus, employers have the option to place an ad for a job, which costs 300€ per month. Since the platform is free of charge for freelancers, a wide selection of possible project partners can be found here.
For several years now, freelancers looking for jobs on
UpWork
must first be verified. Nevertheless, companies have to do the search here themselves. UpWork also offers the possibility to advertise or to search for freelancers directly. You have the possibility to specify criteria, whereupon possible candidates are suggested. They are rated by stars and you can view their profiles.
99Designs primarily aims at design projects. This can include a logo, websites, packaging, or other. Here, too, freelancers must first apply before they can acquire projects.
What Advantage Do I have From Freelance-Platforms?
The search for suitable freelancers is often very complex and time-consuming if you do not already have your own network of freelancers. The choice is huge and without platforms, besides LinkedIn or Xing, it is difficult to find an approach to the search.
Especially more qualitative freelance platforms have a comprehensive network and can thus significantly simplify the search and, in some cases, even take away. Also, the legal protection is mostly taken over with qualitative platforms and the probability of problems is significantly lower.
In addition, freelance platforms typically offer experiences and evaluations, which can be used to make an assessment of which freelancers seem suitable.
This article explains why staff augmentation makes sense and how you can integrate external IT support into your own project.
What Kind of Freelance-Platform Should I Use?
This usually depends entirely on the expectations and requirements of the freelancers in question. Should they be particularly inexpensive? Particularly effective? Open freelance platforms are usually worthwhile, especially for smaller tasks or private individuals.
In principle, however, we would always advise closed platforms. Closed freelance platforms may be a bit more expensive, but they bring more security to a project. Especially for important tasks and projects, you should not save money and points such as quality and effectiveness speak for the use of closed freelance platforms.
At ElevateX, we help leading tech companies find the IT experts that fit your needs.
As a client, we get to know each other in a personal meeting, and we conduct a needs analysis to determine the best fit. Within a maximum of 48 hours, we will present you with possible candidates. Important for us is the personal relationship and the smooth running of your project. For this reason, we are available as consultants for the entire duration of the project.
Here you can send us a request, and we will contact you to make your IT project a success.
You prefer to talk to us personally? Then you can arrange a free consultation call here.