The topic of freelancing continues to move into the spotlight, and more companies are discovering the advantages of working with freelancers. Especially when it comes to the shortage of IT specialists, freelancers are an exciting alternative to fill possible gaps. 
However, many companies still hesitate to work with freelancers.  
In our survey on LinkedIn, we asked what you see as the most common problems when working with freelancers. Respondents mentioned false self-employment, costs, or that freelancers only offer short-term solutions. 
In this story, you will learn what known challenges are, why they are often not real problems, and how they can be easily fixed. 
What Are the Most Common Pitfalls When Working With Freelancers? (And How to Approach Them Best?)
Especially if you have never worked with freelancers before, there are several things to consider. This concerns the entire process. From the search for the right freelancer to the cooperation and project completion. But even with experienced clients, problems can arise. Often there arise problems with which one was not confronted until that time. 
Our experience with clients shows that in the end there are not only barriers in the cooperation, but also in the search after a matching freelancer, various clues are ignored. By becoming aware of different problems, most of them can be avoided, or active measures can be taken to prevent them.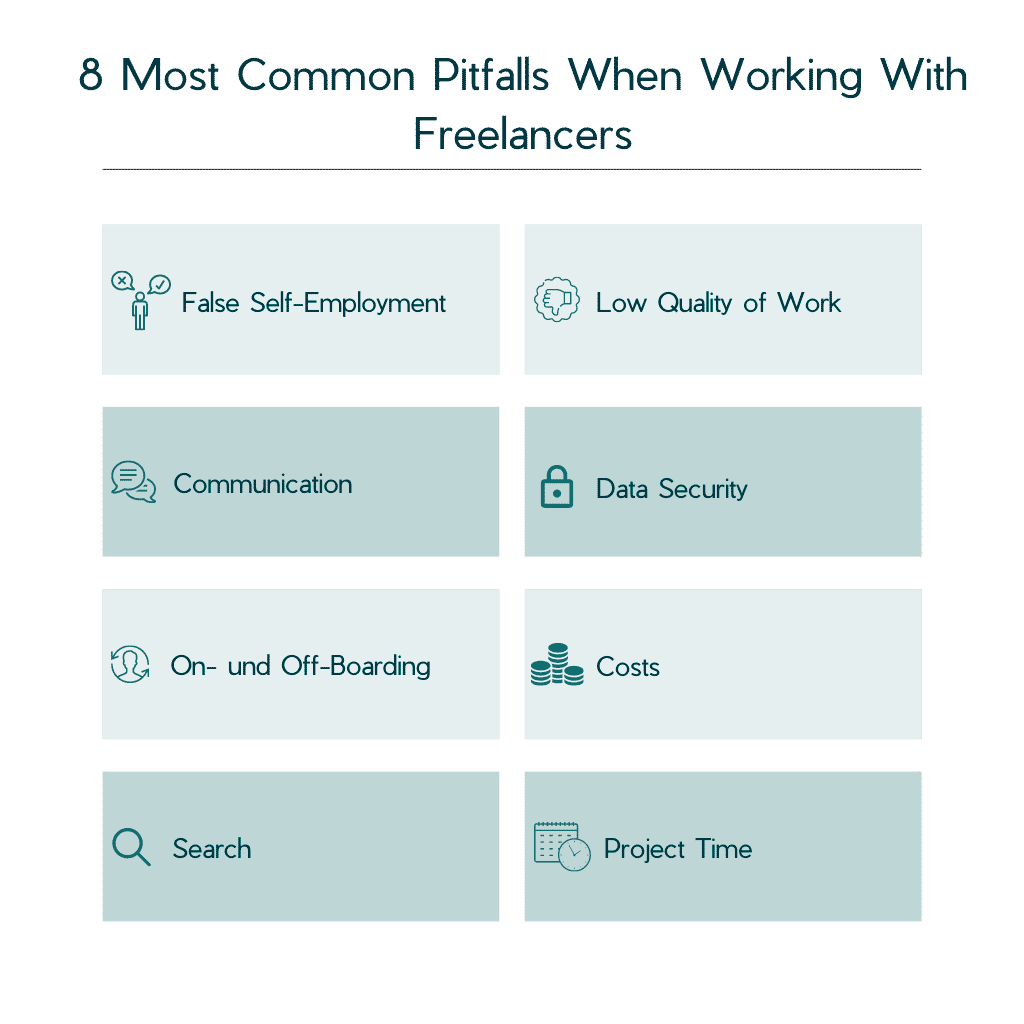 Problem: "There is a risk of false self-employment when working with freelancers."
The issue of false self-employment often prevents many companies from working with freelancers. They consider the risk of entering a legally difficult area to be too great. 
However, there are only a few points to consider to easily avoid false self-employment. 
Make sure, that Freelancers are paid after results and not after hours.
Freelancers are not bound by instructions. This means that they are not bound to the company's working hours, work locations, or hardware. They work at their fixed times, remotely or in a home office, and with their equipment.

 
Also, the freelancer should not be involved in decision-making processes and is only responsible for the creation of work.
More points and a detailed checklist to avoid false self-employment can be found here. 
Problem: "Communication is too complex."
Language barriers, cultural differences, or different time zones are points that can be seen as a challenge.
This can lead to complicated communication during the project and communication problems.
Find freelancers in the immediate area or freelancers from your own geographic area who live abroad.
You should also check the freelancer's language skills before and formulate your expectations in a personal meeting.
Before the collaboration, it is helpful to establish communication channels that will help to keep communication simple throughout the project.
At ElevateX, we are specialized in assisting you finding suitable freelancers that meet your needs.
Problem: "Freelancer take too long to get started in a project."
The fact that freelancers need a long period to get started on projects is usually wrong. They are often used to jumping into a project at short notice, which is why these can often be quickly incorporated into working routines and ways of working.
A comprehensive and detailed briefing is important so that your project partner knows what his tasks are and which deadlines he has to meet. The more precisely you communicate tasks and content, the faster the productive work phase can begin.
It is also best to make sure that your employees are familiar with working with freelancers. Make clear why they are needed and why the collaboration is important.
In general, it is advisable for a company to leave a good impression and to transfer salaries promptly, for example. This creates a positive atmosphere and simplifies cooperation for future projects.
Problem: "It is too time-consuming to find a matching partner."
Already in the search for possible project partners, various points need to be considered. It is often difficult to find suitable freelancers in the shortest possible period who are also still available.
Often it is helpful to have a network that offers you a wide selection of freelancers.
Use connections to project partners you have already worked with. Often, they can also refer to partners or similar in the industry.
At ElevateX, we can also help find suitable partners for your projects quickly and easily. We review your requirements and with the help of our extensive network of verified experts, we introduce you to possible project partners in a short period.

Looking to hire the best freelancers?
We're ready to help you.
Problem: "Freelancers often deliver lower quality work than permanent employees."
Basically, this statement is not correct. Freelancers often have the advantage that they are not bound to fixed work structures and often deliver even better work.
On the other hand, there is the risk that a freelancer has several projects at the same time and, for this reason, submits bad work.
Pay attention to the hourly wage of the freelancer already during the search. If it is unusually low, it may be an indication that the freelancer has several projects running at the same time.
Set clear expectations for the project partner before the collaboration begins. Make clear to them that they should stick to deadlines and deliverables.
It is best to provide a positive working environment. In a pleasant atmosphere, productivity is higher and people prefer to work more efficiently.
Problem: "Freelancers are not safe when it comes to data protection."
The fact that freelancers usually work remotely means that the risk of sensitive data leaking out is higher than for permanent employees in the office.
Nevertheless, the risk of this can be reduced to a minimum.
Make sure your partner uses a VPN to encrypt the Internet connection.
Everything else is often self-evident for professional freelancers. This means, for example, that public and unencrypted networks should not be used. A sufficiently large Internet tariff is therefore recommended in order to be able to use one's own smartphone as a hotspot.
But even when working in public spaces, it is important to ensure that no one has access to sensitive data. Secure passwords, screen locks, possibly protective opaque films for mobile devices.
Problem: "Freelancers are too expensive."
That freelancers are too expensive is probably one of the most common statements we hear. At this point, it helps to be clear about what the costs for freelancers are and how they are composed.
The cost for IT freelancers in Europe is 90-140€ per hour.
What sounds like a high price range at first can be easily explained.
Freelancers don´t need paid vacation
They don´t get insured by the company
They use their own hardware
Costs for training don´t need to be paid
In a direct comparison between permanent employees and freelancers, the cost savings can be as much as 5.6% when you include training fees, vacation, and insurance.
Nevertheless, it is important to calculate realistic costs for cooperation with freelancers. Those who expect qualitative work should also expect higher costs.

Make clear what skills you expect and what expectations you have of the collaboration. The more precisely you can assess them, the more clearly you will be able to estimate the hourly rates.

In this post, we have summarized for you how the costs for freelancers are made up in detail and what you can roughly expect as a company.
Problem: "Freelancers are not a long-term solution."
A typical misconception is that freelancers can only be assigned to a project for a maximum of a few months. However, they can also offer long-term solutions and be contracted for periods of 2-4 years.
Compared to permanent employees, this is not an unusual period for an employment relationship. In a study by Stepstone, it was found that German employees change companies every four years on average. This means that freelancers can be a medium to long-term solution compared to permanent employees.
In addition, the freelancer's hourly wage is usually reduced for longer project periods. This is because a longer project duration means more financial security.
Look specifically for freelancers who are available for longer periods. If they have many projects running and also had many short projects in the past, they are rather unsuitable.

Make sure that false self-employment does not occur, especially in the case of a longer project duration.
By working closely and personally with our entrepreneur clients, we are familiar with the client's needs and know how to address them. Through our experienced team of experts, you will not even face most of the mentioned problems, but we will make sure that the entire project duration runs smoothly.
As a company, you tell us your expectations and demands, and we will help you find a suitable freelancer for your project within the shortest possible time. We are also happy to help you in case of uncertainties or doubts. Numerous experiences of our customers show that hybrid teams of freelancers and permanent employees can bring considerable added value to the company. Good and clear communication is crucial. This usually allows doubts and sources of problems to be discovered and eliminated very quickly.
If you would like to learn more about working with freelancers or are looking for quality experts for your project, you can book a free consultation call here, and we will help you find suitable project partners quickly and easily.