A new, next level in the use of the Internet, it is supposed to be – the metaverse. Facebook (now "Meta") promotes it as a future made for all of us. A project created by people all over the world and accessible to everyone. In fact, the metaverse offers great opportunities, and it's not just Facebook that's involved.
Microsoft, Sony and many other companies are also working on metaverse technologies. What is it all about? 
What Are Mark Zuckerberg's Plans for the Metaverse?
Basically, the metaverse for Meta, as Facebook has been calling itself since December 2021, consists of many different parts. In a presentation video lasting just under 80 minutes, Mark Zuckerberg illustrates to the audience what Meta's plans are all about. Specifically, the topics of social relationships, entertainment, gaming, fitness, work, education, commerce, and their role and function in the Metaverse are explained.  
We firmly believe that we are on the threshold of a new era of the Internet," says Tino Krause, Country Manager DACH at Meta in an interview with DUP UNTERNEHMER. The technologies augmented reality (AR) and virtual reality (VR) are to be used decisively in the Metaversum. In the presentation, it becomes clear that the company wants to create a virtual world in which people can move freely. Whether visiting friends, experiencing concerts or playing sports, almost anything could be possible in the virtual world, in which users would be able to move physically. Zuckerberg himself proclaims the new revolution after the mobile Internet, and also sees his company in a process of realignment.    
It is not clear when the metaverse will be publicly accessible to this extent. From Facebook's (now Meta) annual reports, high leaps in investments in research and development can be seen. Tino Krause, Country Manager DACH at Meta, considers a period of ten years to be realistic. Nevertheless, the power of innovation should not be left to Meta alone, because numerous other companies will not leave this market to Meta without a fight. 
Reuters explains some of these companies that do not want to leave the metaverse market to Meta alone and their respective roles in an interesting article. Microsoft, for example, plays a decisive role alongside Meta both in the creation of an "enterprise metaverse" and in gaming with the Xbox video game console. 
First Things First: What Does Meta's Metaverse Cover?
Overall, Zuckerberg's introduction video explains social relationships, entertainment, gaming, fitness, work, education, commerce, and their role and function in the Metaverse.
You can find out what exactly is planned below:  
The goal of this area should be to feel as close as possible to other people. Spaces are to be shared, people are to be able to look to each other just as we do in "real life", as Zuckerberg describes the future reality. Basically, this is a major upgrade of what Facebook, Instagram and WhatsApp offer us today – virtual togetherness.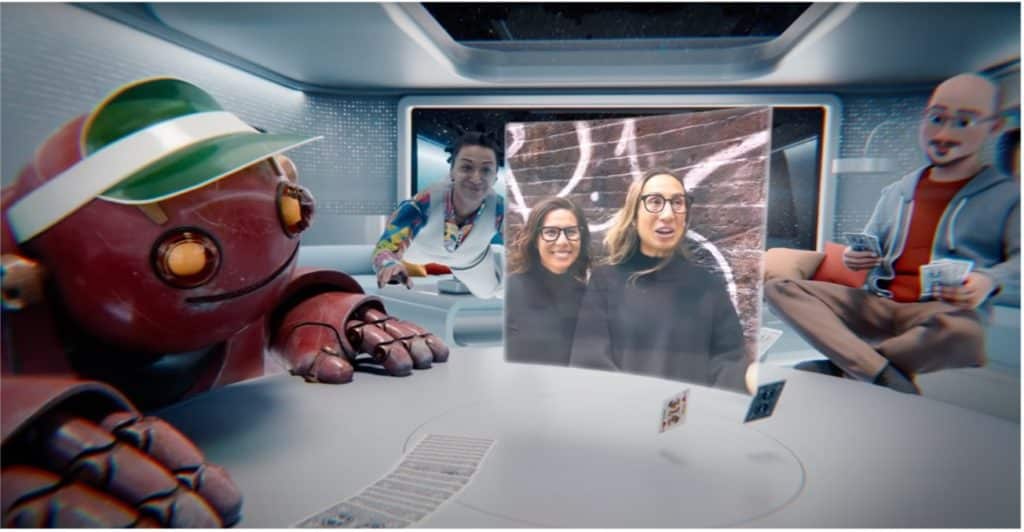 Meta is also striving for versatility in this area. For example, Meta introduces the virtual visit to a concert. Here, once again, we see an improvement in what we can experience today. Instead of a livestream showing the concert, we can participate virtually – and really feel part of what is happening at the concert. Other aspects, such as buying a fan item as well as simply interacting more with each other, also become more likely. This increases the feeling of actually being part of the concert.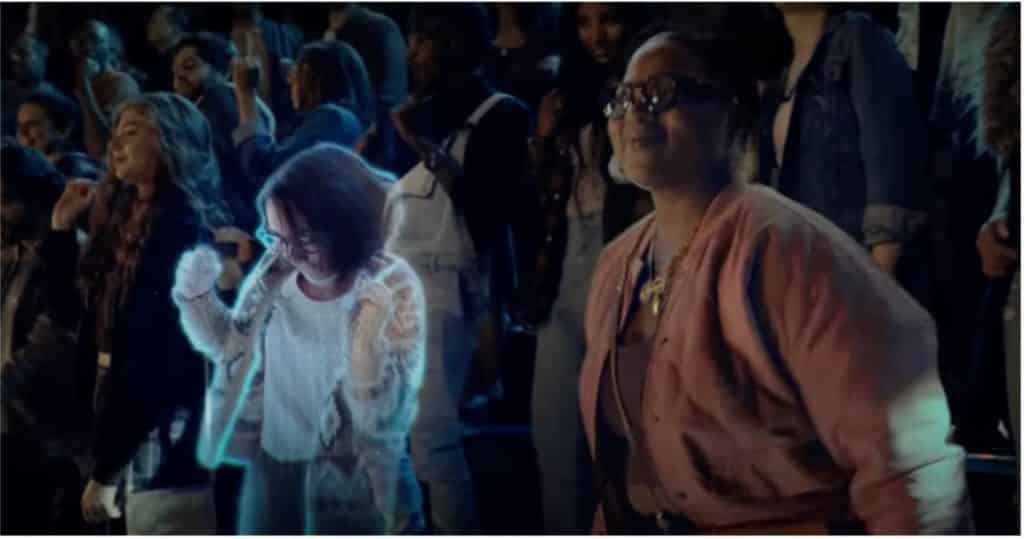 Gaming – a market that was worth over USD 173 billion in 2020 and is expected to grow by almost 10% annually until 2026. Accordingly, the area is also interesting for Facebook. Mark Zuckerberg presents this area on a surfboard, playing in the metaverse with pro surfer Kai Lenny. In the metaverse, gaming is to take on new dimensions, among other things with VR glasses, as we already know them today.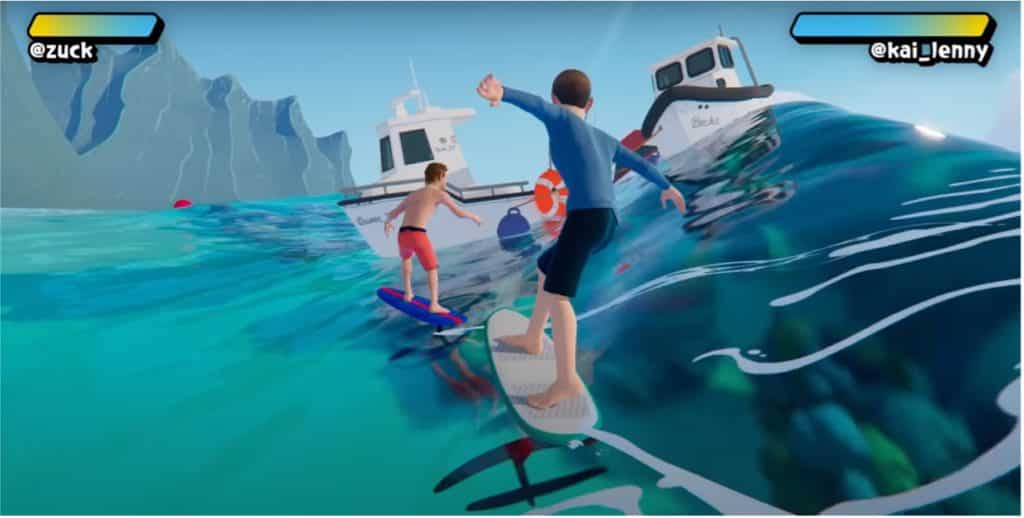 For fitness, Meta sees classic online workouts with a personal touch as the future. In the excerpt, you can see a group cycling together, having a digital leaderboard and being able to communicate with each other. A strong upgrade to the current possibilities of exercising together digitally. However, even the metaverse will probably not be able to compete with outdoor sports.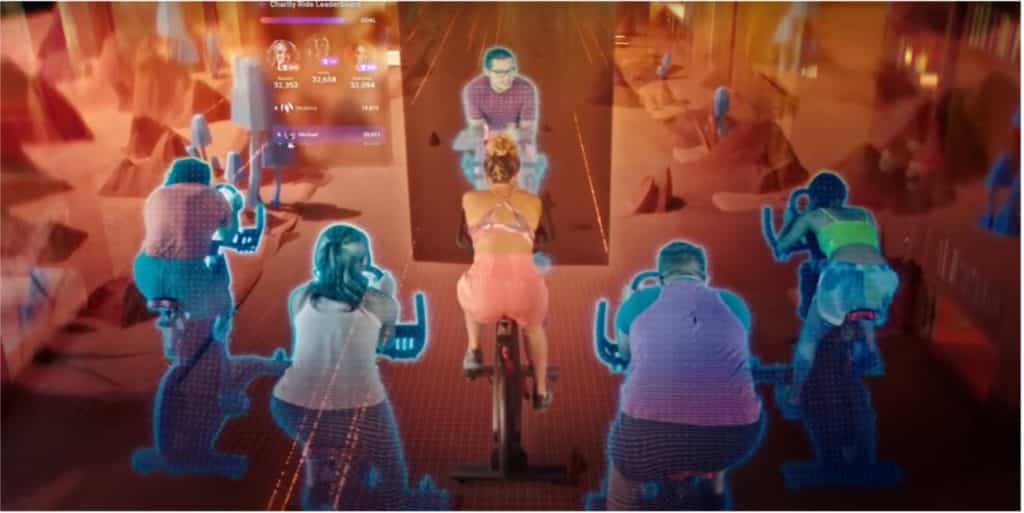 Here, too, the metaverse is full of interesting possibilities. How can we work better in the future? We are already asking ourselves this question, since the way we work has changed since the pandemic began. At ElevateX, we also write frequently about this topic, most recently sharing eleven tips for working more productively from home. Meta impressively shows how we can make our home office more personal. Mark Zuckerberg may be presenting us with the future of work here.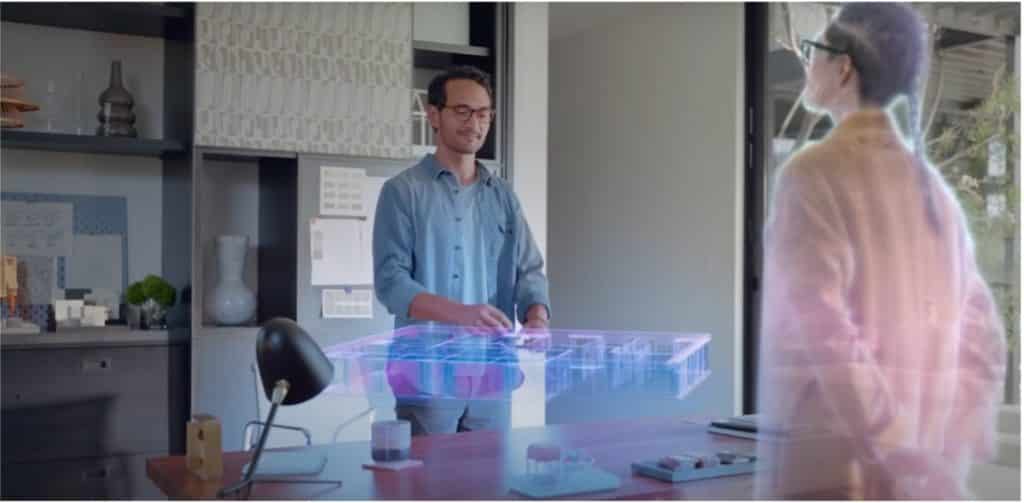 Similar to the home office for working people, students have been in a transition of digital and "normal" teaching for almost two years now. How can we find new ways to learn better? Can we possibly find completely new areas which would be improved by greater digitization? One of these areas could be medicine. For example, surgeons could first train certain operations digitally before working on patients.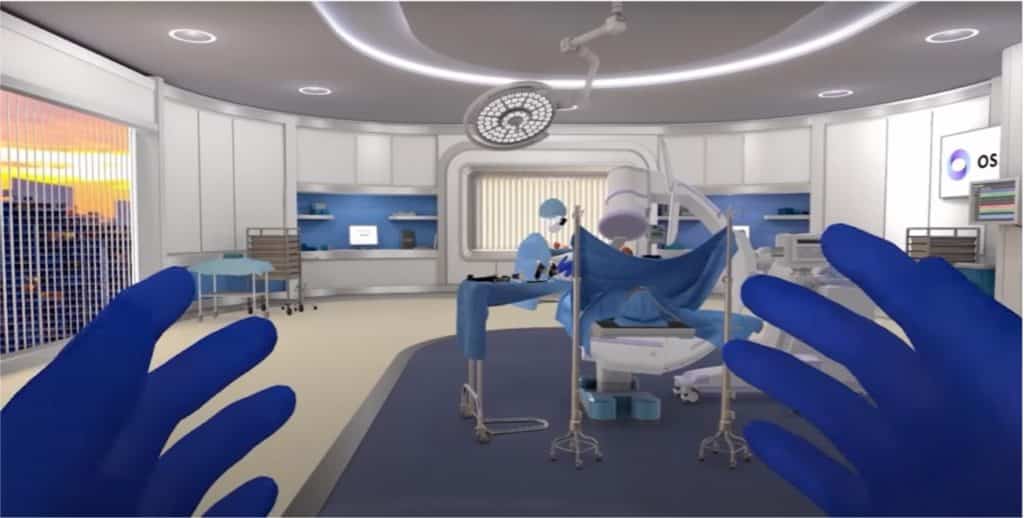 In Germany, people of all ages are shopping online. Not only the younger generation, but also older people, are increasingly doing their shopping online. A study conducted by Bitkom shows that 98 percent of 14- to 29-year-olds and 95 percent of Internet users aged 65 and older shop online. What would it be like if we didn't just have to evaluate products based on a few pictures, but could see them almost real in front of us. We could "try on" clothes, "touch" them and combine them. A metaverse could also be used in other areas, such as grocery shopping, food deliveries and much more.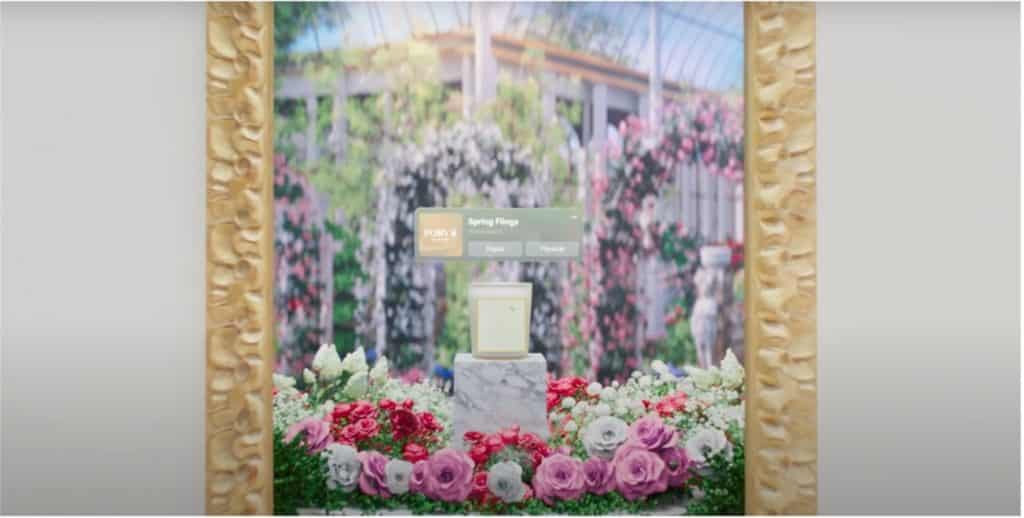 Want to future-proof your team?
We're ready to help you.
How Will the Metaverse Influence the Future of Work?
The future of work is formed now, and the metaverse will continue to reinforce already existing trends because work has been rethought and reinvented again and again for centuries. This is also the case at present, as a trend towards more home offices and location-independent working has already been established since the pandemic. At the latest since the pandemic, it is clear that employees do not want to go back. The home office is currently, and will remain, at least in part, the workplace of choice in the future.  
What will meetings look like in the future? Are we changing from looking at a screen to having real-feeling spaces in which we can communicate with each other?  
Interesting questions, to which we have already turned a blog article for the current way of working, could be:   
The link will take you to the ideas and strategies we use at ElevateX to work completely digitally. 
A More Immersive Digital Workplace
In order to understand how the digital workplace will look, it makes sense to look at what has happened during the pandemic: Workers have increasingly been able to work from home, long-standing working rules needed to be reinvented, and work-related tasks that have previously only been done in-person, are now held digitally.  
Attending conferences and running successful projects sounded unrealistic in the past and is nowadays part of the daily routine for a large part of the workforce. In fact, it is projected that hybrid or fully-remote working models are here to stay. 
How Could the Future of Work in the Metaverse Look Like?
Boundaries 

 


The boundary between the real world and the virtual world is fading. This also applies to work and became especially true during the pandemic. This might possibly also mean that the boundaries of work and private life will overlap.

 

Tackle Problems in 3D

 


Many tasks our done easier visually. But in the real world, we are often constrained to our physical space and budget. Say, an architect wanted to create a model that is larger than one that could fit in a room. An impossible task in the real world, whereas no problem at all in the metaverse. 

 


 

Virtual Places Become More Immersive 

 


Even though many tasks, such as information gathering, coding, teaching and counseling, or communicating with customers, can be done digitally,

many employers think that some activities still are done more effectively

in person

. These include, but are not limited to, coaching, advising, building relationships with colleagues, or bringing new employees to companies. While this matter is debatable, the metaverse promises to improve the future of work in aspects like engagement, productivity, and effective communication. 

 


 

Teaching and Training will be redefined

 


Training using VR has been around for some time – think of a flight simulator. The use, however, has been limited to very few and specialized tasks. Imagine being able to train an electrician in a safe environment. The same could apply for example for medicine students, mechanics, or

handymen. 


 

Less commuting

 


Currently, only a very small proportion of the population – between 5 and 7 percent – work from home on a regular basis. With technologies that would allow us to make work from home more effective, the share of those working remotely could lie between 15 and 20 percent. This in turn would have a significant impact on urban economies, prices on rentals and transportation, and possibly real estate.
The Metaverse and the Future of Work: An Outlook
Mark Zuckerberg and many more see the metaverse as the next big step in the age of the Internet and the future of work – or at least part of it.  
The metaverse will very likely shape the future of work. However, the applications, at least for now, seem to be limited due to the lack of specialized hardware. To fully experience the metaverse a combination of AI, VR-gear, sophisticated sensors, and a powerful cloud connectivity is a prerequisite. These are not yet fully developed and will probably take several years to be readily available. 
In the coming steps, the foundations for the Metaverse will develop. A foundation of diverse ideas, strategies and participants dedicated to the Metaverse. One thing is clear: no company, not even Meta, will be able to create a global Metaverse on its own.   
What Hardware and Software Does the Metaverse Need?
It is not (yet) possible to simply turn ideas and dreams into reality. Therefore, an important block is the development of the technologies that make the creation of a metaverse possible. This includes not only the software, but also the necessary hardware.  
For example, computer chip manufacturer Nvidia has developed an Omniverse platform to connect 3D worlds into a shared virtual universe. Omniverse, which is used for projects such as creating simulations of real-world buildings and factories, is the foundation on which metaverses could be built, according to Nvidia. Amazon, Google (Alphabet) or Microsoft will also have their share in the metaverse, for example by providing cloud capacity. Lastly, hardware shows that companies like Apple or Sony, possibly Meta itself, could provide VR glasses and much more. 
What Are the Expectations for the Future of Work? ​
We should adjust our expectations to the current time. We will probably see smaller innovations or new functions for our social interaction in the coming years. In the past, these included Stories on Snapchat and Instagram, for example, and free calls via WhatsApp. The pandemic has accelerated the need for larger innovations, such as the metaverse. Meta itself states a timeframe of ten years as realistic to see the first significant results in terms of large-scale usage.
At ElevateX, we expect the future of work to be much more immersive than our current digital work environment with video conferences being replaced by a fully-immersive digital experience – in fact, it's hard to imagine the enormous potential of the metaverse. Not only new worlds and freedoms, but also much more room for technical innovation and change.
You search for qualified Tech-Experts to start your IT-Project? Send us a request, and we help you find suitable freelancers.