In one of our last articles, we wrote that the pandemic has made the topic of home office even more important. And many employees will also work more often from home in the future. The keyword is "hybrid working", which means the alternation of working from home and regular office work. 

This sounds great for many freelancers and employees in a first view. Determine your own working methods, work in baggy clothes, no driving to the office, and working undisturbed in your own four walls. But the situation is not quite that simple. When working from home, you face new challenges: Consideration of roommates or family members, lack of motivation, or a work environment that tempts you to neglect the work at hand. 
At ElevateX, we also mostly work from home. In the following article, share our learnings and how you can make your work from home more productive and enjoyable.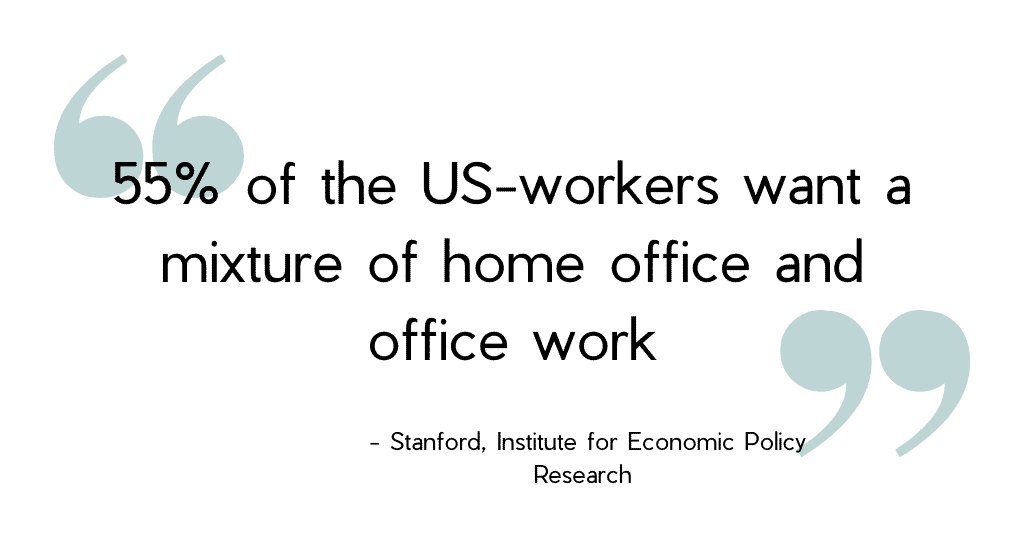 Sitting for long periods of time is often an essential part of working from home. That's why, for example, height-adjustable desks are a good way to bring movement into everyday life. Standing also gets the circulation going and makes you less tired. 
If you do want to sit down, a comfortable desk chair is also very important. Ideally, it supports the natural curvature of the spine and protects against movement and back pain. 
Make sure you stand up for at least one minute after every hour. Ideally, you can supplement this routine with some stretching or yoga exercises to ease tension. 
It is important to have a fast computer that is able to perform all the tasks you have to do. In addition, it is recommended to have several monitors that are placed at eye level, so your view is not permanently directed downwards. 
A comfortable keyboard and mouse are also important. Not only, longer texts can be typed more comfortably and quickly, but the forearm and wrists are relieved to prevent pain or injury. It is essential to remember that such gadgets are always individual. So try keyboards and mice and decide for yourself what works best for you. 
In addition, a qualitative headset is extremely useful. It is pretty tiring to listen to someone when there is noise or crackling in their microphone. You can't influence the quality of your employees' technical equipment, but you can influence your own equipment. Good headphones ensure that you can understand better what colleagues are saying. Noise-canceling headphones are also an exciting option. These pick up distracting noises in your environment and sort them out, so you can concentrate better.  
A good microphone also ensures that your colleagues can listen to you better and pay more attention. 
You can find good options for pleasant headphones here: 
Blue light blocking glasses for eye protection.
What first may sound a bit strange has a well-founded background. All screens and displays emit blue light, which has to short waves to see. Nevertheless, it massively damages our eyes and can cause, among other things, poor concentration, headaches, eye and sleep problems. Normally, people sit in front of a screen between 8-10 hours a day. Blue light blocking glasses help to protect the eyes and prevent such problems. 
A recommended brand is Kapten and Son, who are specialized in such glasses and offer them in different colors and shapes. If desired, also with prescription.  
In addition, there is the so-called 20-20-20 rule. It says that every 20 minutes, you look for 20 seconds at an object that is 20 feet (about 6m) away to relieve the eyes. 
4. Keep Your Home Office Clean
Probably, this tip does not come as a great surprise. Nevertheless, it is pretty important. A tidy workplace also makes for a tidy head. Remove unimportant items that get you easily distracted from. For paper documents, a filing system and folders are recommended. Even better is to keep your own documents digital. But again, a tidy desktop is especially important.  
To be able to access your own documents remotely, cloud services such as OneDrive or Google Drive are ideal. This way, you can sort your files right away and access them from almost any device. 
You should also make sure that you find a separate work area within your own four walls. On the one hand, this ensures that roommates or family members don't disturb you, and on the other hand, it allows you to consciously separate your private and working life and keep things in order. If you don't have the possibility to use a separate room for your home office, you should look for a quiet corner and point out to roommates or family members that you want to remain undisturbed. 
Studies show that people are most productive in natural sunlight. A place with large windows is therefore recommended.  
However, especially in winter, this is often easier said than done. That's why colored lights that can simulate sunlight or daylight are very pleasant. Indirect lighting also provides a pleasant light for work. 
The keyword "circadian lightning" describes how light adapts to our biological daily rhythm and also helps us to stay productive. 
Exciting technical possibilities are offered here by Philips Hue, which can also be controlled by your smartphone and provide a pleasant room light. 
Here are some links to recommendable lamps. 

Want to stay up-to-date?
Get high-quality articles for free.
Plants not only enhance the indoor climate and the appearance of your workplace, but you also ensure better air quality. They filter CO2 and convert it into oxygen.

Studies show that they can help against depression and provide a better mood. You don't necessarily need a green thumb, either. There are enough houseplants, such as cacti or ivy, that can grow with relatively little water and without much care. Normally you can find nice indoor plants at local hardware stores. 
Music can also help to increase productivity and reduce distracting ambient noise. Contentless music without lyrics is preferable. You can also adapt your music to the ongoing task. For example, if you need to complete a monotonous task, play something with a fast rhythm. On the other hand, quieter music is more suitable for creative tasks.  
Others find music distracting and irritating and can't work with it at all.  
Since headphones are harmful to your ears in the long run, small stereo speakers for the computer are recommended. Headphones "push" the music directly onto the eardrum, which can be uncomfortable over a long period of time and also unhealthy. 
Doctors recommend the so-called 60/60 rule. Do not listen to music at 60% volume for more than 60 minutes per day with headphones. 
Even though working at home often tempts you to work in baggy clothes, you should dress as if you're going to work in the morning. Not only will this avoid any potential embarrassment in Zoom meetings, but you'll also take the first step towards a more productive way of working. If you are already externally attuned to work, your mind will automatically be more attuned to work as well. This will make it easier to get into your work routine.  
Additionally, set core hours when you want to work. Take advantage of the work at home and determine yourself. The times when everyone is most productive are individual and different for everyone.  
Try to avoid work outside of your established core work hours. Also, do unpleasant things first so that other tasks will go easily afterward. 
To-do lists often help for this, so that you can check off completed tasks by the end of the day and take a well-earned break. 
In this case, fresh air does not mean that it is enough to open the window for 2 minutes every 10 minutes. Although a good indoor climate is important and regular airing helps with stuffy air in the office, it is really helpful to leave the house sometimes. A short walk, getting coffee or rolls at the bakery, meeting friends for lunch. Since you often miss out social contacts when you are working from home, it is especially important to go out and get some fresh air and meet other people outside your own household. In the spirit of the Corona Rules, of course. 
Co-working spaces are also a good way to get out of your own four walls without having to drive directly to the office. 
As already mentioned, the separation of work and private life is an essential part when working from home. This applies to the spatial and temporal separation. Having your own office in your own home is, of course, the ideal case. 
However, it is more important to concentrate on work during the fixed working hours and to disregard business matters outside these hours. 
But even during working hours, regular breaks are important to stay focused. Applications like Time Out (macOS) or Smart Break (Windows) can help with this, reminding you to take breaks. 
11. Whatever Makes You Happy
The previous points are useful tips and tricks, we also use in our home office. But ultimately you have to decide for yourself. Take advantage of the fact that you can structure and set up yourself as you like.
Try out which tips and habits help you best and which do not. Everyone is different and everyone can work better differently.