At the beginning of every good working relationship comes the onboarding. It is often said that first impressions count, and the same applies to the first days and weeks in a new company. Not only the employee and the HR department, but also management and colleagues play their part. All about successful onboarding and the role of freelancers.  
Despite the widely recognized importance of good onboarding, only 32% of companies have an onboarding process in "formalized form," according to the Aberdeen Group.
What Does Onboarding Mean?
If you take it by the literal translation, onboarding is the process of taking someone on board. And in principle, the metaphor from shipping fits perfectly. In exact terms, it's about introducing new employees to the company after they've made a commitment. Many companies have precise processes, which usually start in HR. Once the job is accepted, onboarding officially begins. By then, however, it has already been a lengthy and, above all, resource-intensive process.  
For this reason, well-structured onboarding is a must for every company in order to give new employees a good feeling right from the start.

In addition, well-structured onboarding increases the new employee's loyalty to the company by 50%. A coordinated process has therefore been proven to help significantly with the acclimatization process.  
Often, HR staff are the point of contact for any problems long before the rest of the workforce is in contact with the applicant. An average onboarding is divided into three steps: Preparation, Orientation & Integration.  
Shortly after the ink is dry, phase 1 begins. The new colleague should be able to start his first day at work as well-prepared as possible. Of course, it takes time to understand internal processes, and this time should be allowed. But the better informed they are in advance, the more they can focus on the actual work. If this has not already happened during the interview, the employee can be provided with information about company structures, such as the number of employees or the company philosophy. This can take place, for example, via a company handbook (see below). In addition, it should always be possible to make uncomplicated contact, especially at the beginning.  
Phase 2 is limited to the first days in the new company. If work takes place in an office or agency (i.e., on site), the workplace should be prepared. This includes setting up software and hardware, a clean desk and providing all the necessary work materials. After all, you want to start right away. A small greeting card a not a must, but a nice personal touch. In the home office, everything mentioned so far is left up to the employee. 
But also, or precisely there, it is important to get to know your colleagues as well. The euphoria about the new company quickly fades if you have the feeling of working in a "quiet cubbyhole". Interaction is an important keyword for successful onboarding and progression to the next phase.  
After the orientation phase, the new employee will ideally have settled into the company. If the tasks assigned are already being carried out carefully and reliably, there is no reason why the person should not be involved in further projects. The existing bond with the company is deepened during this phase. Especially in the home office, team-building measures are a good alternative to coffee breaks in the office. This can help to shorten the virtual distance and form a change to gather new strength. Personal contact is a key to successful integration.  
Of course, the phases mentioned are also not applicable to every company or employee. It only serves as a sample and should be adapted individually in each case.  
Tips for a Successful Onboarding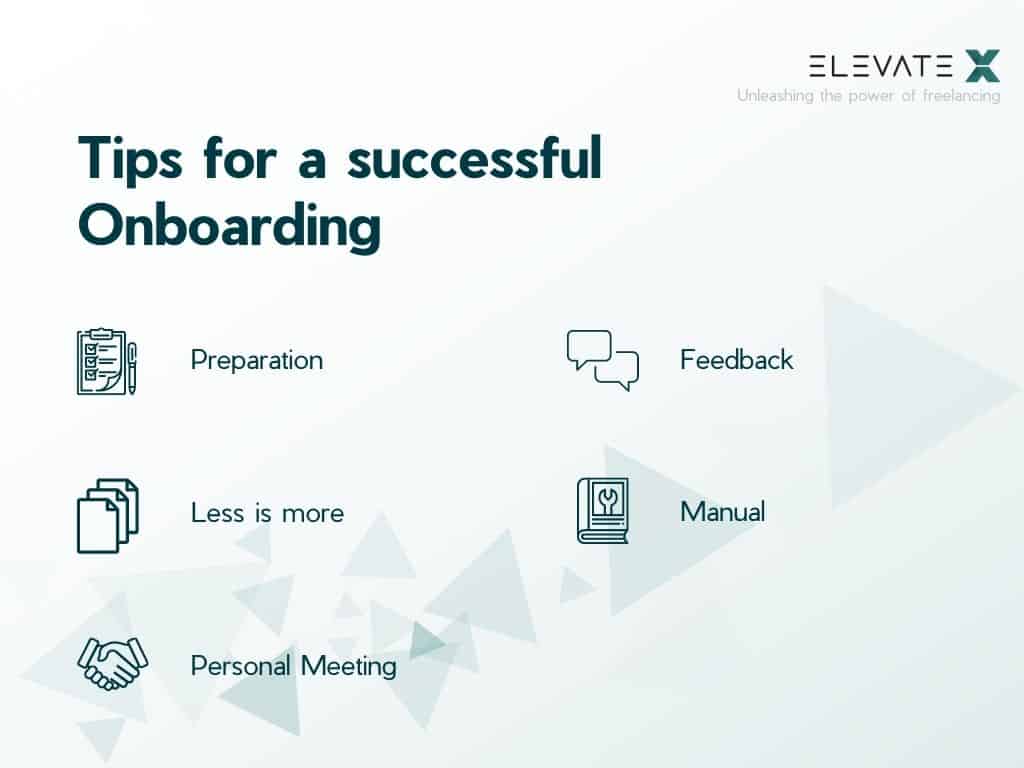 More and more companies are targeting the global market in their search for employees. Remote hiring has become a popular practice in searching for the best possible employees worldwide. However, interviews then take place in most cases via video calls – which need not be a disadvantage. If possible, a face-to-face meeting no later than the signing of the contract is a good way to get to know the new colleague in person.  
These meetings create a different atmosphere, important factors such as body language, social behavior and of course getting to know the city, the country or the premises strengthen the relationship between employee and employer right at the beginning.  
Onboarding has long been a social event, simply by working on-site. According to the New York Times, employees find it easier to quit when they can't establish personal contact with colleagues. That may not always be possible; ElevateX, for example, places a high value on daily check-ins, where professional goals for the day are discussed. In addition, virtual coffee breaks are a way to get to know the team privately as well.  
The best pre-onboarding is useless if the first day in the new job is a standstill because the workstation is not set up. Many companies in the IT sector offer the option of remote working – as does ElevateX, by the way. While the employee is responsible for working productively themselves, all the necessary tools should be available on day 1. These include, but are not limited to:  
Company e-mail

 

Access to necessary software and hardware 

HR Login

 
Clarifying discussions are an immensely important tool for successful onboarding, especially at the beginning. The first days and weeks are reflected upon.  
Was the reception friendly and open? 

 

Does access to all platforms work?

 

How do the initial results compare to expectations? 

 

Do you know who to contact if you have a problem? 

Are they over / under challenged? 

 

How does communication with colleagues

work? 

 
At the same time, however, the entire onboarding process can be reflected upon. The new colleague is the last one to go through it and can thus best evaluate it. Of course, this is a highly subjective assessment, but in combination with other feedback it can become an important value for the HR team. In addition to providing feedback, you actively involve the new employee in the company and give weight to his or her voice. This leads to a positive emotional connection with the company.  
Feedback should occur more frequently at the beginning, preferably on a weekly basis if the workload permits.  It is also a good idea to involve colleagues who work together in order to obtain feedback from the day-to-day work. After all, the team bears a not inconsiderable responsibility in building a strong, independent workforce.  
If the feedback is good, strengths, and weaknesses are identified. These are then best used to make offers for further training and improvement. 
The first few days are exciting. Not only for the applicant, but also for the rest of the staff. There are high hopes for the new colleague, and perhaps even tasks were left undone during the application process. However, the countless new impressions must first be processed, and this certainly affects productivity at the beginning.  
"Get them in and get them working" is often counterproductive. Give your new employee time in the beginning to focus on the environment, colleagues and the organization of his or her first tasks. Rushing is out of place in the first few days.  
If things do get a little too comfortable, this can be worked through in the feedback meeting.  

Create an Onboarding Manual
In the first few days and weeks, the newcomer is bombarded with so much new information that it is impossible to remember it all. An internal handbook is a good way to read up on all the important information. In addition to general information about regular meetings or guides, it also contains specific instructions for hardware and software.  Such a manual must first be created and then also regularly updated. Afterwards, however, it saves a lot of this. Many questions can be answered by reading the manual without asking a colleague. In addition, practical and the general company philosophy in writing to hold.  
 

Want to stay up-to-date?
Receive the latest insights for free.
What Role Do Freelancers Play In the Onboarding?
As should be clear by now, onboarding is a lengthy and complex process. However, companies in the IT sector often have no choice but to face up to it in order to counter the already noticeable shortage of skilled workers. Potential employees are now in a privileged position. Many companies spend a lot of effort (and money) to recruit the best in their field. It can happen that no suitable candidate can be found for an indefinite period of time. Of course, the projects can't stand still for that long. A popular solution, even if only for a certain time, are freelancers.  
These flexible workers are usually only with one employer for a limited time and are therefore more readily available. But flexibility is not the only trump card. Especially when it comes to time-to-hire (which measures the number of days between when an applicant applies for a job and when the same applicant accepts a job offer), freelancers beat permanent employees because most freelancers are spared the lengthy hiring process. 
Freelancers, regardless of their field of expertise, regularly deal with a wide variety of projects and thus build up a wealth of experience. Through constant change and collaboration with different companies, freelancers often bring a different perspective and new ideas to a project. 

 

Moreover, this experience is then also noticeable in the speed with which freelancers work on and complete the project. 

While permanent employees are usually employed by one and the same company for a long period of time, freelancers are more adaptable to different situations due to a constant change of client. This allows you to transfer and contribute a lot of know-how from other projects.

With quick adaptability and short time-to-hire, upcoming projects can be seamlessly handed off to freelancers.

 
Freelancers are used to working alone. They are characterized by a high level of intrinsic motivation and willingness to perform. 

 

Freelancers manage themselves and so there are usually no other costs (vacation pay, vacation bonuses, etc.) outside of the hourly wage.

 

When hiring freelancers, there are low administrative costs, as they have their own computer and working materials. Thus, they own everything needed for the work and are thus not tied to any companies.

 

Sometimes freelancers also work in hybrid teams, i.e., together with your permanent employees. In this case, it is important to integrate the freelancers into working methods, networks, and structures to enable a quick start to the project. This also applies to access to networks or necessary data. 

 

Never worked with freelancers before? We have summarized our extensive experience in a

guide

. Our free

e-book

is aimed at companies that want to add freelancers to their team. It teaches the skills to work with freelancers and optimize collaboration. 

 

As a company, you tell us your expectations and requirements and we will help you find a suitable freelancer for your project within the shortest possible time. We are also happy to help you in case of uncertainty or doubt

.

Numerous expieriences our clients show that hybrid teams consisting of freelancers and permanent employees can

add significant value to the company.

Good and clear communication is crucial. This way, doubts and sources of problems can, for the most part, be discovered and eliminated very quickly.

 
Well-structured onboarding is essential for a smooth and productive start of new employees. However, this does not begin with the candidate's acceptance, but long before.  Personal contact, the good preparation, and feedback are important points for achieving high performance coupled with satisfaction on both sides after the start of work. A handbook for reading up on all the facts is very helpful but must be maintained.  
Freelancers, on the other hand, are a good alternative to permanent employees due to their short training period and experience.