Since the Corona pandemic, remote leadership is no longer a rare occurrence. But many other factors, such as globalization, have also contributed to make remote work more and more popular. Teams have suddenly transformed into virtual teams that need to be managed successfully. This important and complex task is now in the hands of the leaders.
What is Remote Leadership?
Let's start with what Remote Leadership actually means. In simple terms, this indicates that leaders manage their employees from a distance. It has developed as a result of the changes in the world of work. The concept of New Work now plays an important role, it is based on flat hierarchies and increasing flexibility. The focus is on the employees and their wishes and needs. As a consequence, leaders now need to be primarily communication managers and relationship managers. The changed conditions for leaders can be summarized as followed:
The leaders and the employees are separated by a distance.
Remote Leadership frequently includes unusual and unique organizational structures.
Communication supported by media and its informational protection, which is also supported by media, are crucial components of the management process.
Unfortunately, there is no standard solution for mastering these challenges.
Leaders manage their staff members remotely.

Because of Covid, the Gloablization and E-business, it has become more common for employees to work from home.



The main challenge in this is to keep the communication going.



For employees this has many advantages in terms of work life balance.
Key Findings in the Area of Remote Leadership
One of the main responsibilities of a leader is and always will be communication in the broadest sense. Remote Leadership suggests that immediate communication is either no longer possible or is only possible to a very limited level, and that the increase in the use of technical communication media is a result of the decline in direct communication.
Therefore, employees in the home office must have a certain degree of maturity, initiative and sense of responsibility. On the other hand, leaders would have to possess media skills, an understanding of leadership, and sensitivity.
It is also important to mention that it has been discovered that it is not possible to run a company successfully completely without face-to-face communication. Communication is a crucial factor in relationship building, networking, motivation and coaching. Therefore, it is essential to find the right tools for personal contact.
From this it can be concluded that certain rituals are also indispensable. For example, if there was a short team meeting every morning at the start of work, this ritual should also be made possible for the corresponding teams in the home offices.
Generally speaking, leaders must stick to three principles for remote leadership to be successful:
Ensure that your employees have access to all necessary information.


Demonstrate trust in your employees.


Evaluate your communication strategy.
What Are the Challenges of Remote Leadership?
Remote leadership comes with many challenges:
Communication almost entirely through digital media soon results in errors of judgment, and in the worst case even in negative moods and demotivation because the nonverbal component is absent.


Individual team members operate for themselves and not as a unit.


Creating commitment to mutual goals becomes increasingly difficult.


Lack of immediate interaction makes performance evaluation more challenging.


Employees are suddenly in a brand-new circumstance where their house is also their place of work.
Why Is Remote Leadership So Important?
Globalization, the Corona Pandemic and E-Business have profoundly changed our economic world. Organizational and work processes are now physically spread rather than being bound to a single location. Organizations can function in a distributed way thanks to modern information and communication technologies. Partners and sites are located where the locational advantages are greatest. This opens up many new possibilities. In order not to miss out on this and to be up-to-date, it is important to learn how to deal with Remote Leadership.

Need help with remote leadership?
We have the right experts.
Which Opportunities Does Successful Remote Leadership Bring?
Within the company, remote leadership has many advantages for both leaders and employees. It allows leaders to devote more time to their original activities, especially to general planning. On the other hand, employees learn to work independently. For some of them the office space may not be the greatest place to work. According to studies, working in a setting where you feel secure, at ease, and focused results in better work, more productivity, greater job satisfaction, and less stress. Simply giving your employees the option of where they want to work one day each week will increase engagement, productivity, and perhaps even satisfaction.
Employees can also significantly reduce the amount of money they would otherwise have to spend on transportation and lunch by working from home or a nearby café. As a result, it costs less to use public transportation, maintain and repair cars, or buy gas. Additional time might be used to prepare nutritious meals or engage in exercise. A healthier, less stressed-out, and marginally "wealthier" employee is the end result. The environment benefits as well from reduced driving.
However, not only employees are able to cut costs. Employers are also covered by this. Remote work, for instance, can reduce expenses for things like rent, furniture, power, heating, air conditioning, and water. Additionally, organizations may work with the top staff no matter where they are.
We can note that a better work-life balance is essential for success: One of the best things an employer can do to help employees balance their professional and personal lives is to allow remote work. Employees can attend appointments, accept deliveries, make nutritious meals, exercise, and spend more time with their family thanks to this flexibility.
Effective Leadership at a Distance: Tips at a Glance
To make the most of the opportunities, we have a few tips for you on how to successfully lead remotely:
1. Keep the Mutual Goals Always in Mind
Having the same goal in mind and being dedicated to it through open communication is necessary for successful remote management. Only those who are aware of their mutual goals can work to attain them. And succeed in them.
2. Establish a Strong Foundation of Trust With Your Employees
The most essential fundamental component for effective leadership at a distance is trust, particularly because you don't operate in the same office, city, or area with your team. You can build trust by, for instance, asking your employees how they best imagine doing their task and what they believe is required for effective teamwork. To show your staff that you value them and their requirements, you should always request feedback.
3. Create Explicit Guidelines
For any type of leadership work, clear guidelines play a fundamental role. But even more crucial are clear instructions regarding Dos and Don'ts when leading from a distance. You should establish specific KPIs as a leader to help your team better coordinate results. You need to define your goals and the necessary work effort together with your team. Develop standards that are applicable to everyone and that everyone can uphold, even if the team is spread over multiple locations, nations, or continents.
People require appreciation. Praise and motivation should not be overlooked when leading remotely. Sometimes a positive "Well done" in the team chat is sufficient, and other times a personal call is necessary. But maintain your lines of communication open for comments from others! You must be receptive to criticism, especially while leading from a distance, and be able to handle it.
5. Establish the Technical Foundation for Effective Collaboration
The infrastructure contributes significantly to the effectiveness of remote leadership. Only if it is guaranteed that everyone has access to a quick Internet connection, phone, smartphone, and notebook is virtual team leadership possible. All used instruments for collaboration and communication must be identified beforehand.
6. Encourage Team Interaction
An essential element of human communication is sometimes lacking in virtual teams because individuals work alone. As a leader, you should also encourage your team members to periodically communicate outside of their assigned work in order to lift morale. The explanation: It is normal for concepts or visions to begin to take shape in groups during informal, private chats.
7. Adjust Your Perspective to the New Challenges
You need to spend a significant amount of time getting ready for the new requirements and bringing the proper attitude, based on your preliminary considerations. As a remote leader, you should possess the following characteristics.:
Ability to delegate while giving out clearly specified tasks


Low control requirement


High level of technical skill in digital media


Openness and tolerance towards cultural differences of employees of multinational and multicultural teams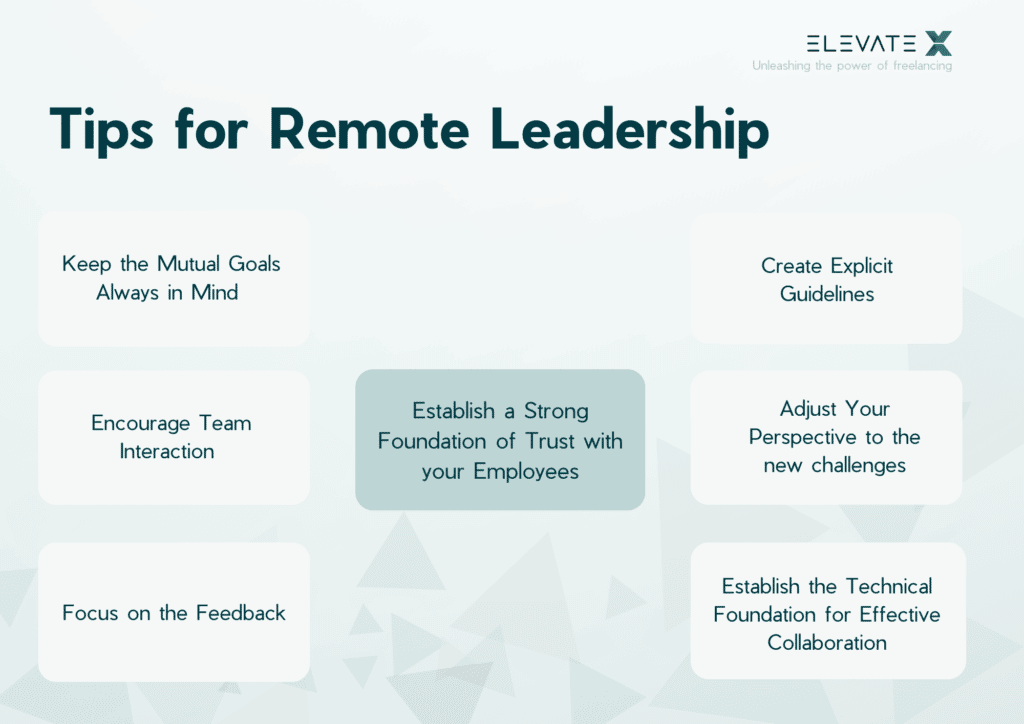 Many leaders may find it difficult to lead from a distance at first. But a closer examination indicates that the difficulties are by no means brand-new. The concepts of trust, communication, and empathy have been present in the leadership field for a while now. These challenges are resurfacing as a result of the ongoing discussion regarding remote leadership. Even if many of the advantages of team leadership in one place are lost when leading at a distance, virtual teams offer great additional opportunities.
It means that leaders manage their employees from a distance. It has developed as a result of the changes in the world of work. The concept of New Work now plays an important role, it is based on flat hierarchies and increasing flexibility.
The fact that communication is mainly digital means that a major challenge is to avoid misunderstandings. It also makes performance evaluation more difficult. Not to be forgotten is also that employees have to adjust to the new situation.
We have 7 tips for you:
Keep the mutual goals always in mind
Establish a strong foundation of trust with your employees
Create explicit guidelines
Focus on the feedback
Establish the technical foundation for effective collaboration
Encourage team interaction
Adjust your perspective to the new challenges