In the course of globalization, the number of so-called relocation services or relocation agencies has also grown strongly in Germany.
They help companies attract international talent by facilitating the move of future employees or executives to the company's country. They take care of administrative tasks such as dealing with the authorities, and even assist in obtaining a work permit.
But what exactly are the services of a relocation agency? Which agencies are there in Germany? And why can freelancers prevent or bridge job-related relocations?
What Does Relocation Mean?
Relocation means nothing more than a move. This can be of a private or business nature, and initially does not refer to either international or national moves. To stay within the context of this article, however, it refers on the one hand to the job-related relocation of employees and their families abroad. On the other hand, it also refers to the job-related relocation of employees from abroad to Germany.
Such job-related relocations are in high demand in Germany, especially among large, internationally active companies.
IT experts are in high demand in Germany, but difficult to find due to the shortage of skilled workers. For this reason, companies need skilled workers from abroad to fill vacancies as quickly as possible, otherwise they will incur high costs.
What Does a Relocation Service Do?
As already explained at the beginning, relocation agencies take over all administrative and advisory tasks when it comes to the job-related relocation of employees and executives to the company's country. The services of such an agency are less frequently used by private individuals, but many also offer different service packages to meet individual customer requirements.
Especially for larger companies, the services of a relocation agency are already included in the employees' contract in case of a job-related move.
The tasks of a relocation agency are diverse, but can be broken down to a few common ones.
Go to Authorities
When moving, there are many official procedures, such as registering and deregistering, applying for permits, etc.


Apartment Search
Depending on the request or order, relocation agencies also take care of the apartment search. This includes all related formalities, such as search, rental agreements, handover, and the termination of old rental agreements.


On Site Introduction
Starting out in a new, unfamiliar place can often be difficult. Even if official procedures and many formalities are taken over by the agency, many things still have to be done yourself. The relocation agencies therefore also provide information about minor things that at first seem trivial. These include, for example, waste separation, common and necessary insurances, shopping facilities and the furnishing of the household.


Family Reunion
Especially in the case of indefinite stays abroad, many families of the employees move to the new country. The relocation agencies also take care of the formalities and support, for example, in the search for kindergarten or school.
The tasks of a relocation service are very diverse and also depend strongly on customer wishes or offers of the respective agency. However, especially as an internationally active company, it makes sense to work with such a company. Small things like opening an account, insurances, doctors, and many other things can otherwise easily fall under the table. The relocation services have a broad knowledge and are familiar with both legal and social matters on site. In addition, they help to relieve the employees, so that they can concentrate on a fast career start.
Why Does It Make Sense to Use a Relocation Agency?
Relocation agencies bring many advantages for a company. Especially through the mostly individual consulting and the know-how of the agencies, many mistakes can be avoided during the move and the often confusing applications and official procedures.
International Attractiveness for Employees
Offering a relocation agency makes the company much more attractive to employees. Especially for international experts, this offer means security in case of job-related relocation. In addition, the probability of finding talent from abroad and successfully integrating it into the company's own country is significantly higher.
A relocation agency only incurs costs when its service is actually used. Thus, simply offering the service to employees is free of charge until the need for relocation actually arises.
Normally, the deregistration and completion of applications falls to a company's HR department. This involves a lot of work and is particularly prone to errors or delays in the case of non-European countries. The agencies are experts in this field, are familiar with legal matters, and help to relieve HR staff so that they can concentrate on the core business.

Want to stay up-to-date?
Receive the latest insights for free.
What Relocation Agencies Exist in Germany?
Relexo is a relocation agency from Nuremberg. The great advantage of the agency lies in the individually designed packages for all needs. Thus, the packages are aimed at families, singles and partners or even executives and board members. In addition, Relexo provides support when moving out of Germany and offers orientation tours to discover the new region of residence. The company also takes care of residence permits and other formalities when moving to non-EU countries.
The Mainz-based company takes a more personal approach. Here, too, the offer is primarily aimed at companies and associations, but CS-Reloc also looks after private individuals. In a free needs analysis, they jointly define the requirements. The special feature of this agency is that it takes care of life in the original home during temporary stays. This includes the care of the house or the perception of important appointments.
Donath is a traditional family business with a long history. They also offer the usual services of a relocation agency, including personal and individual advice. Within Germany, they also help with relocations.
German Relocators also offers advice, support and practical assistance in any aspect of relocation. Each order is individually developed and planned depending on the wishes of the employee.
Why You Should Consider Freelancers
Freelancers can be an option so that employees do not have to relocate in the first place. Freelancers are often an alternative that many companies don't have on their radar, but which can save costs on corresponding projects and provide relief for their own employees. If a move is still necessary, freelancers offer an excellent interim solution until the new employee is ready to work on site.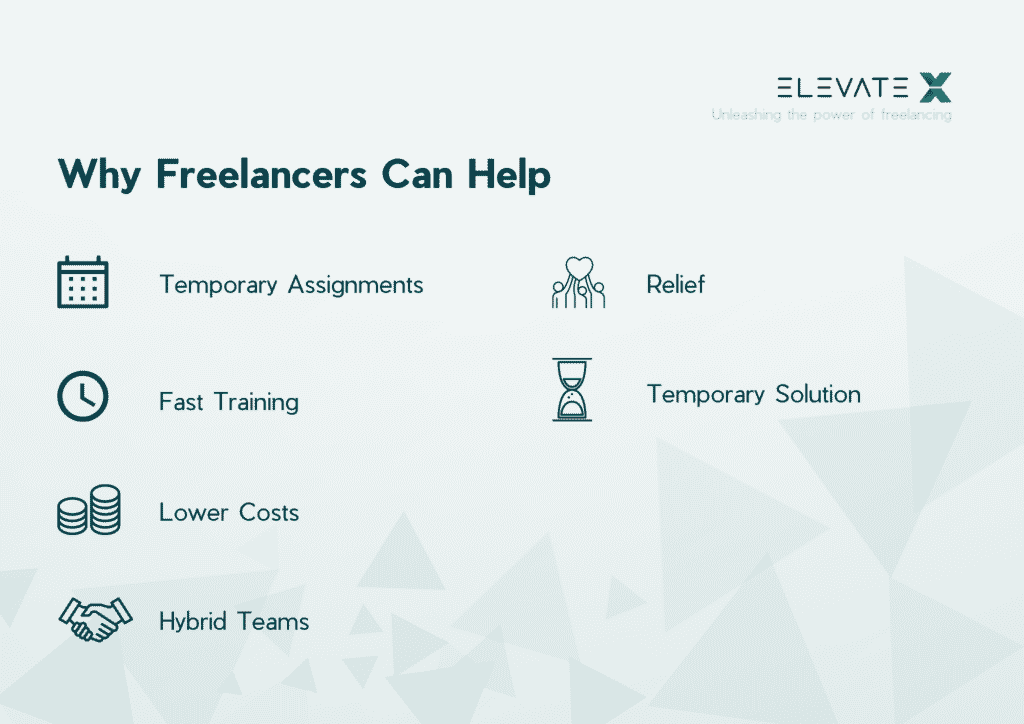 Many employees are only needed abroad for a certain period of time and return to their home country at the end of the project. This involves a lot of effort and high costs, as the employee's life must be maintained in two different locations. Freelancers work on a project basis and are therefore only paid for the period of this project, which saves costs. Thus, one can look for freelancers directly at the respective location or rely directly on the work remotely before taking the effort of a move.
In this story, we compiled for you 5 practical tips to hire freelancers remotely.
Fast Training and Efficiency
While formalities have to be clarified first when relocating employees, and they have to settle into the new environment, freelancers are ideally directly on site. In addition, they are accustomed to quickly familiarize themselves with projects in order to be able to start them promptly.
Here you can find tips for a successful onboarding for freelancers.
A 2019 study by Andrew Burke and Marc Crowling shows that companies that use at least 11% of their team members as freelancers grow faster. So hybrid teams of employees and freelancers are often much more efficient than getting employees to move. For more information on hybrid teams and what benefits they have, check out our resourcesection.
As already explained, freelancers are an excellent solution for temporary assignments. Even with the really fast service of an agency, it usually takes until the employee can actually start working at the new location. Freelancers are ready to work within a few days and thus create a good temporary solution. Often vacancies cause high costs, which can easily be covered by using freelancers.
You can learn more about the best Freelancer Websites in this story.
Anyone thinking about bringing employees from abroad to Germany or sending employees abroad should first think about alternatives. Moving to another country is a big break in an employee's life and should be well considered. In many cases, freelancers offer an excellent and less expensive alternative that many companies do not have on their radar.
Those who still can't avoid the move should definitely use the services of a relocation agency to make the move as comfortable and efficient as possible. Again, freelancers will help close the vacancy until the appropriate position can be filled.
Are you looking for IT freelancers to join your team in another location? Then send us a free inquiry or schedule a free consultation call.
Want to learn more about working with freelancers? Then download our free eBook on how to successfully work with freelancers here.