An increasing number of companies around the world are turning to external staff to increase their work capacity and leverage a larger talent pool. In North America and Asia in particular, the use of Staff Augmentation is widely spread. In Germany, however, this type of staff expansion is still a largely unexploited concept. Staff Augmentation is a concept that is gaining momentum due to the shortage of skilled workers and accelerated digitalization. However, many do not understand how to benefit from it.
Staff augmentation is a powerful tool for any organization's arsenal, but not many understand the different types of staff augmentation and how to choose the right model for them. This is the perfect place to get started.
What Is Staff Augmentation?
Staff augmentation is the temporary deployment of external personnel. Unlike traditional project outsourcing, control and responsibility remain within the company itself. Staff augmentation can help when companies want to prevent team overload or fill capacity gaps. In addition, the external staff brings skills and knowledge that can create competitive advantages. As the number of freelancers grows, so does staff augmentation.   
What Do I Have to Consider When Implementing Staff Augmentation?
In order to use the potential of external specialists in a targeted manner, the following points must be observed:   
Leveraging External Talent
Special skills that permanent employees do not possess can be brought into the company by external personnel. Something to keep in mind here is to retain the expertise gained in the company after the end of the collaboration. The basic building block for this is onboarding and especially offboarding. We have a very comprehensive article on this in our blog. You can find the article here.
Internal Adaption
To work with external personnel, internal measures must be taken beforehand. An onboarding process at the beginning usually serves to ensure that important data is transmitted to the new worker, access data is issued, and software is provided if necessary.  
Clear-cut Communication
In addition, communication standards must be clarified at the beginning, e.g., which contact people are responsible for a given project and how feedback is transmitted. The relevant team should be informed about new personnel, and team integration should be approached properly in the process. For tips on how to do this, see our blog post on team integration.   
Integration
At the end of the collaboration, offboarding takes place – saying goodbye to the external staff from the company. As mentioned, the transfer of knowledge is important here. Companies should already look for experts during the candidate search who can work well in a team and are willing to share their knowledge with permanent employees. This way, the company not only benefits from the freelancer's skills in the short term during the assignment but also acquires useful skills in the long term. Overall, onboarding and offboarding are crucial when it comes to keeping expertise within the company in the long term.   
When is Staff Augmentation the right model?
External staff for (almost) all cases?
A distinction is made between different skill levels of external personnel required for different areas of operation:   
External personnel without special skills 
In this category of staff augmentation, no special skills are expected. Areas of operation include, for example, simple production work or stocking shelves in department stores. 


External staff with basic skills
Basic skills are required, but a high level of knowledge is not needed. Corresponding tasks can be simple translations or clerical work. 


External personnel with specialized skills
Highly-skilled" is the term used for external personnel who have a certain advanced level of knowledge and specialized skills. This usually requires experience and sufficient further training. Areas of employment include many positions in IT, such as software development.  
Wondering whether staff augmentation is an option for your company? We would like to provide you with three basic considerations.
When Does Staff Augmentation Make Most Sense?
Staff augmentation is a helpful solution when companies want to increase their labor capacity, for example, during temporary work, order peaks, or increased production. Especially in times of economic upswing but also during a recession, the flexibility Staff Augmentation offers is helpful. External staff can also serve as a bridge to replace permanent employees until they can be rehired. In addition, a recent study has shown that companies that use freelancers can benefit from revenue and employee growth. We have explained the study to you here, using examples from the business world.   
Project Duration 

 
Staff augmentation can help meet an organization's needs in unique ways. Still, it's not the perfect solution for every scenario. Staff augmentation is usually best suited for short-term projects (2-3 years project duration max). It may still make sense for organizations to hire external staff for longer projects, in which case an outsourcing solution is often the better option.  
Confidentiality

 
Some projects are classified in nature and involve critical intellectual property. In these cases, staff augmentation solutions should be carefully evaluated. In this regard, an agreement signed with a contractor is just as "bulletproof" as an agreement signed with a full-time employee. Companies should still proceed slowly and with caution when hiring additional staff for top-secret projects.  
Onboarding Time 

 
Staff augmentation often requires only a fraction of the onboarding time compared to permanent hires, since highly experienced and highly skilled experts are usually brought on board. Nevertheless, the induction period is also important for external staff and should be carried out conscientiously and in detail. This is the only way that both internal and external staff can pursue the same goals and work together towards them. 
In this story, you can find problems and solutions that can occur while working with freelancers.
What Are The Benefits of Staff Augmentation?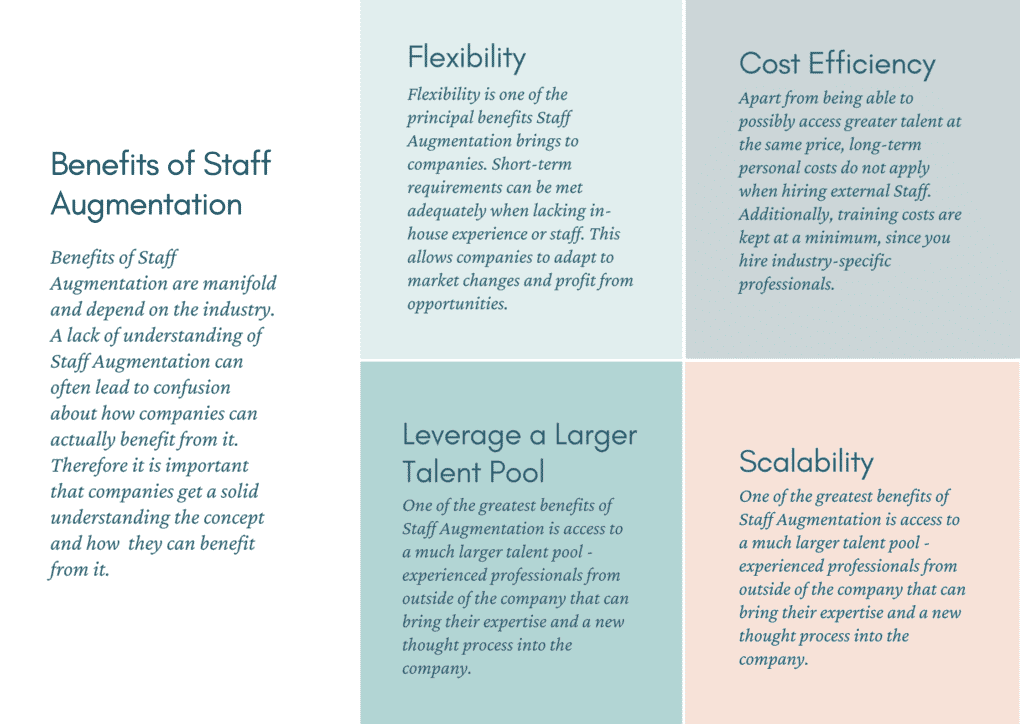 Generally, the benefits of Staff Augmentation are manifold. We can, however, distinguish four basic advantages here:   
Flexibility in the Implementation
One of the biggest benefits of staff augmentation is the flexibility it brings. On the one hand, Staff Augmentation allows companies to fill short-term bottlenecks immediately – and for an indefinite period of time. Secondly, it allows employees to work on a project basis, enabling them to work on projects of their choice and expertise. This creates a win-win situation where both employee and employer can benefit.   
Leveraging a Larger Talent Pool
Through staff augmentation, the company has access to a much larger number of external employees who bring expertise and experience to successfully implement projects. With permanent contracts, on the other hand, the company is often unable to benefit from a large talent pool and leverage the talent that is available on the market. 
Cost Efficiency  
The costs for external specialists can be planned and are flexible. This allows costs to be distributed efficiently. Furthermore, employees are hired on a project basis. This means, on the one hand, that they bring industry-specific expertise into the company, which keeps training costs low, and on the other hand, that additional long-term personnel costs for the company are eliminated.  
Scalability

  
Staff augmentation provides much greater flexibility, which means that short-term bottlenecks can be closed. If operations expand, it is possible to react immediately to meet the necessary requirements. This means that staff planning becomes much more agile, making it easy to scale. When operations expand, personnel planning is therefore no longer a problem. 

Get exclusive high-quality articles from us. 
Become a member for free.
What Service Offerings Can I Choose For Staff Augmentation?
Depending on the individual requirements, there are distinct options and providers of Staff Augmentation Services. We distinguish between five overarching types of service providers:   
Traditional staff expansion service providers usually place people without particularly specialized skills. Such providers are suitable if a company is looking for staff for simple work and does not require a high skill level. 


Specialized staffing and consulting firms are usually smaller companies that focus on both basic and specialized skills. The clear strength here is the high quality and the combination of staffing and consulting. Of course, higher costs must be considered here. 


Gig platforms offer direct access to independent staff via online platforms. Here, too, people with basic skills are usually found. Gig platforms are characterized by high flexibility and speed.   


In addition, there are also so-called "on-demand talent" platforms that offer access to highly qualified workers. Here, in contrast to gig platforms, professionals with specialized skills can be found, but flexibility and speed inevitably decrease in return.


Direct independent providers are usually contacted directly by companies and can offer personnel with both basic and specialized skills. The strengths of such partners are high quality and low overall costs.   
How Do I Find the Right Service Provider for My Project?
There are also various selection criteria to consider regarding the service provider and partner. Quality assurance and cultural fit are particularly crucial. 
Quality assurance:  


You want personnel who fit your project and have the required skills. The examination of these requirements is therefore based on the project and the needs. Interpersonal skills, for example, are becoming increasingly important, as this is what all the work in the company is based on. Especially in IT, coding skills can be important, for example. 
Scalability:  


Depending on the requirement, scalability is also important. How large is the service provider, and what are its options for procuring additional (short-term) highly qualified personnel? How high is its quality standard? Often, for very specific projects, it makes sense to engage the provider to conduct a separate search for personnel if the provider otherwise only uses currently available individuals in its database. 
Industry coverage:  


How broad is your service provider's offering? Is it a one-stop store? Our experience is that freelancers from different partners can also work very well and successfully on projects, but at the same time it has considerable time and cost advantages for you to book all external staff with one partner. 
References:  


How well networked are the partner platform and the personnel offered? Here, references on the provider's website and also extensive profiles can provide more clarity. Ideally, your partner has already accompanied projects in similar sectors and can provide personnel who have completed these projects together with them.  
Cultural Fit:  


Requirements for your staff augmentation partner and also for the personnel you are looking for can be rounded off with the keyword "cultural fit": How do you fit together "company-culturally"? What expectations do you and your counterpart have of the upcoming collaboration? How well does communication work, and how fast is your partner? – The faster and more flexible the partner, the better for you! Remote leadership is also important here, a topic on which we had a workshop and a blog article last year. You can find the blog article here.   
How Can I Implement IT Projects With External Personnel?
Around the globe, companies are increasingly looking to reduce costs and increase operational efficiency through technological innovation. Building in-house capacity to execute this ever-growing number of IT projects can be a costly and risky endeavor, especially when a company's IT requirements are constantly changing.  
This is where Staff Augmentation can be a good alternative or support. Especially if you want to react flexibly to company goals and therefore to projects. The first step is to evaluate the productivity and expertise of the existing staff and then determine which additional skills are required for the company's success.   
Companies benefit from greater agility, lower costs and less effort compared to permanent hires, and a scalable model. A simple and predictable cost model (wage rate*working hours) is also advantageous, which further increases flexibility in companies.   
Hybrid approach:
As mentioned, there are other alternatives to permanent employment besides Staff Augmentation. Of course, it is not necessary to commit to either staff augmentation or outsourcing, for example, but rather the correct implementation is crucial, which should be in line with the company's goals and strategies. In our experience, it is usually right to look at projects in detail internally or together with a partner and decide individually which approach is the right one. The question of whether external players should play a role at all also needs to be clarified here.  
Our tip: 
Work with a provider you can trust – who takes the time to understand your business and your goals. This is the only way to deliver desired results.   
Staff Augmentation: An Outlook
Digital transformation is giving external staff an increasingly significant role in today's workplace. Companies are more competitive due to increasing agility and access to a large pool of external experts. The more flexibility there is through externals, the faster it is possible to react to changes, as the Corona pandemic has also shown recently. Based on predictable costs and a fast hiring phase, staff augmentation brings significant advantages and is thus a decisive driver of digital transformation. 
A long-term cooperation with the Staff Augmentation partner you trust is recommended. In this way, you will always be able to draw on their database and personnel as needed in the future. This gives your company a strategic advantage by allowing it to stock up on excellent experts for projects on an individual basis.  
Staff Augmentation With ElevateX
ElevateX is a critical building block to succeed with Staff Augmentation. We are a specialized and independent partner for projects in IT. Our focus is on both the high quality of our freelancer network and a good working relationship – keyword cultural fit. For us, Staff Augmentation is the key and driver of digital transformation. Our conviction is not based on a simple idea or a wish, it is based on facts. Our customers give us feedback every day and talk about the high level of agility and competence and the successes they achieve together with us and our freelancers. This makes us proud and motivates us to continue writing success stories. We have attached some of our success stories.   
If you have any questions, suggestions, or ideas about Staff Augmentation, please feel free to contact us here. We look forward to hearing from you!