More than four million workers quit their jobs in the U.S. in September 2021. In Microsoft's Work Trend Index, about 40% of the remaining employees are considering a job change. While the U.S. is arguably feeling the greatest impact of the Great Resignation, there are also implications for Germany and other European countries. Although the fluctuation rate is stagnating quite constantly, the demands for more flexibility, work relief and freedom in job are also increasing in this country. 
But what exactly does "Great Resignation" actually mean? What are the implications for Germany? And what role do freelancers play in all of this? 
What Does Great Resignation Mean?
The term "Great Resignation" was coined by Anthony Klotz, professor of management consulting, to describe the record number of layoffs during the Covid-19 pandemic. Technology and healthcare industries have been hit the hardest.  
This is causing a widening shortage of skilled workers in these two areas, especially in companies. 
Although the United States has been hit hardest, more and more employees in Germany and Europe are also considering changing jobs.  
Why Do Employees Quit Their Job?
There are many reasons why employees change jobs. Basically, the cause can be traced back to the corona pandemic, which has fundamentally changed the mentality of many people.   
Especially in times of isolation, many feel left alone and overwhelmed by the situation. Many employees only have work on their minds and cannot find the balance between private life and work. Many workers want employers who also take mental health into consideration. 
Others look around for better alternatives and specifically search for companies that can meet their expectations in terms of salary, workload, and job opportunities. The leadership behavior of management positions also plays a major role in the search for job alternatives. 
Remote Work and Home Office
Now that the corona pandemic has highlighted the digital possibilities, more and more employees want the option of working from home. According to the McKinsey study, almost 70% still want the option of working remotely. 
The unusual situation caused many employees to set new priorities. For example, many no longer want to work for companies whose values they do not represent. The issue of work-life balance and more flexibility is also a reason for many people to change their job. 
What Impact Does the Great Resignation Have on Germany?
As already mentioned, the number of people quitting their jobs in Germany is fairly constant. Nevertheless, around 37% of employees in Germany are dealing with the idea of quitting their jobs. That is about 12% more than a year ago (as of January 2022). 
There is also a record high in job vacancies and the shortage of skilled workers remains high. So, experts are not ruling out the possibility of a wave of layoffs hitting Germany as well.   
What Can Companies Do against the Resignation?
The first step is to be clear about the reasons why employees quit. 
Communication is the be-all and end-all for successful collaboration. Employees want more consideration for mental health. Managers and leadership positions should listen to doubts, problems, and criticism and respond to them in a meaningful way. Employees should feel that their work is valued. 
Remote Work and Home Office
In times of digitalization, the topic of home office and remote work has become increasingly important. Although personal contact in the office or at the workplace is still essential for many, it can still be helpful to offer employees the opportunity to work from home. 
Read this article to learn how you can approach remote leadership the right way. 
Many employees feel overworked, and burnouts are no longer a rarity. Management positions should show consideration for the health of their employees and be available as a contact person in case of problems. 

Want to stay up-to-date?
Receive the latest insights for free.
What Do Freelancers Have to Do With the Great Resignation?
The topics of freelancing and great resignation can be viewed from both a freelancer's and a company's perspective.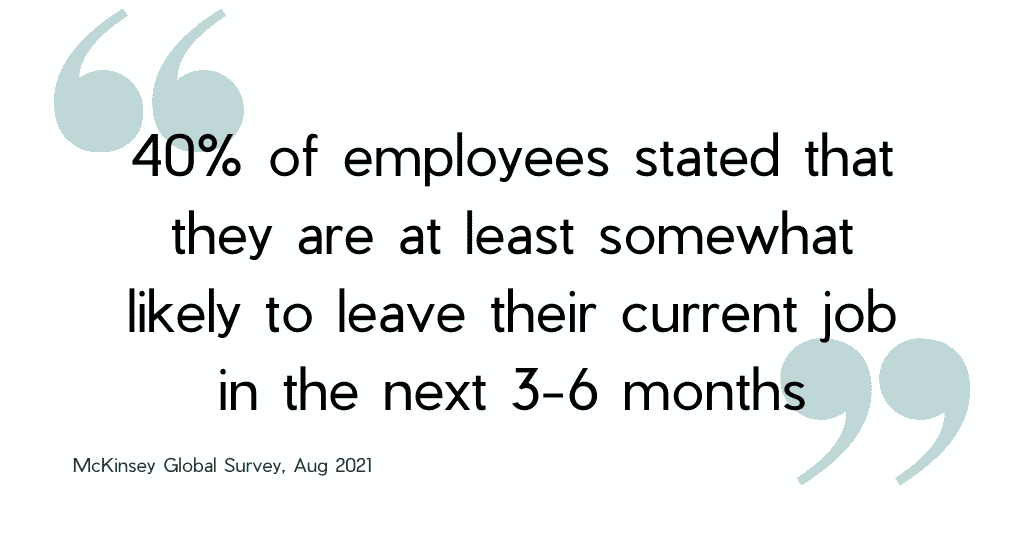 Why Do More and More Employees Switch to Freelancing?
While the high number of resignations has led to a massive reduction in permanent employees, the number of freelancers has skyrocketed. This is because many of the employees who quit start freelancing. The reasons for this are varied. Basically, the Covid-19 pandemic has made it clear where companies' weaknesses lie. Especially at larger companies, where the focus is less on the individual and more on overall performance, many employees feel neglected.  
More freedom, flexible working hours, personal responsibility and standing up for one's own values are things that have become more prominent in recent years and have been reinforced by the pandemic. 
Generation Z in particular feels more comfortable in freelancing than in a permanent job. 
While freelancing isn't for everyone, the above reasons point to why many people prefer to be their own boss. 
What to consider when starting freelancing and which hurdles you have to overcome to be successful as a freelancer, you can read in our detailed eBook. 
How Can Freelancers Help With Unfilled IT Jobs?
However, the topic is not only playing a growing role for employees, but companies can also benefit from the growing number of freelancers. 
Vacancies that need to be filled quickly can be filled by freelancers. Since the search and training of freelancers is often much easier and faster than with permanent employees, freelancers are an excellent solution for short-term assignments. In addition, the use of freelancers can relieve the burden on the company's own employees and prevent problems already mentioned, such as burn-out or overwork. Since freelancers work on a project-by-project basis, they can provide useful support, especially for larger projects, in order to complete projects more efficiently. 
But they can provide relief, not only as a substitute. Studies have shown that hybrid teams, i.e., a mixture of employees and freelancers, can typically bring higher productivity and more efficiency to a company. 
So, the advantages of freelancers for companies are clear: 
Fast onboarding

 

Project related work

 

Efficient working structures

 

No costs for vacation, trainings, and other things

 

Support and relief for employees

 
Nevertheless, the use of freelancers in one's own company is fraught with many prejudices. We often hear the following sentences: 
"Freelancers are too expensive."

 

"With Freelancers, there is a risk of false self-employment."

 

"Freelancers do bad work."

 
In this article, we deal with known problems and solutions around the collaboration with freelancers.  
In our free eBook, we go into more detail about the successful search and collaboration and give detailed tips on how this can succeed. 
Although the wave of layoffs from the USA is hardly noticeable in Germany, a change in values and demands is also visible in this country. More and more employees are considering giving up their positions. Personal responsibility, flexibility, more freedom and flat hierarchies are increasingly valued and play a growing role in the job search. Companies have to adjust to the fact that they have to break up fixed structures in order to prevent employees from quitting their jobs.  
And in this context, freelancing is also becoming increasingly relevant. On the one hand, because employees increasingly see the newly discovered values represented in freelancing, and on the company side, freelancers can be helpful in relieving employees and establishing more efficient ways of working. 
Here you can register for our freelance community. 
Looking for IT support for your team? Send us a free request, and we'll advise you with a free needs assessment.