Freelancers increasingly make up a greater proportion of the workforce, and it is evident that freelancers are essential for revenue and employment growth. Because of this, freelancers face the challenge of keeping up with this development and preparing and adapting to new topics and trends. 
Therefore, we asked ourselves what are the most important numbers, topics, and trends for freelancers in 2022? And, how can you, as a freelancer, be optimally prepared for the upcoming year? We share our insights in the following article. 
1. WFH as the New Standard: What Does the Switch Mean for Me as a Freelancer?
In the wake of the corona pandemic, the topic of home office and remote work has become much more important. This is confirmed by a wide range of studies and surveys, such as this statistic one from Statista. What has been normal for many freelancers for years is just becoming a growing topic in many companies.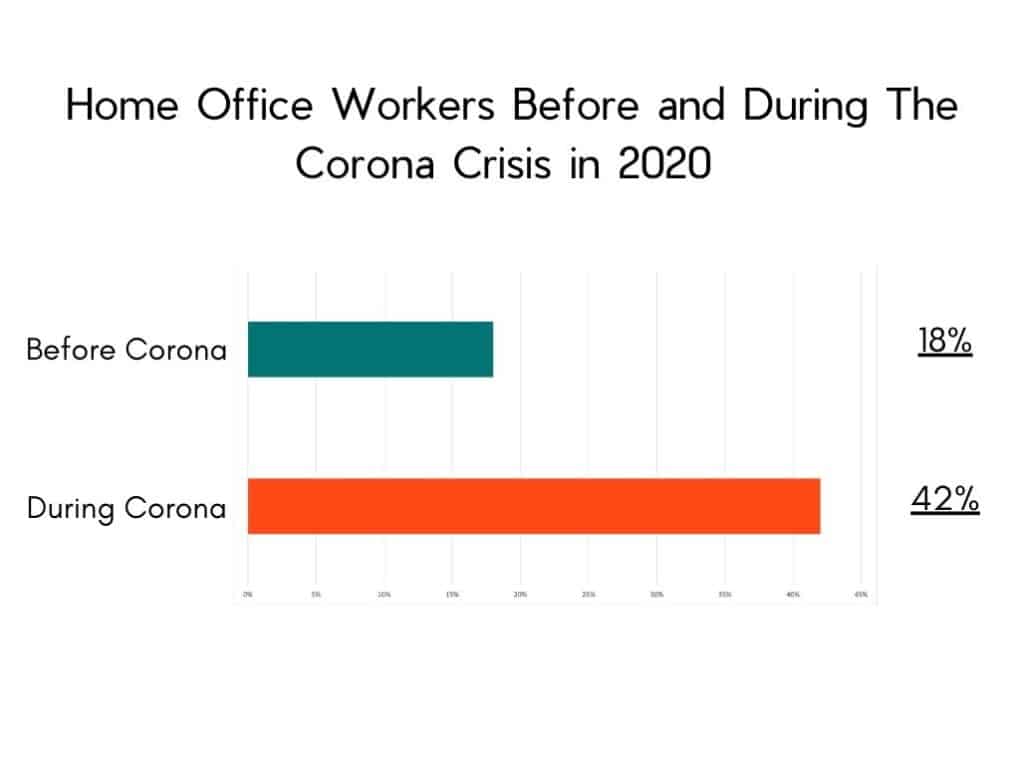 As can be easily seen, the number of employees working in home offices has increased significantly.  
This means greater flexibility for both the customer and the freelancer as well, since time and place for cooperation play a less important role for both parties.  
Also, times and ways of communication change due to the increased work from home. Face-to-face meetings are reduced and collaboration can be re-organized or arranged in a different way. This includes new ways of working virtually on projects, but also the use of communication software such as Teams, Zoom, or similar.  
2. How Is the Labor Market and Job Search Developing?
The term gig economy describes the awarding of temporary contracts to jobseekers, for example, freelancers. Websites or companies often refer suitable freelancers to the corresponding companies and projects. 
Companies often use such platforms to find suitable freelancers for their own projects
The Oxford Internet Institute shows that the number of projects on online platforms has increased by a whole 26%. 
Furthermore, project platforms are a promising way to increase project acquisition. Especially during the ongoing corona pandemic, these are particularly attractive for companies and freelancers.   
This is where we come in. We connect companies and freelancers and create the connections to find suitable projects for you. 
If you would like to learn more about us, we invite you to read more. 
But also the continuous education and expansion of your own knowledge will play an important role in the next year. Because of freelancers, companies are no longer necessarily bound to the knowledge of their own employees, but usually look for professionals who have exactly the skills that are needed for the project. This means that a broad expertise and in-depth knowledge makes you as a freelancer more relevant for many projects. This fact gains importance especially due to the fact that technology cycles are getting shorter and shorter and evolving rapidly, which makes it even more important to stay up to date and keep up with the times. 
What Can I Do as a Freelancer?
Self-Learning


Expanding the own knowledge should play a major role for every freelancer. It is important not only to refer to technical topics (hard skills) but also to consider topics such as time management and rhetoric (soft skills). E-learning courses, technical literature, or webinars are particularly suitable for this.  



Self-Promotion


Creating a website, building a portfolio, expanding your social media presence, or cultivating relationships and contacts. All these things serve to make you more present and generate reach as a freelancer.  


Registration for freelancer placement companies 


Since, as already mentioned, project placement increasingly takes place via project platforms, it makes sense to register with such providers. By being included in the database, the chance of being found as a possible project partner and being referred to projects that suit you increases.
3. Widespread Use of Social Media: How Can I Use it Properly as a Freelancer?
The previous paragraph illustrates the importance of intermediary platforms and services for finding jobs. However, social media also continues to gain importance when it comes to searching and finding freelancers. Especially, platforms like LinkedIn or Xing are used by many companies to find the best freelancers for their own projects. 
For this reason, a broad set of social media profiles is definitely advisable. However, quality should be at least as important as quantity. Therefore, well-maintained social media profiles or channels are extremely important for the future. 
Tips for a Great LinkedIn Profile
A suitable profile banner 


Online tools, such as 

Canva

, can be used to create good and meaningful profile banners that will enhance your LinkedIn profile.

 

A good profile headline


In the profile heading, you should briefly introduce yourself and why and who should be interested in you as a freelancer. This profile heading is particularly important, as search engines often fall back on these keywords and rank you higher in search queries.

 

A detailed profile description


In this item, you provide more information about yourself and elaborate on the points from the profile heading. Make sure it is concise, and you include

 your area of expertise and skills, your years of experience, and what you're most known for professionally.

 

Skills and 

work experience


To be considered as a freelancer for a project, it is important that you share previous work experience and your skills. This way, companies can assess whether you are suitable for a project or not

Post 

updates


It is also important that you maintain your profile and provide regular status updates on your work. This way, your profile stays up to date and potential clients can find more information about you.

 
If you want to read more about creating and maintaining your LinkedIn profile, you can find more useful tips here. 

Want to stay up-to-date?
Get high-quality articles for free.
4. What Are the Most Important Freelancer Skills for 2022?
Topics change every year for freelancers and each year new or different skills and abilities are needed. To give you a brief idea, here are seven skills that might matter next year. 

Software Engineering and Data


As already mentioned, more and more companies are relying on digital processes and ways of working. This means that several areas are gaining importance in IT technologies. Topics such as software development, data security, and data analysis are already important components of every company and will become increasingly important in the future due to technologies such as blockchain. In the next paragraph, you will find more important IT topics for 2022



Graphic

 design


Graphic design is a very accessible subject and you can make progress relatively quickly. Also, designers and experts in Photoshop are often in high demand, especially in the field of marketing. 



Website design with WordPress


WordPress is a website to create and edit your own websites with the help of plugins. Many websites are created with this tool and learning how to use it is quite easy, as programming or HTML knowledge is not necessarily required.  



Digital and Social-Media Marketing


Basically, marketing campaigns are developed and planned in this area. These campaigns aim to attract new customers and generate more money for the company. For this purpose, it is helpful to deal with different strategies and ideas of marketing, in order to be able to create the most suitable campaign for the company. 



SEO (Search Engine 

Optimization

)


This term describes the adaptation and improvement of the website or marketing content. In this way, potential customers should come across one's own company more quickly. 



Copywriting


Blogs are an effective way to promote and inform the topic or direction of your own business. Furthermore, as a copywriter, you create catchphrases for various promotional content. 



Media content creation


This skill primarily involves basic skills with a camera and audio technology. It also includes an understanding of image composition, exposure, and editing video, image, and audio files.

 
5. Rapid Development of IT: What Are the Most Important Topics for the Future?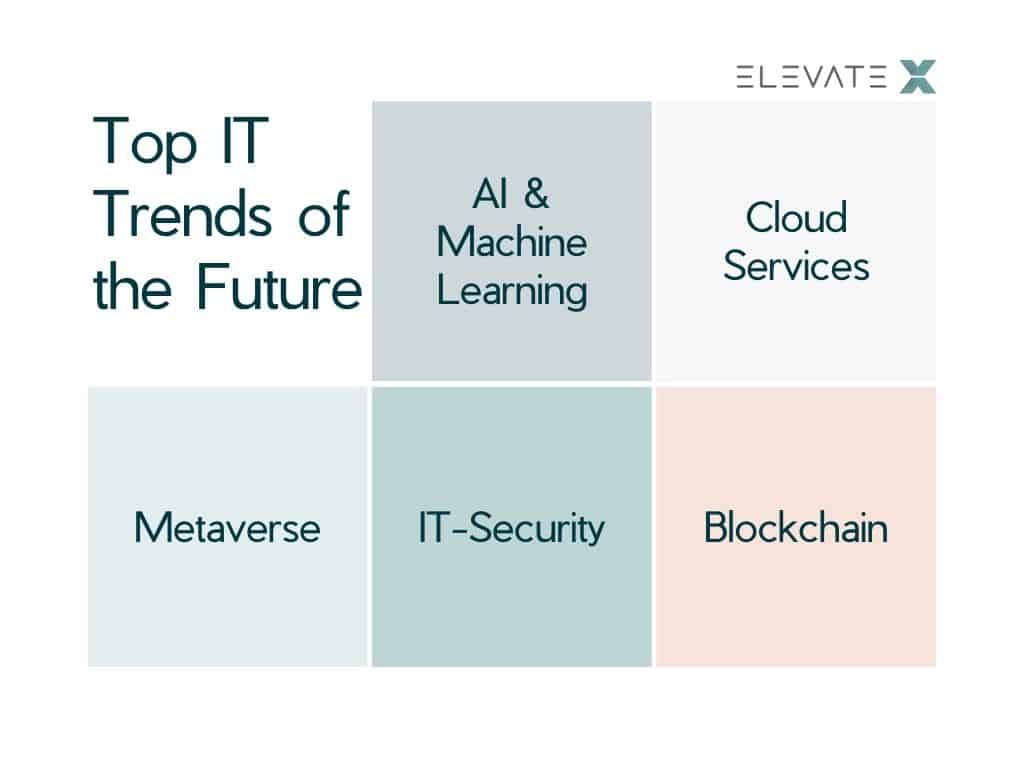 How Can I Prepare Myself for the Topic of AI?
Artificial intelligence is considered the most important topic when it comes to the future of the IT industry. Therefore, it can be assumed that the job market will focus strongly on finding freelancers who are familiar with the topic. 
And also 73% of companies consider AI to be the most important future technology.  
Machine learning systems are based on cleverly formulating and solving mathematical problems to solve very concrete tasks. Therefore, experience with mathematics and a feel for machine learning systems are very helpful. 
Tips for Familiarizing Yourself With the Topic of Artificial Intelligence
Literature

 and Internet Videos


It is often helpful to familiarize yourself with exciting reading or interesting Internet videos in order to get a better feeling for the topic. For complex contexts, this approach is probably rather unsuitable. 

Here

 you can find an exciting article to get a taste for the topic of artificial intelligence.

 

Online courses and training


Online portals such as 

Coursera

 or 

Udemy

 often offer exciting and helpful courses to dive deeper into certain topics or to expand personal knowledge.

 

St

ate-of-the-art technology


Additionally, it is important to engage with leading companies in the field of artificial intelligence. This will give you a sense of what AI is currently capable of and what it is not yet capable of. Exemplary companies are Google, Apple, or IBM.

 
Regardless of the topic of artificial intelligence, these tips can be applied to other topics as well. 
Similar to the topic of artificial intelligence, cloud services are also considered particularly relevant when it comes to the near future. More simply, cloud services are infrastructures, platforms and software hosted by third-party providers.  
More and more companies are using these services to simplify their own communication and the exchange of content.  
For example, cloud computing is expected to generate nearly $400 billion in revenue worldwide in 2022. This shows that cloud services could become particularly relevant for many freelancers. We also have more information on this topic in this post for you. 
With the advancing digitalization, especially of work processes, the demand for IT and IT security is also becoming even greater and more significant. So, it is not surprising that this area will also play an important role in the future.  
If you want to read more about IT security, you can find exciting articles here. 
In a survey by Stackoverflow, programmers were asked about the programming language they wanted to learn next. Most freelancers see Python as the most important programming language for the near future. It is closely followed by JavaScript, Go, TypeScript and Rust. According to the survey, other programming languages are more likely to take a back seat. 
When people talk about blockchain, the first thing that comes to mind is cryptocurrency and the closely related Bitcoin. Basically, however, blockchain can be described as a data record to which only further data records can be appended and it is not possible to remove previous data. This is the reason why Blockchain is so secure and therefore so important for the future. Especially in times when many important processes and ways of working are being digitized, it is particularly important to protect them securely. If you are considering moving in this direction, now it is the best time to do so. 
Even though the topic of virtual reality augmentation and virtual reality creation is currently found rather in the gaming industry, these trends offer enormous future possibilities. Especially in the areas of education, training, entertainment and marketing, exciting applications probably come to everyone's mind. It is expected that the market for virtual and augmented reality will stretch to 209.2 billion US dollars in 2022 worldwide.  
Anyone who is enthusiastic about this topic is certainly not making a wrong decision. 
6. Summary and Conclusion
The corona pandemic and its consequences will remain an important topic for the upcoming year. Nevertheless, some new developments, such as intermediary platforms and social media, are only just gaining momentum. And the freelancer community is also growing steadily. For this reason, it's important to stay competitive by upgrading your social media accounts, developing your skills, and keeping up with the latest topics and trends. We will stay focused on topics such as Blockchain, the Metaverse, and AI which are likely to shape the next five to ten years.