IT experts are in high demand and in many cases can choose their employer. Companies are therefore increasingly obliged to make potential employees an attractive offer. This is by no means limited to salary. In this article, you can find out what benefits a modern company should offer employees.  
What Does Employer Branding Mean?
In the IT sector, the relationship in the application phase between employee and employer has changed. Companies now have a greater obligation to actively recruit suitable candidates and not to rely on an ad placed or a speculative application. 
Building a strategy for one's own brand in addition to the company's internal marketing is called employer branding.


The employer brand is derived from this after various analyses. This defines the perceived position in the labor market. In addition to external branding, the counterpart, i.e. the effect within the company, also plays a role. The corporate philosophy influences employee loyalty and their sense of belonging to their employer.

 

In the best case, the external image matches the experience of the employees, then the satisfaction of the workforce also increases. Above all, however, the company is more likely to be recommended to others. 

Develop a competitive employer profile.

 
What is the Goal of Employer Branding?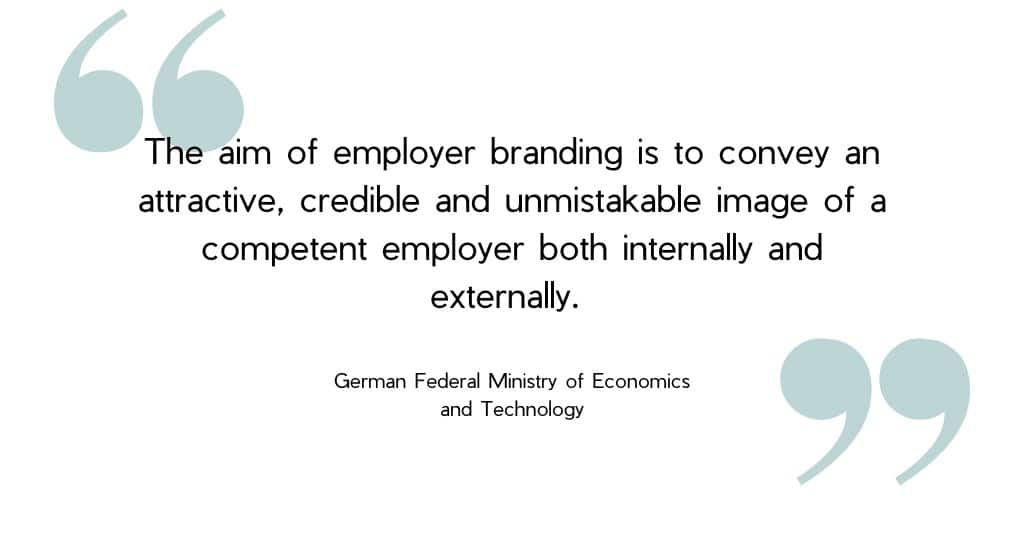 So, it's a "long-term strategy" in HR to build a positive employer image.  
Why is Employer Branding Important?
Achieve Competitive Advantage
Nuances often make one employer more attractive than another. In national and international comparison, employer branding is an important component in the so-called "war of talents". If executed well, the advantages of a company are highlighted and an advantage over the competition is created. Potential employees, as well as customers, receive a positive image of the company.  
But so that you don't make it the same branding as everyone else, we have some more tips for successful branding further down in the text.  
As an employer with an all-around attractive package, the number of people interested in the vacant positions also increases. Selecting from this is of course an additional challenge, but sometimes more is more.  
Faster Onboarding and Matching Applicants
If the company itself already has an identity with which it advertises to the outside world, then this usually matches that of potential applicants much more quickly. Lengthy processes of getting to know each other cost a lot of time and money. Fluctuation also decreases, because misplacements are reduced.  
 
But well-structured employer branding is not the only way to ensure successful onboarding. Here is a summary, how to do onboarding correctly.   
Background: Is There a Shortage of IT Specialists?
A shortage of skilled workers is often cited as a reason to build up a good employer branding. In order to nevertheless get the most suitable employees, one must assert oneself against other companies.  
The increasing expectation to build digital structures brings many companies to their capacity limits. Many studies support this assumption, such as the survey by the digital association Bitkom. The following facts can be drawn from this:  
The communication was produced based on a telephone survey of companies. A total of 853 managing directors and HR managers were surveyed.

This survey has been conducted annually since 2011.

 

In 2019, 124,000 job openings were "measured," a "historic high."

According to Bitkom, there were 86,000 vacancies for "IT experts" at the end of 2020, 31% fewer than in the previous year.

 
The absolute numbers at least show a need. At the same time, more and more people are also employed in IT.
From 2009 to 2019, the number rose from 563 to almost 1 billion (statista). In the past 2 years, there is likely to have been another significant increase, also because of Corona. This growth in the industry inevitably generates some demand. The fact that the number of employees increases proportionally also shows that skilled workers are nevertheless being hired and that there is no absolute shortage.  
Nevertheless, as a company, you don't want just any candidate, but the perfect one. And highly qualified people are hard to find in any industry. For this reason, well-structured employer branding is an effective way to present yourself as a company.  

Want to stay up-to-date?
Receive the latest insights for free.
Tips for Successful Employer Branding
Be (Linguistically) Accessible
Making it easy for potential applicants to contact you is the first step to an easy application process. Long waits for answers don't sit well with anyone. You should have a quick but precise answer to any questions. 

Applicants often research your company before contacting you. Make sure the website has information about the company that provides insight. Social media, a blog, or testimonials not only attract customers but employees as well.

 

Review sites like Glassdoor

are becoming more and more popular as a source for a good employer – especially in the IT sector, of course. These and similar review sites for companies can be well incorporated on websites or similar – provided good ratings

.


Even as an IT company, personal contact should not be completely ruled out. Trade fairs, awards, or other ceremonies can still be used well as job fairs.

 

If you want to work with freelancers, for example, accessibility is essential. It is not uncommon for them to be globally dispersed. You can find a few tips for successful work with freelancers in our

blog

.  

 
Salary plays a decisive role, of course, but is not the most important factor for employees. Having fun at work plays a decisive role for almost all respondents, followed by self-fulfillment. 

Particularly with the dwindling Boomer generation, work as a mere means of earning money is no longer relevant.


Opportunities for further training, personal freedom, individual areas of responsibility, and tasks tailored to interests are important factors that a modern company should offer.

People don't like to talk about money in Germany. But you should:

 


60% of men and 65% of women would like companies to publish average salaries internally by position and department. As many as 66% of men and 70% of women welcome salary information in job ads. 

 
Develop Communication Strategy
Whether "fishing where the fish are" or "fishing with the right bait," you read various metaphors in connection with employer branding. What they all mean is the right approach adapted to the target group.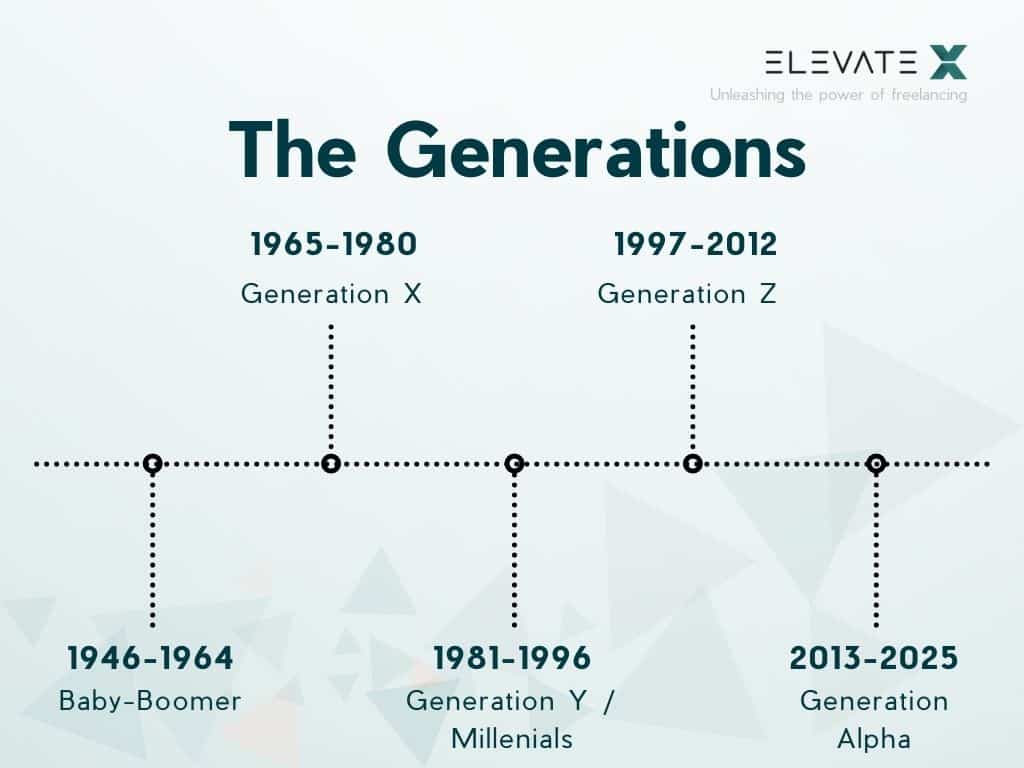 Gen Z, Gen X or Millennials have different goals in life and career but are also differently approachable. Keep this in mind when you post job ads. Simply going on social media is too easy. There are many different ways to use social media for employee acquisition.   
Basically, you can ask yourself 3 questions 
Where does the target group that is to be reached spend its time on the web?

 

How does she prefer to communicate?

 


How does it express itself

?

 
The goal is to reach potential employees with the right messages on the right channels and to convince them of one's own company. 
Generation X is more likely to be reached on Facebook, while generations Y and Z are more likely to be reached on channels like Instagram or Pinterest. This is also the reason why employer branding messages should be played out in different formats. Fair enough, there is still a bit of time left until Generation Alpha will be entering the work world. But it's never too soon to address young people with your content.  
On all channels, pure text messages are no longer, particularly, in demand; instead, multimedia is the order of the day. So, it is advisable to integrate images, clips, and graphics into your own employer branding concept. 
Authenticity is very important for employer branding; after all, long-term working relationships are supposed to develop. This is only possible if the actual work is similar to that advertised. 

Be open and honest about company culture and details about job postings and the application process. 

 
The best "advertising" a company can do is its own employees. Satisfaction within the workforce is not based solely on salary, as mentioned above. Good employer branding also involves employees projecting a positive image of the company to the "outside world" – and preferably on a voluntary basis.  
What Are the Strengths Of Small and Medium-Sized Enterprises?
Small and medium-sized enterprises (SMEs) have little chance in the battle against costly marketing campaigns by large market leaders. Even financially, i.e., in terms of wages, they often have to take a back seat. But salary isn't everything, and that's why it's okay to draw on your own strengths.  
Flat hierarchies and short decision-making paths 

 

A lot of responsibility for the individual employees 

 

Familiar working atmosphere

 

Frequent direct communication with top management 

 

Hidden champions (market leaders in a segment), if applicable

 

A broad and varied range of tasks

 

Proximity to customers, personal business relationships 

 

Family-friendly working conditions 

 

Greater flexibility to agree on individual solutions

 
In the "war of talents", it is important as a small and medium-sized company to develop a clear strategy of what values you represent as a company. Building this brand to convince potential employees is called employer branding.  
To do this successfully, it is important to choose the right channels according to the target group. Because with new generations also come new wishes for an employer. Personal satisfaction and development opportunities are becoming increasingly important. One of the most important points, however, is maintaining the satisfaction of the existing workforce. After all, they are the face of the company and carry the corporate philosophy to the outside world.