There are various government financing options for freelancers or start-ups. However, grants for the self-employed are sometimes linked to certain criteria or restrictions. In this article, you will learn more about the different grants and which ones are best suited for you.
The journey to freelancing can take various forms. While some independent contractors work on their businesses in their leisure time, others require more. For many, this entails working as a freelancer on the side or even leaving their current position and submitting a claim for unemployment insurance at the employment center.
But many people are unaware that you can apply there for a start-up award for independent contractors in addition to applying for unemployment benefit I (ALG I). But how does this financial assistance operate and what considerations are necessary?
A start-up grant (Gründungszuschuss) may be available to you if you decide to shift to self-employment. The Federal Employment Agency (Bundesagentur für Arbeit) may be able to provide you with a start-up grant if certain requirements are met. It's crucial to remember that you are not necessarily entitled to all the funding.
In the following, we give you a few options you can choose from. Note, that you're not automatically eligible for these grants.
There is an option for aspiring freelancers to get advice from an entrepreneurship consultant or business advisor prior to starting their business. When, for instance, the business idea needs to be evaluated or you require assistance with creating a business- or financial strategy, consulting  is wise before the actual existence is founded.
It has been demonstrated that entrepreneurs who seek professional advice before starting their own businesses have a better chance of success. Although the consulting services must be paid for, they are supported publicly by each individual federal state through subsidies. Founders can obtain information about the funding from the relevant national "Existenzgründungsberatungsstelle" of the different states.
What Is a Gründungszuschuss?
It was established on July 20, 2006, and it went into effect on August 1 of that same year. To safeguard the survival of start-ups, it has been firmly established in Section 93 of the Third Book of the Social Code (SGB) since April 2012. The German Federal Employment Agency initially made the start-up subsidy a requirement for new applicants, however, this policy was modified by the end of 2011. Since that time, the state subsidy has been a benefit that can be chosen by the recipient, therefore about one in five founders still receives it.
First 300€, then optionally another 300€.
Up to 15 months duration.
The start-up grant is tax-free and non-repayable.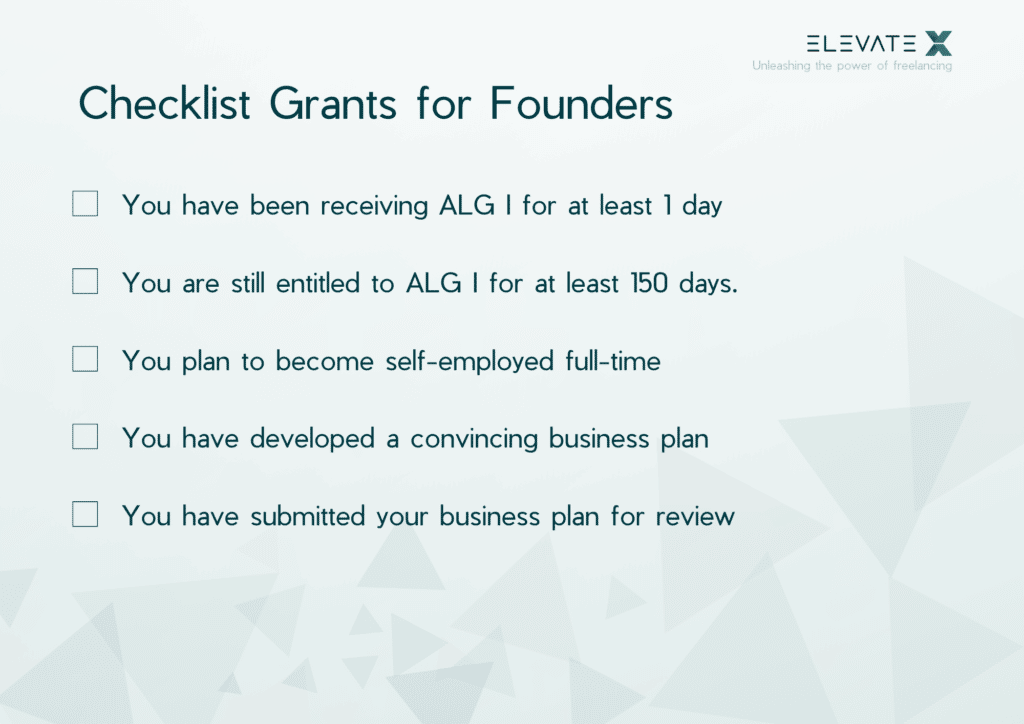 Who Is Entitled to a Start-up Grant?
In general, all recipients of unemployment benefit I (ALG I) who have been unemployed for at least one day at the time of application and who are still entitled to 150 days of ALG I are eligible for the start-up grant.
These points must be observed in order to claim the start-up grant:
You should still be entitled to ALG I for at least 150 days at the time you start your business.


You should want independent full-time employment.


The business plan has great potential and is profitable. You also have the necessary skills and information to perform the planned tasks. This can be offered to the employment agency with the help of a business plan.


An authority must evaluate your project positively.
What Grants Are Available After Startup?
Self-employed and Freelancers who have been in business for at least a year may also seek the assistance of an entrepreneur or Business Consultant on matters pertaining to the management of their businesses.
Called BAFA and is translated as "Consulting support from the Federal Office of Economics and Export Control".


Startups that fit into one of these categories may submit invoices in order to apply for a grant to help cover the cost of their coaching.


The maximum amount of the subsidy is 80% of the consulting costs (for young enterprises) up to a maximum of 4,000 euros or 60% of the consulting costs (for existing companies) up to a maximum of 3,000 euros, depending on the location (new or old federal state) and the age of the company.


Businesses facing financial troubles may be able to reclaim up to 90% of their maximum 3,000 euro in advisory costs.
The High-Tech Gründerfonds (HTGF) of the German Federal Ministry of Economics and Climate Protection has been financing start-ups specializing in the technology sector since 2005. HTGF focuses on start-ups in the field of "quantum computing and IT security through to medical technology and biotechnology".

Are you planning to become a freelancer?
Join our community!
Low-interest Loans for New Businesses
Banks provide starter businesses with affordable loans that are supported by the European Union through bank guarantees. Due to this EU funding, banks are able to cut the interest rates on loans for newly self-employed individuals.
You must always get in touch with your local financial service providers, such as your bank or a venture capitalist, for EU support services. The additional money from your provider can then come from EU funding. Numerous programs offered by the EU are applicable if you want to work for yourself in another EU nation.
The following are some benefits of EU funding:
Contrary to individual investors, you are not required to forfeit any company shares.


The security requirements for European financing programs are rather low.
GWR ("Gemeinschaftsaufgabe 'Verbesserung der regionalen Wirtschaftsstruktur'") translates to Joint Task for the Improvement of Regional Economic Structures. It is dedicated to fostering local economic growth and employment creation.
"As the funding program has declared the strengthening of the "regional economic structure" as its main objective, the permissible GRW funding varies within Germany. Essentially, it depends on the economic development of the region in question. Simply put, structurally weak regions, such as areas in Mecklenburg-Western Pomerania, are to benefit strongly from the funding and structurally strong regions less strongly or not at all, such as Munich."
It grants non-repayable money to start-up companies in Germany to aid with start-up costs, advance R&D, or increase employee numbers. The awards pay for up to 40% of the start-up phase's expenses, which may include:
Capital expenses over the first three years, such as purchases of new structures, machines, or equipment
In the first two years, newly created jobs' personnel costs.
For GWR funding, only Businesses ("Gewerbe"), not Freelancers are qualified. The difference is key.
4 Tips on Grants for the Self-Employed
We now presented 5 very useful ways to take a kickstart to your business. As you can see, with a little extra effort, you're not alone (financially). Still, the entire process can be very stressful and lead to mistakes. To conclude this article, we're giving you some pro advice.
The person in charge may dissuade you or suggest that you not apply for the start-up funding. Since the start-up subsidy is a discretionary benefit, the case worker alone is responsible for making the choice. Do not give up and create a logical thought!
Self-termination followed by third-party termination
Um Sperrzeiten zu vermeiden, fordere deinen Arbeitgeber auf, dich aus der bestehenden Stelle zu entlassen.
Avoid Using Clear Intent for Other Jobs
You must provide evidence for difficult verifiability.


Your advisor at the Federal Agency for Work's primary responsibility is to connect you with an employment situation.


Specialize in your line of work or are anchored to one location.
Some grants, e.g. the "Gründungszuschuss" expires normally after six months. To receive additional nine months of a grant of 300€ per month, all the information required for the extension application should be gathered about two months before expiration. Check for other extensions as well!
If you start as a freelancer, there are various funding options to help kickstart your business. The German Government subsidizes your plans even before the foundation if you decide to seek professional help with the planning and strategy of your business. In addition, GWR grants and the Gründungszuschuss are either one-time bonuses or can be paid back with just a small interest.
Even before you started your business, you can apply for consulting funds, e.g. at the so called "Existenzgründungsberatungsstelle". After foundation, you're for eligble for different grants that can help you fund you consulting in stratetic business planning.
Other grants are the "Gründungszuschuss", relatively cheap loans from banks or the GWR Grants, that support founders in structural weak regions.
If you're eligible for grants is different for every type of funding. Most of the times you must convince the institution that hands you the money of your business plan and idea. Moreover, a strategic idea, how you will use the money wisely is always a good idea.
In addition, most of the time you're business of freelance activity has to be your main job.
As you can imagine, this depends on so many factors. Let's take the popular "Gründungszuschuss" as an example. Two phases are present. The start-up award includes a monthly support in the amount of the unemployment benefit, which is typically 60% of your last wage, plus an additional €300 for your social contributions during the first phase, which lasts six months.
After the first six months, you can ask for an extension if you still require assistance. You should start the extension around two months before the first phase ends because this necessitates re-evaluating the sustainability of your business idea in light of the findings thus far. The second phase will begin upon approval of this application as well. For an additional nine months, the German government will provide you with help in the amount of 300 euros per month.