Client Acquisition for freelancers is seen as the biggest challenge when it comes to freelancing. Especially at the beginning of freelancing, there are some things to consider if you want to be successful as a freelancer by gaining your first clients.
But what is the best way to get new assignments? What are things I need to keep in mind when acquiring customers? And how do I go about it successfully?
In this story, we have compiled the 7 best tips for better client acquisition for freelancers.
What Does Client Acquisition Mean for Freelancers?
Client acquisition refers to the acquisition of clients and the generation of orders. Freelancers have various options for this, such as telephone calls, e-mail marketing or advertisements. In principle, any medium can be used for client acquisition. Which one is ultimately used depends primarily on the target group and the budget.
Cold and Warm Acquisition - The Difference
What Does Cold Calling Mean?
Cold calling describes the initial approach to new customers. This means that "cold contacts" are still unknown. This can happen, for example, at trade fairs, through telephone calls or similar types of contact. Cold calling is important because you should regularly build and expand your existing customer base, especially at the beginning of freelancing.
However, cold calling is often tedious, as you will encounter a lot of rejections and will be perceived as an undesirable way of self-promotion.
Are you thinking about starting freelancing? Then you can download our detailed eBook with all the important information for a successful start.
What Does Warm Acquisition Mean?
Warm acquisition is usually much more efficient because you meet contacts to whom you have already introduced yourself or with whom you have already worked. Referrals or relationships are also referred to as warm calls. It is important to maintain existing contacts during warm acquisition.
The 7 Best Tips for Better Client Acquisition for Freelancers
Basically, there are different types of acquisition. In addition to cold and warm acquisition, there is also a further distinction as to which medium is used for the approach.
If your acquisition is successful, you can prepare for a technical job interview in the next step.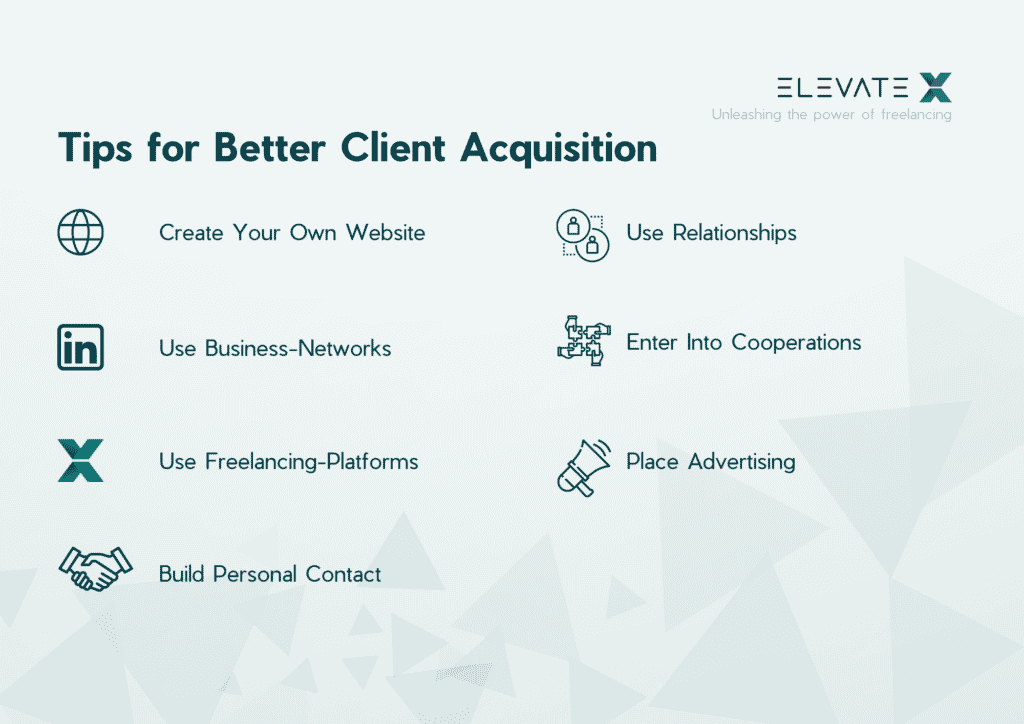 Create a Website and a Portfolio
Building a website is probably the best known and most effective way to reach potential project partners.
Via a website, companies have the possibility to find you and to get information. In this context, SEO (Search Engine Optimization) is indispensable. By filling your website with keywords that are frequently searched for in your field, you increase the probability of being found in Google results.
An effective way of incorporating keywords is to create a blog in which you deal with various topics related to your area of expertise. This way you can also share your knowledge, expertise, and views.
On the website itself, you should represent yourself and your services in such a way that possible clients get a positive impression and want to work with you.
Register on Business-Networks
Networks such as LinkedIn or Xing have been mentioned more frequently in our articles when it comes to building contacts. Networking is the keyword here. Via LinkedIn and Xing, one has the opportunity to specifically search for jobs and establish contacts. However, networking is not limited to social media, but should be applied in all areas of business life.
Similar to a website, a meaningful profile is important to make a good impression.
Use Freelancing-Platforms
Freelancing platforms are an effective way for both freelancers and companies to find suitable project partners. This usually saves both parties a long and costly search.
At ElevateX, we bring IT freelancers and companies together to put exciting tech projects into action. You can register here.
In addition to the opportunities offered by the Internet, you can often make a good impression by approaching potential partners in person. Trade fairs, seminars, or training courses are particularly suitable for this, as you are directly in a business environment there. Remember to leave a business card with contact information so that interested parties can reach you afterwards. Even if the person you're talking to doesn't need your service acutely, the contact can pay later of.
Business relationships usually prove useful in the professional environment. Private contacts, in companies or freelance colleagues, can also be helpful in the acquisition of new projects. That's why it's helpful to build up a network with various contacts you can turn to. Not only gaining new contacts is important in this process, but also maintaining them.
In the course of networking, you can also enter into cooperations with other freelancers. These have the advantage that you can put together teams of freelancers with different skills, so that you can recommend each other to customers. Often you can acquire orders as a whole team and use the different skills of the whole team.
Depending on the target group, budget and expectations, there are different ways to advertise. From classic newspaper ads in the local area, to advertising texts and video clips on Internet platforms such as LinkedIn, YouTube or others.

Want to stay up-to-date?
Receive the latest insights for free.
What Do I Need to Keep In Mind During Client Acquisition as a Freelancer?
In addition to the many ways, you can use client acquisition, there are a few other things you should consider in advance:
Determine beforehand what your ideal customer should look like and select possible contacts based on these criteria. In addition, you should always consider whether the company you are addressing might be interested in your services.
Approach Marketing the Right Way
Make sure you present your value properly. As freelancers, you are not salespeople, but problem solvers. Explain to your interviewers why you can contribute to the company's success.
Successful marketing also includes defining a USP, which means Unique Selling Point. This helps you to determine in which aspects you are different from your competitors. You can later use your USP as a basis for why companies should hire you rather than someone else.
As already mentioned, you will be confronted with a lot of rejection, especially when cold calling. It is important that you accept this. Further inquiries usually lead to even more rejection and leave the impression of intrusive advertising. It is therefore best to simply concentrate on the next customers.
In conclusion, you should not rely on one type of client acquisition. Often, a mix is the most effective, and some client acquisition options give you the opportunity to run them passively without being active yourself.
You can find out for yourself which types of client acquisition work best for you and optimize them, for example, through more effective processes.
At ElevateX you become part of a community of IT freelancers, and we help you to tackle exciting projects. Become part of our community.
Still unsure? Here you can download our Community Guide for free.