The world is becoming more digital – and so is the economy and the companies that participate in it. For them, advances in digitization are synonymous with efficiency gains and new sales and marketing channels, but technological change also brings challenges. Overcoming these is a top priority for companies in order to position themselves for the coming mid-21st century.
The word composition already gives a good outlook: What was once handled in an analog and physical way is now done with digital tools and within digital platforms. The original definition of the term, which focused primarily on the move from physical documents to digital files, therefore no longer applies exactly – in today's world, "digitization" functions as an umbrella term that encompasses general technological modernizations. Here, digital technologies are used for efficiency gains, repetitive tasks are replaced by automation, and new sales channels are opened up, for example.
The changes brought about by digitization by no means affect only the economy or companies operating there. As the term is understood today, it also includes social, cultural and political processes of change, insofar as analog and physical activities are successively replaced and ultimately completely superseded by technical progress.
Digitization includes all technological advances and their use, from digital signatures and cloud storage to automation and artificial intelligence.


Digitalization, properly implemented, results in cost savings and increased efficiency.


Before tapping into the potential of digitization, companies must first overcome challenges, from legal requirements such as the DSGVO to well thought-out backup concepts.


Digitization has created numerous new jobs, but equally it is making some professions visibly obsolete.
What Does Digitilization Mean For Companies?
Corporate digitization is preceded by digital transformation – meaning change processes within the company. Enterprise digitization subsequently impacts all company divisions and departments, with some being affected more than others.
Furthermore, digitization in the company is not optional, but inevitable, unstoppable and irreversible from the company's point of view. Only by using new types of technology can companies remain competitive, especially in industries where direct competitors are already taking advantage of the myriad opportunities offered by digitization. A characteristic feature of the majority of companies is their reactive behavior: In other words, they do not seek out innovations themselves, but leave this to other, larger companies. Instead, small and medium-sized companies mostly try to react to changes in a reactive manner, i.e., to use already proven, new technologies as soon as they become widely available.
This is also reflected in the varying spread of different new technologies: While online marketing channels are now part of the fixed repertoire of many companies, for example in the form of search engine optimization social media marketing, the use of newer technologies, some of which are still unproven, such as blockchain, remains manageable in business.
Similarly, corporate digitization also means that new security standards need to be established in companies, which the German Federal Ministry of Economics also provides information about.
In Which Areas Of Business Is Digitilization Important?
First of all, digitilization in companies does not exist in a vacuum. The use of new types of technology can therefore focus specifically on certain departments, but will inevitably have an impact on other departments and branches of the company. Likewise, differences between industries are apparent, as this statistic demonstrates. According to these statistics, information and communications technology is characterized by digitilization processes to an above-average extent.
These areas are particularly affected by digitilization in the company:
Marketing and advertising
Communication, both internal and external
Purchasing and logistics
Recruiting
Accounting and controlling
generally in technical areas, such as IT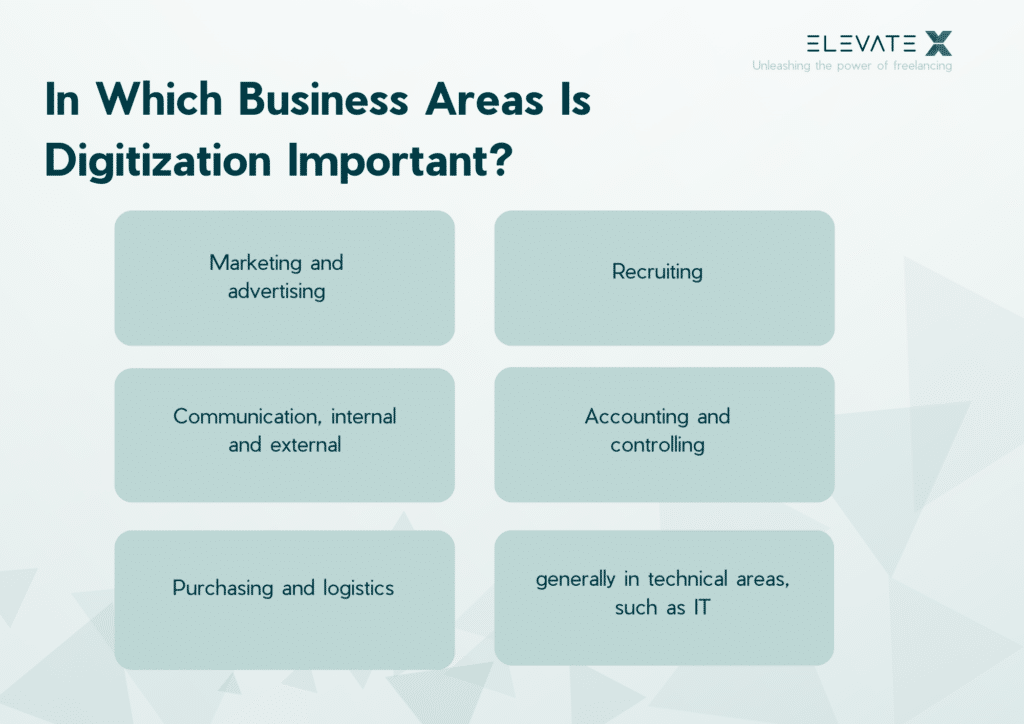 How Are Companies Implementing Digitilization?
Generally at different speeds and in different places. Overlaps exist across industries, but the focus can shift according to the business activity. In general, digitization is accompanied by a change and ultimately modernization of the IT infrastructure: companies are becoming more networked, digitizing business processes that were previously carried out analogously and manually, automating them in part, and reducing the need for paper in the office, for example – simply because data is now stored digitally instead of in mountains of files and paper.
Cloud computing can reduce the costs of a company's own server infrastructure and the storage required, and companies can also use the cloud and digital platforms to reduce their dependence on location – which in turn creates new opportunities for work, especially the possibility of remote work or home office. Digital channels are being used increasingly and with larger budgets – for example, advertising budgets are shifting noticeably from classic advertising tools such as TV and billboard advertising to social media and search engine marketing.
Retailers and logistics companies, meanwhile, are implementing digitization in their own merchandise management and logistics systems, for example, by using interfaces between store and merchandise management systems, handling shipping processes completely digitally, and even planning and optimizing delivery routes digitally.
For direct or indirect implementation, companies need the appropriate specialists, whose expertise will continue to gain in importance from now on. These jobs, for example, play a key role in digitization within the company:
generally coders and developers who are proficient in various programming languages
This also makes it clear that the future of work will change even more than it has in the past. In particular, the Corona pandemic, advances in artificial intelligence and continuously higher transmission rates, coupled with cheap digital storage, accelerated the change that has already taken place.

Need help with your digitalization strategy? 
Find an experienced IT Consultant.
The Role Of The Digitilization Strategy
Drive change processes not mindlessly, but according to system: This principle illustrates the importance of a well thought-out digitization strategy that addresses a company's peculiarities, objectively names the current situation and clearly defines goals – as well as the path to achieving them. Small and midsize companies in particular can be overwhelmed by the numerous possibilities of digitization, especially if the company also lacks the appropriate technical expertise.
That is why it is important to draft a digitization strategy as the very first step. This answers a number of questions, such as how the company's own business model can function successfully in the digital age, what economic benefits the implementation will uncover, what investment costs can be expected and how the respective measures will benefit the company's own growth, profitability and competitiveness.
Which Steps Do Companies Use To Implement Digitilization?
The individual steps should be included in the digitization strategy presented in the previous paragraph. Since no company is absolutely identical to another, the digitization strategy must also always be tailored and focused on the company. The exact procedure may differ between several companies, but generally the following steps are unavoidable.
Record the current state and identify the level of digitization already achieved
The two go hand in hand: the company should be analyzed as objectively as possible to determine the current state. This includes analyzing all workflows and processes, because weaknesses identified there will play a key role in the subsequent digitization project.
Companies should determine for the current state:
which processes have already been fully or partially digitized


how the status of the IT infrastructure is to be assessed


what level of knowledge employees have with regard to digitization


which employees will be responsible for which change processes in the future


Which processes are particularly important because they are vital to the company.
Set goals and define realistic milestones
Once the current status has been recorded, companies need to build on this to define their own goals – along with a time window in which these are to be achieved. In this phase, it is also necessary to define the urgency of the various goals.
For example, the need for digitization in individual processes could be particularly high because:
there will be significant economic benefits once the goals have been achieved


certain processes have been neglected so far and there is a particularly pronounced need to catch up


Stakeholders are pushing for the implementation of certain goals


further goals are based on the achievement of a previous milestone (for example, expansion of the IT infrastructure)


Weaknesses and competitive disadvantages are reduced or completely neutralized by the achievement of a goal
When defining the goals and the associated timetable, the requirements of the legislature, for example on data protection, must also be consistently taken into account – as must any technical standards or necessary interfaces.
Identifying and allocating resources
Once the current status has been determined and the goals defined, the resources required to achieve them must be made available. This means both monetary resources, such as those required to purchase new hardware, and human resources – in the form of specialists who have the necessary experience and know-how.
In general, three types of resources are always needed:
technical resources and hardware


human resources in the form of know-how


financial resources to fund change processes
What Is The Difference Between Digitilization And Digital Transformation In Companies?
Although both terms are closely related and exist in mutual dependence, they differ in one detail. Digitilization usually refers to the use of digital or innovative technologies. Digital transformation, on the other hand, refers specifically to the process of change in companies that are "transforming" existing business processes into the digital age, true to the term.
What Advantages Does Digitilization Bring For Companies?
1. Efficiency gains in business processes
When business processes are digitized, they become more efficient when implemented correctly, and thus more economical as well as faster. Through automation, employees who previously had to perform repetitive tasks manually can be relieved and deployed more effectively elsewhere.
2. Offer enhancements
Companies can complement physical offerings with digital offerings and create synergies between the two, including through upselling strategies: For example, by having a retailer or manufacturer of TV sets also sell subscriptions to streaming services
3. Precise and economical marketing
Whereas before the digital age, advertising took place on a scattershot basis, i.e., advertisers placed TV ads or put up billboards and hoped for success, today every single advertising tool and every campaign can be analyzed down to the smallest detail – thanks to tracking cookies and digital measures such as search engine optimization or banner placement. Digital marketing can be precisely analyzed – and thus allows huge potential for optimization.
4. More effective collaboration
Digitization can strengthen knowledge transfer and collaboration within companies. Furthermore, companies also gain more flexibility in external collaborations, for example through greater freedom of choice among IT service providers.
The State Of Digitilization In Germany
Did you know?
6 billion euros were invested in German startups in the first six months of 2021


74% of German companies have a digitization strategy in place


70% of companies in the Federal Republic invest in training and development measures
According to this survey, however, German industry still sees a lot of potential: the majority of German companies see themselves in the global digitalization midfield, while 32% see German companies as being in a below-average position as far as digitalization is concerned. As this survey of German industrial companies shows, however, great importance is attached to Internet 4.0 in particular.
Conclusion: Why German Companies Need To Implement Digitilization
In a digital world in which we are undoubtedly already living and will continue to do so even more strongly in the future, German companies must drive forward their own digitization in a consistent and structured manner – otherwise they run the risk of losing touch with global competition or competition within the domestic market. Furthermore, digitization offers numerous economic advantages – which alone should make a strong case for digitization.