Success, determination, expert knowledge – these are just a few of the things our CTO Ralf Gehrer associates with mentors. Ralf has written a few LinkedIn posts on the topic of mentoring in recent weeks and has met with a lot of positive feedback and interest. We have addressed the topic again internally and written a blog article on our ideas and tips. 
You Can Also Find This Content on Our German-Speaking Podcast
Die Kraft von Mentoring: Mentoren finden, Mentor werden, Wissensaustausch für Unternehmer
Guidepost – that's probably one way to describe a good mentor.
Someone who provides you with advice, support, and feedback, and challenges you, or your decisions. Your mentor may be in the same industry or in a similar role, but have at least 5-10 years more experience than you. A mentor does not take on operational tasks for you, nor can you expect him to "open doors" for you in his network. Rather, he'll give you advice and help you to find the right direction and the best path for you.
Even before you start looking for a mentor, you should be able to answer some questions for yourself. Without knowing the answers to these questions, you won't be able to search for a specific profile of a mentor. You can use the following questions to narrow your search radius: 
With which goal in mind, are you looking for a mentor? (Advancement in the company, balance between private and professional life, starting a business, …).
What skills do you want to improve? (Programming, leadership, languages, …)
What barriers do you need to overcome? (Lack of knowledge, insufficient network, …)
What do you want to learn and take away from the relationship with a mentor? (Leadership, climbing the career ladder, financial freedom, …)
What questions do you need answers to? (How do I start up successfully, how do I get my MAs to follow my vision, …).
Our CTOs tip:
Set goals that you would like to reach faster with the help of your mentor, and write down questions that are important for you to answer. You can ask some of these questions to a potential mentor already quite early and evaluate whether he suits you, or not.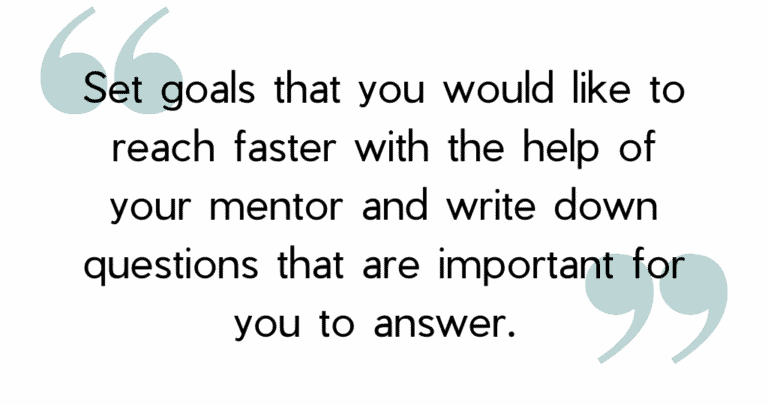 You Should Be Able to Admire Your Mentor!
As soon as you are clear about what goals you want to achieve, you should look for a mentor who can bring you closer to your goal. Who in your circle has achieved 10 times your current status quo? Who has relevant skills and practical experience in the same industry – or beyond? Who can provide an outside perspective backed by practical experience?
Ideally, pay attention to two "simple" things here: 
Do the facts and figures add up?
In other words, does your potential mentor work in the same industry, has he already gone through the experiences that you would also like to go through? Things like his earnings, network and much more can also be taken into account here.


What does your heart say?
Say: Does it fit interpersonally, will you have long-term contact with each other? Is there also mutual interest in mentoring? What does your heart say?
Depending on your goals, look for several mentors who each specialize in a particular goal. Think of them as your personal board of advisors.
Where Can I Find a Mentor?
Work colleagues
Do you have someone in your immediate circle from whom you have already been able to learn a lot and whose skills you value highly?
Alumni networks
A common denominator, such as the same university or scholarship, can often open doors. Reach out or write to people you've heard good things about.
Current or former supervisors
At least in most cases, supervisors are further along in their careers than we are and have more experience. In addition, they can help us move up in the company or a particular industry and have a larger network than we do.
Social networks such as LinkedIn
Here the search is more difficult, again we recommend looking for a common denominator, such as the same employer or university. Take it slow.
Meetings and networking events
If you have a strong network, this can also play into your cards here. Use it to find potential mentors.
Special mentoring networks such as The Mentoring Club
 The Mentoring Club is an open community that supports people who want to learn, grow and develop. Here, too, you can start looking for a potential mentor. The advantage: Experienced people deliberately enter mentoring networks and are open to collaboration.
Our CTO's tip:
Make a list of 10+ potential mentors for each of your big goals, and then weigh up who could be a mentor for you.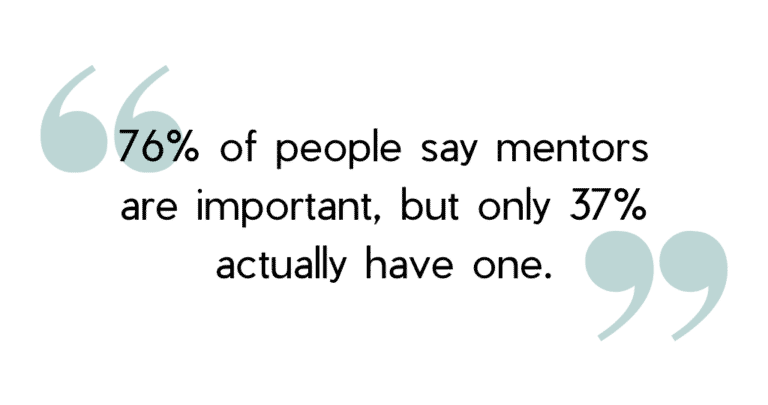 76% of people say mentors are important, but only 37% actually have one.
Why this gap? The most common reason is fear of rejection. To bridge this fear and otherwise increase the likelihood of successful collaboration, consider the following things: 
𝗗𝗼𝗻'𝘁 𝗹𝗮𝗯𝗲𝗹 𝗶𝘁
Don't ask the person to be "your mentor" right away. That is a very big ask. Certainly, too big for the first meeting. You may not even need the "mentor" designation for the relationship. Don't scare off your counterpart; rather, slowly, step by step, develop a healthy relationship with a person who possesses and actually lives the qualities of a mentor that are relevant to you. 
The question after the first meeting
Instead, start with a simple request that requires little commitment – something casual: a (virtual) 15- to 30-minute coffee break, an invitation to lunch, or something more active – like a walk.
Depending on how well you know the person, ask a mutual friend for an introduction or send a short email – no more than five sentences – that includes the following:
One or two things you admire about the person
A brief description of yourself
Why did you reach out?
What you would like to learn from the person
Ask for a meeting
"𝘋𝘦𝘢𝘳 𝘟, 
𝘐'𝘷𝘦 𝘣𝘦𝘦𝘯 𝘳𝘦𝘢𝘥𝘪𝘯𝘨 𝘢𝘣𝘰𝘶𝘵 𝘵𝘩𝘦 𝘸𝘰𝘳𝘬 𝘺𝘰𝘶'𝘳𝘦 𝘥𝘰𝘪𝘯𝘨 𝘸𝘪𝘵𝘩 𝘠. 𝘐'𝘮 𝘪𝘯𝘵𝘦𝘳𝘦𝘴𝘵𝘦𝘥 𝘪𝘯 𝘣𝘶𝘪𝘭𝘥𝘪𝘯𝘨 𝘮𝘺 𝘤𝘢𝘳𝘦𝘦𝘳 𝘪𝘯 𝘵𝘦𝘤𝘩𝘯𝘰𝘭𝘰𝘨𝘺 𝘢𝘯𝘥 
𝘐'𝘥 𝘭𝘰𝘷𝘦 𝘵𝘰 𝘩𝘦𝘢𝘳 𝘩𝘰𝘸 𝘺𝘰𝘶 𝘳𝘰𝘴𝘦 𝘧𝘳𝘰𝘮 𝘢 𝘴𝘺𝘴𝘵𝘦𝘮𝘴 𝘢𝘯𝘢𝘭𝘺𝘴𝘵 𝘵𝘰 𝘢 𝘵𝘦𝘤𝘩𝘯𝘪𝘤𝘢𝘭 𝘱𝘳𝘰𝘥𝘶𝘤𝘵 𝘮𝘢𝘯𝘢𝘨𝘦𝘳 𝘪𝘯 𝘧𝘪𝘷𝘦 𝘺𝘦𝘢𝘳𝘴. 
𝘞𝘰𝘶𝘭𝘥 𝘪𝘵 𝘣𝘦 𝘱𝘰𝘴𝘴𝘪𝘣𝘭𝘦 𝘧𝘰𝘳 𝘶𝘴 𝘵𝘰 𝘩𝘢𝘷𝘦 𝘢 𝘲𝘶𝘪𝘤𝘬 𝘷𝘪𝘥𝘦𝘰 𝘤𝘩𝘢𝘵 𝘴𝘰𝘮𝘦𝘵𝘪𝘮𝘦 
𝘸𝘪𝘵𝘩𝘪𝘯 𝘵𝘩𝘦 𝘯𝘦𝘹𝘵 𝘤𝘰𝘶𝘱𝘭𝘦 𝘸𝘦𝘦𝘬𝘴?" 
(Source: Harvard Business Review) 
The first date 
Make it easy for your target mentor and take care of all the logistics so all they have to do is show up. Be prepared with your questions and an agenda, but don't force anything. Let the conversation flow naturally.
Use the first half of the meeting to get to know each other, and then bring up career questions. Remember that you are both still getting to know each other. So, pay some attention to how the conversation goes – everyone is different. Feel your way along slowly; if your counterpart doesn't want to give you information on a topic, he or she simply won't do it. There are almost no "wrong" questions.   
Make sure that you do not overrun the time. At the end of the conversation/meeting, summarize the advice to show that you appreciate and understand the other person's input. 
Evaluate the meeting
Did you leave the meeting feeling better about yourself? Was a connection made? Did you learn something new? Did the target mentor ask any questions? 
If not, move on and reach out to other potential mentors. Otherwise, make a plan for how to proceed. Also, listen to your gut, not just your checklist. You will have your mentor by your side for many years, so take your time and have confidence in your assessment. 
Send a Thank-You note
There is no 3-day rule when mentoring: Get back to your potential mentor within 24 hours of the meeting with a thank-you note. In it, thank your counterpart for taking the time to meet with you, share some important things you learned during the conversation, and let them know you'd like to check back in a few weeks.

Get exclusive high-quality articles from us. 
Become a member for free.
What Makes a Good Mentor?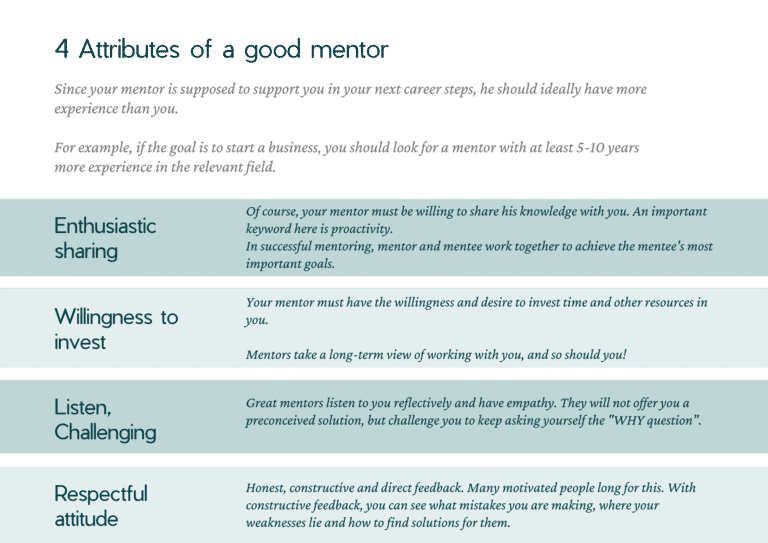 The basic building block in the search for a mentor is understanding what qualities characterize a good mentor. Since there will be a close exchange between you and your mentor over the years, they need to know exactly how to find a good mentor who is right for you. 
Relevant expertise or knowledge
The ideal mentor will have 5-10 years more experience than you. This will allow him to support you in your next steps, such as getting a promotion or starting a business.


Enthusiastic sharing of his expertise
Another foundation for successful collaboration in terms of mentoring is the mentors' willingness to share their knowledge with you. The best mentors give advice not because they like to hear themselves talk, but because they genuinely want others to benefit from the hard-earned wisdom they have acquired throughout their careers.


A respectful attitude 
The ability to give honest, direct, but constructive feedback, and a willingness to give you some love when needed. Constructive feedback lets you know what they did right and what they did wrong. This will help you respond and work on yourself better and correctly in future situations.


Willingness to invest time and resources in others
Since there is no tangible incentive, great mentors play the long game and don't expect immediate gains. If your potential mentor can't find time for you or doesn't understand your professional life and goals, you may want to look for someone else.


Reflective listening and empathy
Great mentors listen to what you have to say rather than telling you what to do. They challenge you, always ask the "WHY" question, and encourage you to question your own beliefs.
Bonus 
Willingness to be a Sponsor: A mentor doesn't necessarily have to be a sponsor. A sponsor is someone who opens doors for you, actively advocates for you in public, and goes the extra mile. This often goes far beyond mentoring.
The Other Side of the Coin: How Do I Become a Good Mentee?
Remember that when you ask someone to be your mentor, you are asking someone to invest their most valuable asset and pressure – their time. Show the mentor that his time and experience will be used well and wisely. Show him that you are willing to learn from him. 
Keep your mentor informed
Be transparent about the progress you and your company have made under your mentor's guidance. Your mentor is interested in seeing you succeed. Your success is his "payment."


Offer your help
Mentoring is not a one-way street. What you give back to your mentor is primarily your progress, but periodically check to see if you can support him beyond that.


Express your gratitude
Make thank-you notes a regular habit. Be grateful for the time and guidance you receive. Take care of all the logistics, etc., so your mentor can easily get in touch with you.


Ask for feedback
Take action and initiative to make mentoring a success. Use the mentor's assistance and critiques wisely. Grow from the mistakes you made.


Commit to the process
Mentoring cannot be done in one summer. It takes real time and real work. Commit to it regularly.