If a freelancer and a company want to work together, it is advisable to record all details and general conditions in a freelance contract. This contract forms the basis for the cooperation and ensures that it can run smoothly.
So what exactly is a freelance contract? What are the components of a freelance contract? What do I have to pay attention to as a freelancer or a client?
What Is a Freelancer Contract?
As the name suggests, the freelance contract regulates the framework conditions for the cooperation between freelancer and client. This contract specifies which obligations both parties have to fulfil. However, the freelance contract only specifies an order, which is to be fulfilled by the freelancer. There is no employment relationship.
The freelancer contract therefore gives both parties the security that the order will be carried out properly. There are two variants of a freelance contract:
In a contract for work, the freelancer is liable for the agreed success. This means, for example, that the freelancer is responsible for ensuring that a software or a website works as specified in the contract. It is up to the contractor how the work on the project is carried out.
In a service contract, services are regulated. This may be the case, for example, with consulting services. In this case, however, the freelancer is not liable for the success of the project.
What Is To Be Specified In a Freelance Contract?
In the freelancer contract, all the important components of the assignment are recorded. Basic components are the following:
What services does the freelancer have to provide to the client?
What is the freelancer's payment and how is this regulated?
How are contractual risks handled?
What is the number of hours per week, and how long is the project?
What are the termination requirements?
Are there any confidentiality requirements?
What about the transfer of hardware etc.?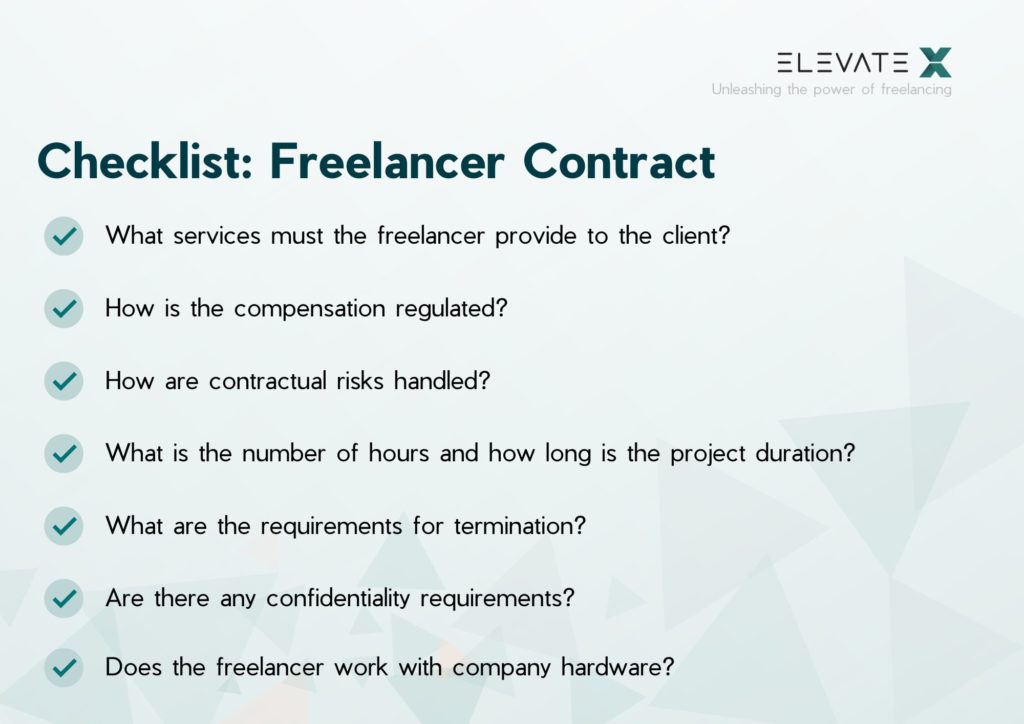 What Should I Look For When Hiring a Freelancer?
Even before you start working with freelancers, there are a few things to keep in mind to avoid problems from both sides during the collaboration.
First, it is important to specify a precise task and, as a result, find a suitable freelancer. Then it is important to find out which type of developer/designer or project manager fits best to the defined task. On this page you will find a detailed list of different types of developers and other relevant information.
An experienced and qualified freelancer does not come for free. Since freelancers must take care of their insurances themselves and also have other expenses that the company bears for permanent employees, the hourly wage is often significantly higher – at first sight. Here it is important, especially for crucial tasks, to be thoughtful and not focus solely on the hourly rate. Experienced freelancers are familiar with unforeseen pitfalls, such as false self-employment, and know what to look out for.
Also, with intermediaries like ElevateX, we are familiar with all potential issues and dangers and, through many years of experience, know what to look out for. Additional advantage: With us, you will find the perfect freelancer for your project in a timely manner and do not have to worry about anything else.
In addition, it is important to contractually specify the final outcome, as this serves as the definition for the payment and the success of the project. Only when the task has been satisfactorily completed, the cooperation can be successfully terminated.

Looking for Exciting Freelance Projects?
You've come to the right spot. 
How Does the Freelance Contract Protect Against False Self-Employment?
Probably the most relevant issue in the cooperation between freelancers and client is false self-employment. False self-employment represents an employment relationship in which a freelancer is considered to be a classic employee according to legal requirements and criteria. In this case, he would be subject to social security contributions. Should a case of false self-employment occur, whether knowingly or unknowingly, high penalties for freelancers and clients may follow.
How Can I Avoid False Self-Employment?
In our article on false self-employment, we summarize the topic in detail. Here are the most important criteria to consider and to include in a freelancer contract:
Result-Oriented Work
Freelancers have no authority to issue nor receive instructions, as they are not in an employment relationship.
Working Independent of Location
It is true that a freelancer's presence on site is often necessary in order to carry out a project. Nevertheless, location-independent working is considered a strong indication of freelancing.
Time-Independent Work
Since freelancers are not in an employment relationship, as already explained, working hours are usually irrelevant. However, it often happens that as a freelancer you should be present at certain meetings so that all collaborators on the project have the same status.
Hourly-Rates
In any case, the freelancer must earn more than a permanent employee. This is due to the fact that he has to bear costs for vacation, insurance, etc. himself. As a rule of thumb, freelancers work based on an agreed hourly rate. In addition, a freelancer may be considered to be false self-employed if more than 80% of his total revenue comes from a single company.
Vacation Entitlement
Due to the lack of an employment relationship, a freelancer is not entitled to vacation as long as he is in a project. Freelancers often set aside one or more periods of the year in which they do not accept any assignments, which they consider vacation.
You can find a detailed checklist with all the points for consideration in our info area.
How Is Compensation Regulated In a Freelance Contract?
As a rule of thumb, a period of time is first specified in which the task or project should be satisfactorily completed. In addition, it is regulated how many hours the freelancer invests weekly for the project and how these are billed. Normally, the costs are calculated on the basis of an hourly wage or a daily rate. It is also regulated which additional services are taken over by the company or the client. This includes, for example, travel costs if on-site cooperation is desired.
With regard to taxes, these are usually taken care of by the freelancer. These should be listed separately in the invoice to avoid misunderstandings and to ensure clarity.
In summary, it can be said that the freelancer has to bear all costs outside of his hourly wage. For this reason, the hourly wages are higher than those of permanent employees. In this article, you will find more about how the costs for freelancers are calculated.
In conclusion, drafting a freelance contract is not that demanding and does not differ much from other contracts. It is important that you take legal requirements for the employment relationship into account. Probably the most uncertainty when working with freelancers is therefore the case of false self-employment. But here too: If you are aware of the topic and inform yourself about it, you can avoid mistakes and problems. It is also important that there is no employment relationship and that the freelancer is usually free to decide how and when he fulfils an order.
Both, from the client's point of view and for freelancers, the following applies: If you want to be on the safe side, you should team up with experts.
Intermediaries such as ElevateX are particularly well versed in the cooperation between freelancers and companies. Through fast processes, many years of experience and digital contract processing, we guarantee a smooth and fast cooperation.