The concept of MVP is suitable for all companies that want to develop further.
IT startups and SMEs benefit from the low costs while existing companies invest in their long-term future through a Minimum Viable Product. The strategy can be applied to all industries and is also worthwhile for founders.
Minimum Viable Product: What's Behind the Model
The concept of initially offering customers a product with a few functions and then expanding this product over time is not new. Probably one of the most famous examples of an IT MVP that has grown into a billion-dollar corporation is one of the world's largest cloud providers, Amazon Web Services, or AWS for short.

From a small online bookstore, which initially only procured books on demand and shipped them to end customers, to one of the largest distributors in the retail sector and a strong logistics company, to the market leader in cloud offerings, more than 20 years have passed. During this time, the market changed, the use of technology in everyday life changed, and with it, demand shifted more and more. Amazon moved with the times. Today, AWS is a subsidiary of online retailer Amazon.com and reported revenues of $61 billion in 2021.
What Is a Minimum Viable Product?
The Minimum Viable Product is a product that can initially be produced or offered at a low cost. For example, a later successful website can initially run on WordPress and only move to its backend when there is interest in scaling up.
The Minimum Viable Product can be created, produced, and managed with just a few employees. A company can, as in the case of Amazon, initially also offer other services such as retail and logistics and eventually spin off the old core business to concentrate fully on the cloud service.
At the same time, the MVP is a growing product. A product that is not extensible and not flexible cannot inherently be an MVP. As a founder, you should assume from the outset that the service or digital product you initially offer may not become your core business.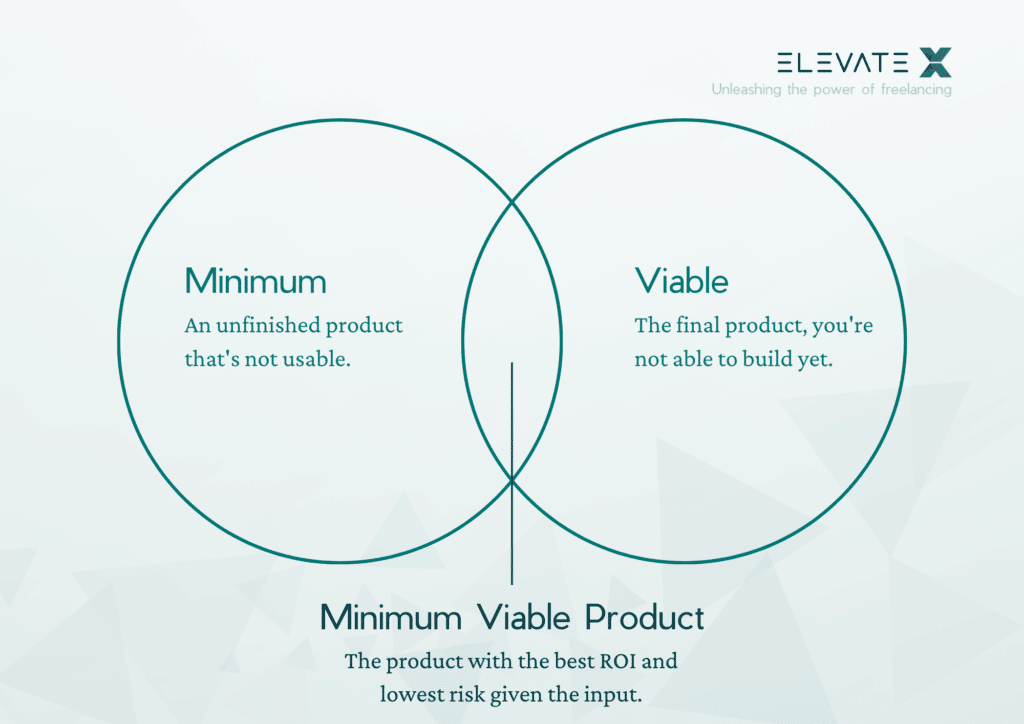 A Success Story From Silicon Valley
The concept of the Minimum Viable Product was introduced by SyncDev CEO Frank Robinson in 2001. However, the concept only began its international triumphal march in 2011 with the bestseller "The Lean Startup" by Silicon Valley expert Eric Ries. Today, MVPs are a common tool used in all industries.
Ries refers to the MVP as a mindset. A company does not use an MVP additionally to test its product, but the product itself is the Minimum Viable Product that can be replaced, expanded, or discontinued altogether at any time.
Minimum Marketable Products
In addition to the Minimum Viable Product, there is also the Minimum Marketable Product model. Here, a product already exists that would theoretically work on its own. It does not have to grow, but it can be expanded. The boundaries are fluid because theoretically, any product can remain on the market unchanged, even if it becomes technically and socially obsolete.
Among the best-known MVPs on the international market are
Facebook: From network for students to advertising and tech giant
Google: advertising-free small search engine – today a corporation with science facilities, web services, and an advertising empire
Amazon: Selling books on demand? Today, AWS is the world's largest cloud provider
Is the MVP Method Worthwhile for My Company?
Product developers and founders who are thinking about new concepts and want to launch an innovative product should consider developing an MVP. With a high start-up budget, it is possible to launch a brand that is initially perfect as presented. However, it is easier and less expensive to take small steps toward a successful company with a large employee base and growing offerings.
Using free or low-cost backends like Ruby on Rails or Python, frontends like Angular.js, or a complete solution like Flutter for mobile apps, MVPs can be created in no time that is functional from the end customer's point of view and already offer an incentive to try out the service, sign up for mailings, or provide feedback. Revenue is also already possible using Minimum Viable Product. Often the basic model of the product is used for many years to provide customers with a perfect offer, which then dominates.

Need someone who knows even more about MVPs?
Find your Product Manager.
Understanding the Minimum Viable Product as a Safety Guarantee
Especially in the service sector, digital offerings, and online retail, the MVP route is probably the safest for anyone starting on a limited budget. Some advantages outweigh others financially. Those who start small always have low expenses at first.
Freelancers who can work remotely need a quiet workspace in their own home, a cheap PC, Mac, or laptop, and their first clients. If, on the other hand, you start with 20 employees who are to work locally, you will need an office building, fully equipped workstations, and completely different administrative structures than in a small company.
These are among the benefits MVP brings:
Possibility to observe the market while first sales are generated
Increase demand through targeted surveys of what customers want
Few permanent employees keep labor costs low
Collaboration with agencies and creative minds to optimize the business
Low costs for raw materials, materials, room rent, etc. due to low supply
Employ Experts on a Contract Basis
Startups need to allocate as much budget as possible to the core business, the expansion of the idea, and the development of the products. By hiring employees permanently, small companies quickly find that they are no longer needed after the MVP has been realigned. In addition to financial savings, outsourcing tasks to specialists also means that human resources are not tied up.
Use Stats to Your Advantage
Probably the most important task of a Minimum Viable Product is the ability to collect data about the offer via landing pages. Who is interested in your product? How many people are willing to sign up for a newsletter that informs them about the launch? Which offer do prospective customers linger on the longest and where is additional information particularly often unfolded?
Anonymized data sets, clearly prepared by experts and regularly evaluated, provide an outlook on the future of your company. But they also reveal weaknesses. For example, if you are currently promoting your product to the wrong target group, it is time for a course correction.
Every MVP Needs a CEO Who Has a Desire for Change
It is important to understand that a good idea alone does not mean success. MVP can help to understand why a product is not in demand or why a change in the product range could pay off. Together with A/B testing and market research, entire industries can be broken down by success factors. Ideally, the result of using the MVP is a strong business model that can be scaled globally.
Ultimately, it all depends on how many compromises your company is willing to make. Only the right leadership with a willingness to compromise on the offering itself, but not on growth, can derive maximum benefit from the strategy of initially working with minimum viable products and also discarding cherished projects.
A Minimum Viable Product is an early version of a product that contains only the essential features and provides the core functionality. It also represents a low-cost and low-risk version of a product, as only a minimum of resources are invested in developing the product.
A Minimum Viable Product is used to attract early customers to validate a product idea, receive feedback, and improve upon the product. This approach emphasizes learning and continuous improvement in new product development.  
Dropbox started with an MVP demo video that explained the key features of the product. The company was thus able to raise capital and turn its idea into reality.
Airbnb started with just an air mattress, a bed, and breakfast. The two founders rented out their own house and built a global room rental platform.