The summary of your professional career is essential if you want to get one step closer to your dream job or dream project. Before you even get invited for an interview, HR professionals take a close look at your CV. Therefore, it's important to optimize your CV and consider some points when creating your profile. You'll learn which ones in our blog post. 
Although searching for new employees can sometimes be laborious, HR staff spend little time screening application documents. The career portal Monster measured in an international study how long HR managers spend on a CV (Curriculum Vitae). HR professionals from various countries, including Germany and the USA, participated in this test. The result: only 31 seconds were devoted by those responsible to studying the CVs. This was consistent with the participants' self-assessment. Most HR managers indicated that they spend less than a minute scanning the CVs. To avoid falling through the cracks, it's important to optimize your CV. 
Recruiters, on average, take only 31 seconds to skim a resume. The most important information should therefore be quickly and efficiently grasped.


For Freelancers a well-structured resume can not only serves as a business card but can be the key to exciting projects and potential partnerships.


An optimized CV should be clear, concise, and compact. 


Artificial intelligence, like ChatGPT, can assist in optimizing a CV by highlighting keywords and precise phrasing relevant for Applicant Tracking Systems (ATS).
Do Freelancers Need a CV?
The idea of a CV may initially seem unconventional for freelancers. But even in the world of freelancing, a well-structured and optimized CV can make a decisive difference. It serves not only as a business card but can also be a key to exciting projects and potential long-term partnerships. Before a company hires you for a project, they compare your know-how with the expertise of other applicants. Since job acquisition is vital for freelancers, optimizing the CV is also important for this professional group. 
How Does a Freelancer's CV Differ?
The structure of the CV for freelancers and other professionals only minimally differs from each other. For freelancers, along with a brief description and listing of skills, focus should mainly be on project history and technical expertise. Often, the information in the profile is supplemented by their own homepage. This usually provides more detailed information about which projects the freelancer has already supported and who their clients are. The clients should differ here to avoid false self-employment. 
What is Relevant at First Glance?
Recruiters must be able to quickly scan your CV for relevant and critical information. Making this process as easy as possible for them, helps your chances of being hired. If the necessary information isn't quickly evident and the HR manager has many more resumes to go through, it's likely they'll move on to the next applicant. The most relevant information includes:
For the recruiter, it should be immediately clear how many years you've worked in relevant positions. A quick glance at the date of your last educational degree indicates approximately how long you've been in the workforce and allows an initial assessment of whether the required professional experience matches the level of the advertised position.
When scanning your resume, special attention is given to whether you have experience with a specific technology or process relevant to the advertised position. Tailor your resume to the skills listed in the job description and highlight them. For instance, list the projects and tasks you undertook under each professional position.
Anything that could distinctly set you apart from other candidates should stand out to the recruiter. For entry-level professionals, this could be their prestigious university or an award. For more experienced applicants, it might be their own business, a patent, a doctoral degree, a significant contribution to a relevant product, or something rarely seen among hundreds of profiles.

Personalized Feedback for your CV?
Ground Rules For Your Optimized CV
For creating a well-structured and professional resume, there are a handful of rules to be followed:
Good Grammar and No Typos
Good grammar and no spelling errors are essential for a quality resume. Mistakes stemming from inattention can, at worst, lead to the application being completely ignored.
In most cases, the "Personal Information" section tops the resume. This contains details about yourself, including your full name, address, place of birth, date of birth, and email address. Additionally, your website and social media links can be listed. This includes your LinkedIn and Xing addresses. When submitting the CV digitally, both LinkedIn and Xing offer the option to share a link to your own profile.
Dates in Reverse Chronological Order
In Germany, there is now consensus that the reverse chronological format is the standard. Thus, the most recently acquired qualification or the latest job position is always listed first.
Ensure you don't exceed two A4 pages unless you have more than 8-10 years of work experience. Recent graduates and individuals with limited professional experience should ideally keep their resume to one page.
In Germany, a job application photo is no longer mandatory according to the General Equal Treatment Act (AGG), but it's still commonly appreciated. Therefore, when optimizing your resume, check if the company explicitly requests a photo. If you decide to include one, ensure that you appear professional and approachable in it.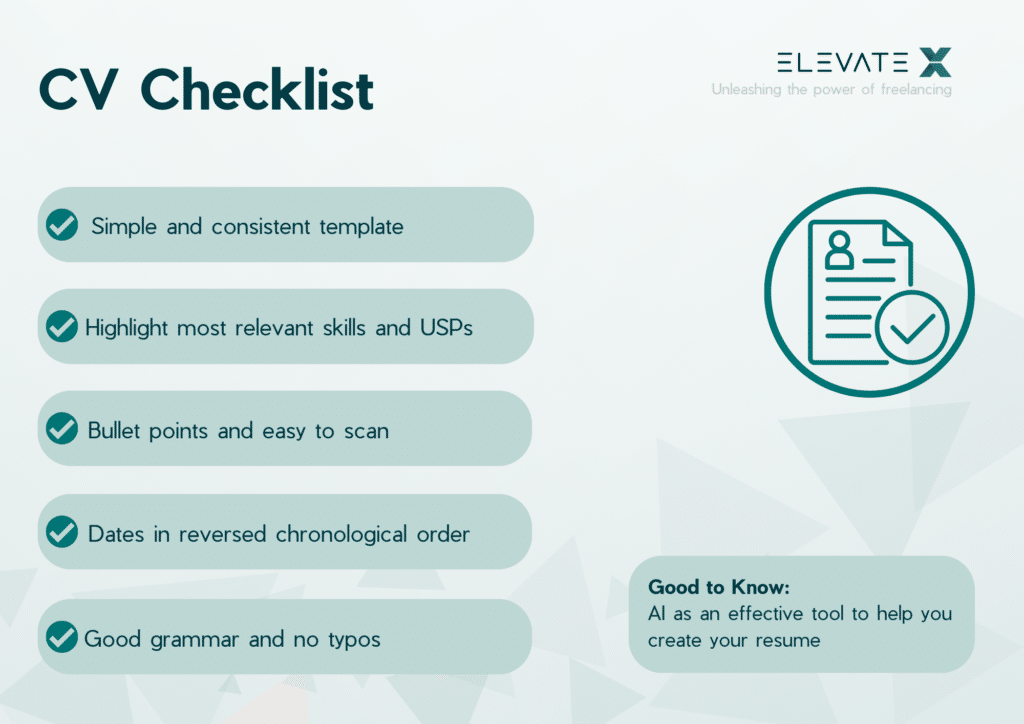 Your Optimized CV: Clear, Concise, and Compact.
Resumes that are simple, concise, and are easy to read will be read more. Resumes that are cluttered and overly detailed are, at best, skimmed by HR professionals. To make the resume simple and concise, the following principles should be followed:
Clear and concise formatting:

Ensure uniformity throughout your resume by maintaining consistent formats and uniform font sizes.



Bullet points over paragraphs:

Refrain from using lengthy paragraphs. Instead, list your skills and experiences in bullet points. Alternatively, you can describe your skills in brief sentences. This makes your expertise clearer and more quickly recognizable to HR professionals. 



Dates: Use consistent and easy to read formats: 

Date specifications should be continuous and structured like this: '07/2022 – 08/2023′. Formats like 'July 2022 – August 2023' are even clearer.

 



Be concise:

Revise your resume and eliminate sections that offer minimal, trivial, or no information. Ask yourself, "Will the reader of the resume obtain information that assists in assessing my qualification for the position?" Under the "Personal" section, it's possible to include hobbies, but keep it brief.


 

Less is more:

Even if you've put a lot of effort into designing your resume, the principle often is "less is more." Unless you're applying for a creative role, a simpler design is often more appropriate. A straightforward and organized layout helps HR professionals quickly find what they need from you.
When creating your CV, always tailor your profile to the current job offer. Skills and experiences that align with the job should be emphasized.
A template can serve as a good foundation for your profile. However, to optimize your CV, even when using a template, it's crucial to add a personal touch and customize it.
Yes, it's possible. You can use Artificial Intelligence to help perfect the wording of your skills and to identify suitable keywords.