In many freelance projects in the IT environment and other areas, the contracting parties exchange information that is confidential. This can be about the projects themselves, but also about technical and content issues. The freelancer is not bound by the confidentiality regulations in the fulfillment of his assignment, which arise from the employment contract in the case of a salaried employee. For the benefit of both parties, it may therefore be advisable to conclude a non-disclosure agreement or a confidentiality agreement. The right time to conclude a separate confidentiality agreement is already at the start of discussions and negotiations. This article tells you everything you need to know about the confidentiality agreement.
Confidentiality Agreement - What Is It?
The confidentiality agreement – often referred to as a non-disclosure contract or non-disclosure agreement – is a common accompanying contractual document between different companies. Therefore, it is also in use for freelancers and their clients. Trade secrets, inventions, projects or special technical routines constitute valuable economic assets. Therefore, companies and freelancers depend on the fact that these trade secrets do not fall into the wrong hands. In this context, the competition in particular has to be kept in mind.
Prudent companies and freelancers conclude a confidentiality agreement for the contract negotiations even before the actual contract relationship is concluded. This ensures that the respective information remains where it belongs from the very beginning. This also applies if the actual contract is not concluded later.
Since industrial espionage and betrayal of secrets also play a major role in employment relationships, the confidentiality agreement also forms part of the employment contract with the employers.
Likewise, a freelancer who subcontracts to other freelancers will pay attention to separate confidentiality agreements with all parties involved. Last but not least, it is a question of seriousness, how careful and foresighted freelancers handle their own business secrets, but also those of their clients. Freelancers who attach importance to their good reputation can hardly avoid confidentiality agreements.
The confidentiality agreement is a common accompanying contractual document between different companies.

Therefore, it is also in use for freelancers and their clients.

Prudent companies and freelancers conclude a confidentiality agreement for the contract negotiations even before the actual contract relationship is concluded.

Confidentiality agreements are only as good as they are adapted to the requirements of the individual project and the respective industry.
What Is The Purpose Of A Confidentiality Agreement?
Companies and entrepreneurs protect themselves with confidentiality agreements. Industrial espionage and the disclosure of trade secrets are a major risk potential for economic organizations of all kinds. Damages amounting to billions of euros are incurred here every year. For this reason, companies must take more and more precautions to keep trade secrets within the company.
Their own employees are bound by confidentiality clauses in their employment contracts. Likewise, non-competition clauses can play a role here beyond the scope of the employment contract.
The situation is different for freelancers who work independently for the respective company or client based on a service or work contract. In order to ensure confidentiality in this case, a separate agreement is required.
The topic of confidentiality should play a role in the main contract itself at the latest. However, it is common practice to sign a confidentiality document in advance at the beginning of the contract negotiations. In most cases, this is a bilateral confidentiality agreement; in some cases, only the company protects itself against the disclosure of trade secrets.
Confidentiality agreements play a major role in legal transactions wherever business organizations come into contact with each other and talk to each other. Even during preliminary discussions for the actual contract negotiation, information must often be exchanged that can be counted as internal and trade secrets. Therefore, confidentiality agreements have a great practical function. They are intended to prevent the contractual partners from disclosing secrets from the ongoing project to unauthorized third parties. In this context, the contractual obligation threatens sanctions in the event of breaches of the obligation to maintain confidentiality.
The conclusion of a confidentiality agreement is important, for the assertion of antitrust and competition law claims with regard to the evidence situation. By concluding such an agreement, it can be shown at any time that the parties have exchanged know-how and trade secrets.
In the IT sector, there are often innovative approaches in the development of software or new technical routines. Here, a freelancer also has a great interest in ensuring that his own developments and working techniques do not reach unauthorized third parties. They represent a part of his entrepreneurial value. If they become accessible to others, a freelancer can quickly lose his prominent position in a certain expert field.
Likewise, clients have no interest in their competitors knowing which projects they are currently working on in their company or which freelancer they have commissioned with a particular project. Protection of competition is more important than ever in day-to-day business transactions.
Intangible assets such as know-how and trade secrets now often have a higher value than tangible assets. Particularly in the case of start-ups and other innovative companies, know-how is the key asset behind the organization. A confidentiality agreement at the right time can help protect these assets.
Different Types Of Confidentiality Agreements
Confidentiality agreements are used in a variety of areas. The two most important are relevant
in the relationship with employees.


in the relationship with independent contractors.
Often, confidentiality agreements with employees are integrated directly into the employment contract or are annexed to it.
In business dealings, on the other hand, it is customary to sign a confidentiality agreement as early as the start of contractual negotiations. Often, the main contract then contains additional clauses on confidentiality that relate to the performance of the contract. In rare cases, only one party is bound by the confidentiality agreement; in most cases, it is a mutual agreement.
The parties are free to draft the agreement as they wish; it always depends on the particular contractual situation and what information is to be protected.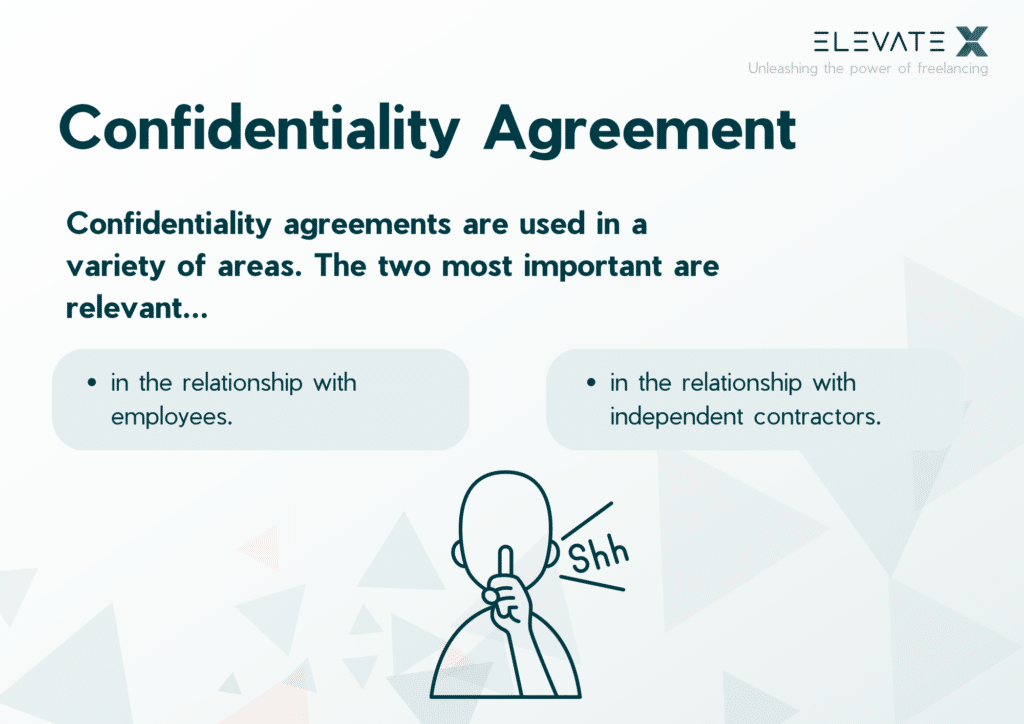 What Are Declarations of Confidentiality Also Called?
In business dealings, different terms have become established for a confidentiality agreement.
NDA stands for Non-Disclosure-Agreement, and CDA for Confidential-Disclosure-Agreement. In terms of content, the various terms for the non-disclosure agreement correspond to each other, although the content can vary individually. It is equally important to distinguish the "Mutual CDA or NDA" as a mutual confidentiality obligation from the "One-sided" model.
What Content Should Be Regulated In A Confidentiality Agreement?
Confidentiality agreements are only as good as they are adapted to the requirements of the individual project and the respective industry. The one, cross-industry model for a CDA does not exist. Nevertheless, it is possible to work out certain basic contents that basically apply to all confidentiality agreements between freelancers and companies:
a header (rubric with the exact designation of the contracting parties)


a description/definition of the business contact between the two parties, such as the start of contract negotiations on project XY


ownership of certain information


arrangements for the return or deletion of confidential information


depending on the requirement, a somewhat more detailed description of the trade secrets to be included in the contract


a start date


a period during which the protection provisions are to apply, for example, for five years after the conclusion of the contract


possible exceptions to confidentiality, for example in the context of disclosing certain information to official bodies such as tax authorities


sanctions in the event of non-compliance with the confidentiality provisions (contractual penalty)


agreement on a place of jurisdiction for disputes arising from the NDA
The confidentiality agreement can and will partly refer to the regulations of the General Data Protection Regulation for personal data and to the Act on the Protection of Business Secrets for other information.
There are some sample confidentiality declarations on the Internet. If you want to be legally sure as a company or even a freelancer, have a lawyer draw up an individual version for your purpose or have it provided by experts on all aspects of freelance work.
When Do You Not Need A Confidentiality Agreement?
Some freelancers are not aware that in almost every contract negotiation they also exchange business information that is not necessarily intended for third parties. Likewise, many companies are only slowly becoming aware of the value of know-how and trade secrets. In the IT sector in particular, it does no harm to think about concluding a non-disclosure agreement whenever contract negotiations are initiated. Some companies already routinely present a corresponding contract form during the preliminary negotiations. Freelancers are also well advised to keep a sample of their own on hand. The use of a confidentiality agreement should become routine.
There may be routine contracts in which confidential information plays little role. Parties are not required to draft and sign a confidentiality agreement. However, in many cases it may already be important that a competitor does not learn whether a particular project is in progress.
The freelancer himself also usually has a great interest in keeping his way of accomplishing tasks or developing something. This is where a large part of his competence and know-how is hidden. He does not want to share this with unauthorized parties.
Therefore, there is no standard answer to the question when a confidentiality agreement should not be signed. Prudent clients and freelancers address the issue at all times as a precaution.

Searching for a Freelancer?
Is A Confidentiality Agreement The Same As An NDA?
Yes, the terms NDA and confidentiality agreements are the same. In business transactions, the Anglo-Saxon term NDA is often used. Many confidentiality agreements are also written in English so that they can be presented to a large number of contractual partners from the national and international sectors.
Who Should Sign A Confidentiality Agreement?
Companies and freelancers in general should get used to signing such a CDA/NDA. If one directs the question to the function of the signing persons in companies, the signatory must be authorized to represent the company. The confidentiality agreement is also a contract. It comes to certain authorizations and obligations, which result from the contractual agreement. Therefore, managing directors and other bodies authorized to represent the company, respectively company owners and entrepreneurs themselves are required as signatories. The freelancer puts his signature under his name, acknowledging the rights and obligations arising from the confidentiality agreement.
With a confidentiality agreement, contracting parties or those who wish to enter into a contract agree on confidentiality for certain information from their discussions and negotiations. Similarly, there are confidentiality clauses in employment contracts. Confidentiality agreements are an important instrument for protection against the betrayal of secrets and industrial espionage.
You can use a confidentiality agreement to protect yourself against internal information and know-how being disclosed to unauthorized third parties as early as the start of contract negotiations. This is particularly important if the contract is not ultimately concluded. Internal company information and trade secrets are valuable assets for companies and entrepreneurs.
The non-disclosure agreement (NDA) is the English-language term for the declaration of confidentiality. Another term is CDA (Confidential Disclosure Agreement). NDA and CDA are predominantly used as terms in the business sector; the non-disclosure agreement can also describe confidentiality in the employment relationship.